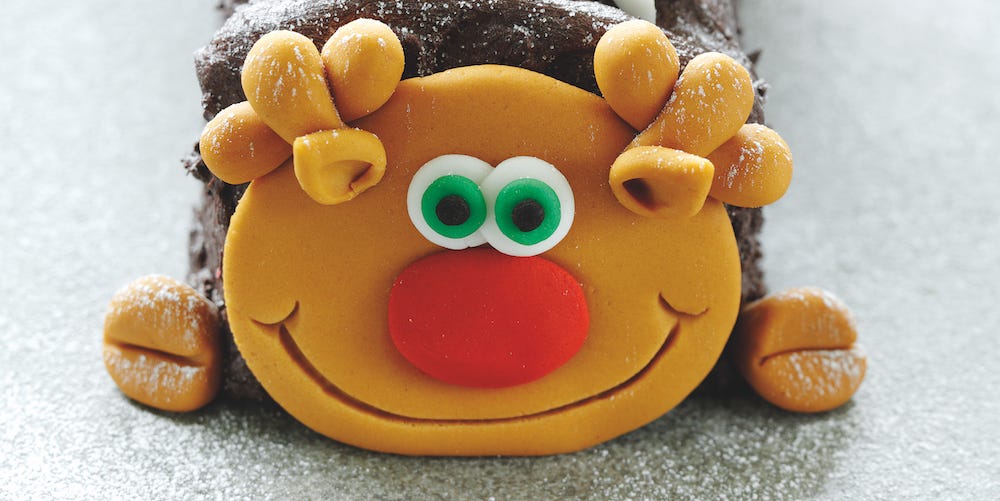 If you didn't get a Colin The Caterpillar cake for your birthday from the age of… well, from birth until now, tbh, then did you even grow up in Britain?
So, we're excited to see that Colin has a cousin that only comes around at Christmas time, and his name is Roddy The Reindeer.
We can't get into the science of how a reindeer and a caterpillar are related right now. Just accept it and move on, people.
He also has another cousin who is an actual Christmas caterpillar, btw. But thanks for letting us run with the Roddy thing anyway.
Asda's Roddy The Reindeer festive cake features a "long chocolate sponge body, which is smothered in lip-lickingly delicious chocolate frosting and topped with little white fondant stars. Add an iced face with two cute ears, a smile and a dazzling red nose and he's ready to steal the show at any festive occasion."
And did you know this little fella is also available in a dairy and gluten-free variant?
Vicky Philips, Asda spokesperson for the Free From range, said: "Christmas is all about fun and novelty – we've lived and breathed this to create Roddy. We believe everyone should be able to enjoy delicious treats and with our Free From variant, no one will miss out. We're expecting Roddy to melt a lot of hearts with his little red nose this year!"
You can pick one up right now for just £6.
Reindeers not your thing? Maybe you'll be interested in this Pip The Penguin cake instead?
Look at his little hat!
Pip is a sSoft sponge cake filled with tasty frosting and fruity raspberry jam, then topped with soft icing and finished with adorable edible decorations.
---
Like this article? Sign up to our newsletter to get more articles like this delivered straight to your inbox.
SIGN UP

Source: Thanks https://www.delish.com/uk/food-news/a30206139/asda-roddy-the-reindeer-cake/