With so much happening on the London restaurant scene this year, it's been harder than ever to whittle down our annual shortlist. But here – for your delectation – is the full list of Hot Dinners Awards for 2019 covering everything from the hottest scene to the tastiest dish, from the counter to be seen dining at to our most coveted accolade, Best Restaurant. 
Best new restaurant – Da Terra
Town Hall Hotel, Patriot Square, London E2 9NF
There's clearly something about this restaurant at the Town Hall Hotel that attracts serious talent. First there was Nuno Mendes with Viajante. He was followed by Lee Westcott and The Typing Room. Now Paulo Airaudo, who also owns the Michelin-starred Amelia in San Sebastian, has paired up with head chef Rafael Cagali to take on this London space. It turns out to be a match made in heaven. From the divine pincho-style bar snacks to the scallop mousse served alongside a Lego diver, our meal was full of moments that make your eyes widen. We loved the food – and the creative drink pairings – but we also loved how fun this restaurant was. Fine dining with a party soundtrack – more of this, please!
More about Da Terra
Best excuse for carb-loading – mash with marrow crumb at Daffodil Mulligan
70-74 City Rd, Old Street, London EC1Y 2BJ
If the picture above doesn't make you want to dive headfirst into that bowl then you may want to question your life choices. Our entire meal at Daffodil Mulligan was a joy from seafood start to booze-soaked dessert, but this was the dish that brought a tear to our eye. These were proper Irish spuds, mashed into submission and then pounded with butter before having a well created to hold the gravy and the marrow crumbs sprinkled on top. This is the kind of dish that would soothe a broken heart, cement a budding relationship and turn the best of friends into sparring partners as they fought over the last spoonful. Legendary.
More about Daffodil Mulligan
Honourable mention – The Le Comptoir Robuchon Purée de pommes de terre. A hugely influential dish returns and lives up to the hype. 
Best looking restaurant – Circolo Popolare
Rathbone Square, London W1T 1JN
Already reeling from the OTT craziness of their first restaurant Gloria (which also opened this year), Londoners arriving at the Big Mamma Group's new Fitzrovia spot could be forgiven for thinking they'd walked on to the set of Mamma Mia via 1950s Capri. Quite how they turned a concrete box into this vision of loveliness is anyone's guess, but then this restaurant team have previous in transforming unloved spaces into hotter than hot restaurants. An instant, Instagrammable, hit.
More about Circolo Popolare
Honourable mention – Siren for creating a beautiful space at the back of the Goring. 
Restaurant we're embarrassed about not getting around to trying – Myrtle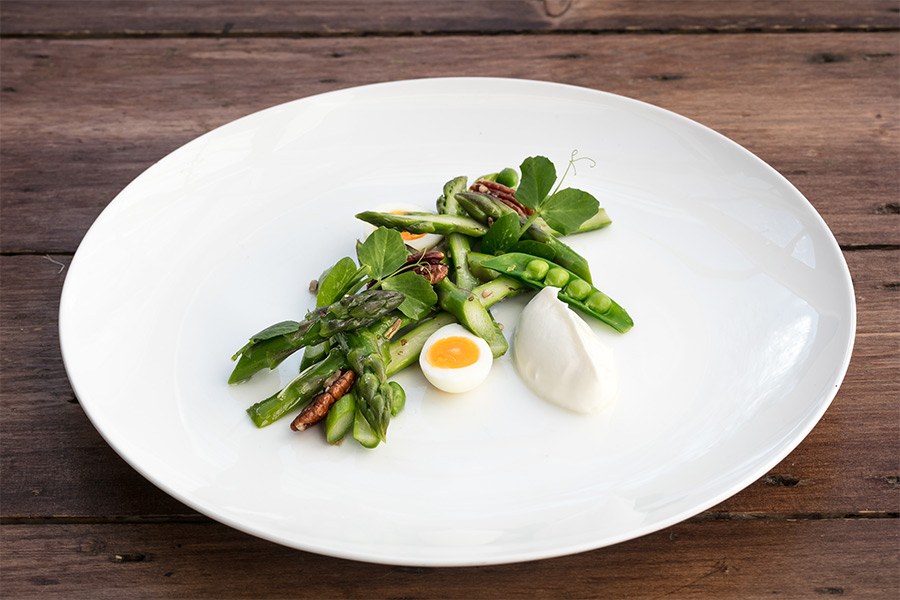 1A Langton St, London SW10 0JL
Honestly, where did the last six months go? We've been meaning to try Anna Haugh's new Chelsea restaurant since it opened in early summer but, stupidly, still haven't got around to it. Restaurant blogger Andy Hayler praised the "appealing menu and well-executed dishes" and The Telegraph review William Sitwell had particular praise for one of Anna's Clonakilty dishes, describing it as a "fabulous juxtaposition of rustic flavour and fine-dining presentation". It's most definitely on our to-do list for 2020…
More about Myrtle
We're also embarrassed about not having got around to – Master Wei. Xian Impressions is a local for us, but we've heard nothing but good things about this Bloomsbury follow-up. 
Best WTF concept – Pick & Cheese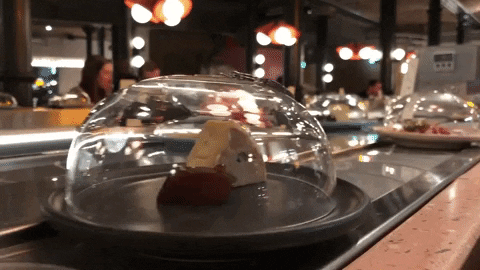 Seven Dials Market, Thomas Neal's Warehouse, London WC2H 9QW
"You know what London is missing? A conveyor belt restaurant that serves nothing but cheese!" Said no-one ever. But it turns out we had a space in our hearts for just such a thing. Possibly the best date idea ever – as long as that date isn't dairy intolerant. You can choose to either pop in for a quick bite and a drink, or head here for your cheese course at the end of the evening. We loved it. 
More about Pick & Cheese
Best new cocktail list – Hawksmoor Spitalfields
157A Commercial St, Spitalfields, London E1 6BJ
Our drinks editor Louis Fernando says: "One of our all-time favourite East London bars, responsible for some of our best drinking this decade, has recently relaunched with a revamped menu for 2019. Featuring a (mostly) all-new cocktail menu, we're big fans of The Tom & Jerez No.2 – a gin and sherry concoction that's one of the classics which has stayed with them throughout. Also worth staying for is the 'Nine inch Nail', an updated take on the classic 'Rusty Nail'. One for the scotch lovers, this elevated take fuses Glendronach, rosehip and amaro from Edinburgh. Rock n roll."
More about the Hawksmoor Spitalfields bar
Best dish – Sugar Skin Iberico Char Sui at Wun's
23 Greek Street, Soho, London W1D 4DZ
The description gives you everything you need to know about a dish we still have dreams about. But if you need to know more – the folk at Wun's in Soho take a gorgeous piece of Iberico pork, marinate it in char sui sauce and soy before roasting in, then brushing it with honey and finally they sprinkle on sugar dust containing 13 spice as well as chicken and sand ginger powders. The net result is every bit as good as that sounds – and maybe a bit more. You definitely won't want to share it with anyone else.
More about Wun's
Best Scene – Decimo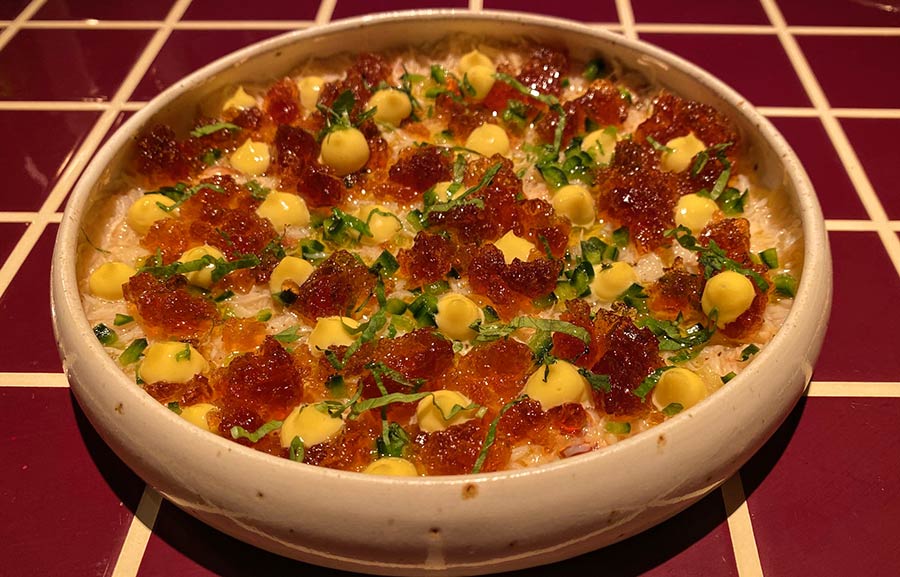 10 Argyle St, Kings Cross, London WC1H 8EG
King's Cross hasn't had a scene this banging since the old days of Bagley's. Imagine a Bond villain lair crossed with a Brazilian playboy's pad from the Sixties and you've got this rooftop restaurant at the top of The Standard hotel. The staff all look like they're waiting for a callback from a model casting and there are those jaw-dropping 360-degree views over London. All of which would be sufficient to draw crowds even before you add in Peter Sanchez-Iglesias top drawer food.
More about Decimo
Best out-of-town restaurant – Moor Hall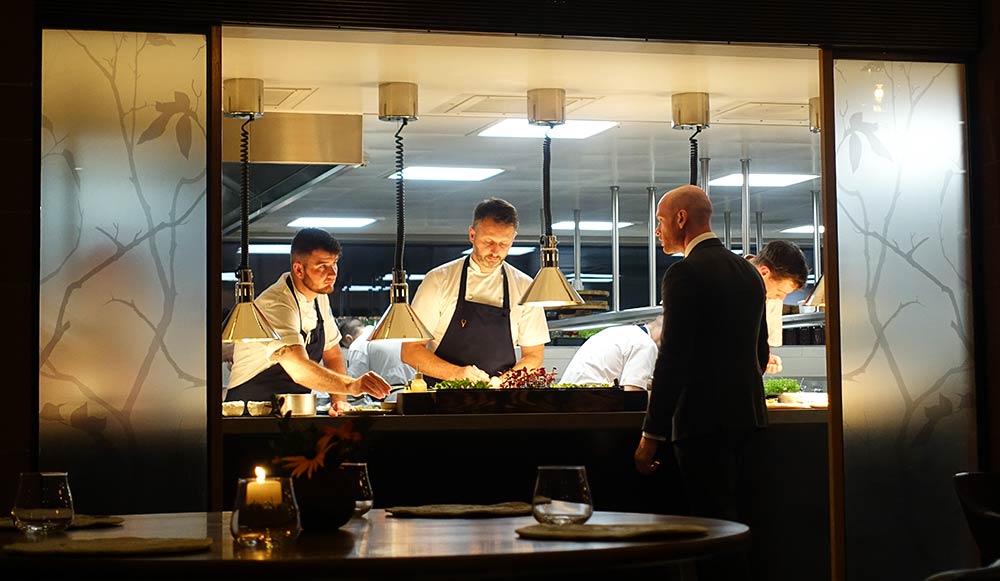 Prescot Rd, Aughton, Ormskirk L39 6RT
Before our trip to Moor Hall, we had heard a lot of good things about Mark Birchall's Lancashire restaurant from folk whose opinions we valued. All had raved about it, giving us almost impossibly high expectations from our visit, which the team here more than smashed. We loved it all, kicking off with fresh eclairs in the afternoon and the home-cured charcuterie, sliced in the bar before dinner. The wander through the kitchen gardens (and kitchen) as part of the experience was the precursor to an amazing meal. And this was topped off by the five-star cooked breakfast the next morning. It was just perfect.  It should be a place of pilgrimage for any self-respecting London foodie.
More about Moor Hall
Honourable mention – Coworth Park for our hugely impressive, occasionally emotional bespoke dining experience there.
Most Instagrammable dishes
103-105 New Oxford Street, London, WC2H 8LH.
Arcade Food Theatre broke Instagram when it opened with two oh-so-photographable dishes – the egg and tofu katsu sando from Tou and the Black Sea Pide from Selin Kiazim's Oklava. Everyone either wanted a piece of the former's geometric perfection or a video shot of the slow-mo egg yolk pouring out of the pide.
More about Arcade Food Theatre
Honourable mention – QCH's confit potatoes. The restaurant's 150th birthday this year plus the publication of their cookbook gave their legions of fans a chance to pop off plenty of pics of these life-affirming carbs.
Best bar snacks – Gezellig 
Holborn Hall, 193-197 High Holborn, London WC1V 7BD
It takes a lot to stand out in this category, so strong has London's bar snack game become. But the Gezellig bar menu takes no prisoners. Drawing from Dutch sommelier Wieteke Teppema's homeland, the suckling pig bitterballen with sweet mustard were the main standout for us. When we visited, we also loved the sweetbread sliders and the more recent addition of Hen of the Woods and truffle tarts with Belper Knolle means we'll have to plan a return visit soon.
More about Gezellig
Honourable mention – the pistachio and chicken liver pate choux buns at Allegra are a must-have and the pigs head on beremeal at Wilder is an astonishingly good snack too. 
Best place to perch up the counter – Kebab Queen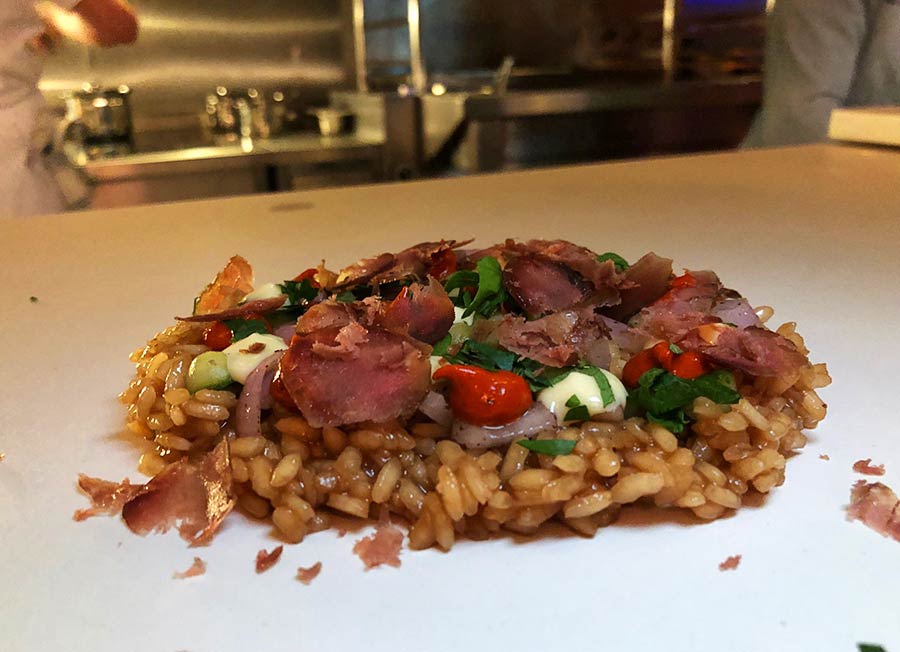 4 Mercer Walk, Covent Garden, London WC2H 9FA
The opening of this crazy concept restaurant-within-a-restaurant took counter dining in London to a whole new level (you have to go through the kitchen downstairs at Maison Bab to find it). The counter in question is made from Dekton – a space-age material that's completely non-porous and impervious to scratches, which is then heated up to become both the plate, the grill and the pass. It's the kind of thing that would give the folks over at We Want Plates a bit of a funny turn but it works beautifully.
More about Kebab Queen
Most transformed area for eating out – Notting Hill
There may well have been a year on Hot Dinners when we didn't cover anything opening in West London – such was the focus for interesting new restaurants firmly fixed on East London. But 2019 proved to be quite the year for the well-heeled denizens of W11. The year started strong with the debut of Jackson Boxer's Orasay as well as the very easy-on-the-eye Gold. We then had wall-to-wall Instas from Eggslut. Next up was Haya, the reopening of The KPH and the team behind Mazi opened the well-reviewed Suzi Tros. With Corbin & King heading this way too, Hugh Grant and Julia Roberts would hardly recognise their manor.
The best of Notting Hill
Best place to blow the budget – Bob Bob Cité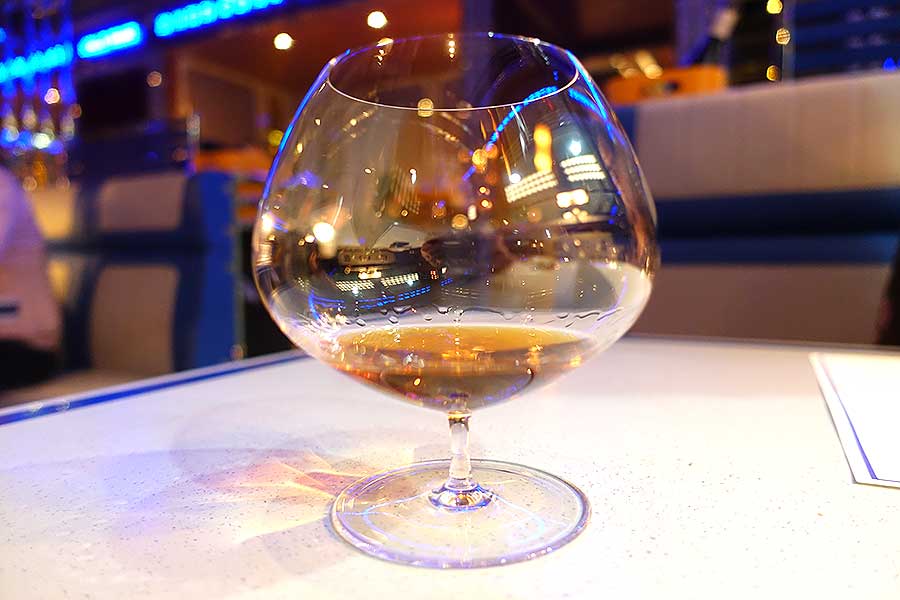 Level 3, 122 Leadenhall St, London EC3V 4AB
Given that owner Leonid Shutov has already blown (or should that be annihilated?) his budget on the fit-out of this super-luxe City restaurant, it's only fitting that his clientele do the same. To help you give your expense account a full going over, there are truffles on the oysters, caviar on the salmon fume imperial and you can finish your meal with a bottle of Armagnac from the year you were born (pictured above). And there's even more reason to do this sooner rather than later now that we hear that Eric Chavot is leaving the restaurant at the end of January.
More about Bob Bob Cité
Things we've eaten almost more than anything else this year – oysters
Obviously, we had quite a few when we judged the best dressed Irish oyster competition, but we have enjoyed some quite superlative shellfish in town this year. There were Dooncastles shucked for us by owner Robin Gill at Darby's by the new American embassy, we had amazing Ostra Regals with wakame and mayo at Lyon's in Crouch End and simply shucked Jersey Pearls, Gillardeau and Carlingford from what's billled as London's most extensive oyster menu at Seabird in Southwark.
London's best-dressed oysters
Best international meal – Culler de Pao
Calle Reboredo, 73, 36980 O Grove, Pontevedra, España
For us, Spain remained the country to beat in 2019 when it came to culinary experiences abroad. This was our second visit to Galicia but our first to this restaurant. It's set in a glass box with spectacular views over the Arousa estuary. Here we found a chef so determinedly embedded in his environment that he had even been personally responsible for ensuring the continuation of a particularly rare breed of cattle for use in his menu. A memorable meal with one hell of a view.
More about Culler de Pao
Honourable mention – our 48 hours in Lyon may have been during the city's worst heatwave in over a decade but we managed to enjoy ourselves through copious ordering of pot lyonnais rose.
Best reason to save room for dessert – the brown butter cakes at Flor
1 Bedale St, London SE1 9AL
To be fair, the dishes at Flor – the new restaurant from the Lyles team – aren't huge. So it's relatively easy to make sure you're still raring to go when the time for dessert arrives – and you really need to be. These gorgeous cakes, crispy, chewy and fudgy, give the talented pastry team here in Borough a chance to show you what they're made of. Mainly butter and unrefined sugar these are given temporary structure by flour before you cram them in your mouth. Heavenly.
More about Flor
Honourable mention – the cheesecake at Seabird. A baked Manchego cheesecake, with more than a nod to the one at La Vina in San Sebastian, this takes that world-class dish and elevates it with a light hand. And then undoes that all by shaving Manchego all over it. Would eat again in a heartbeat.
Best classic London restaurant – L'escargot
48 Greek St, Soho, London W1D 4EF
Early in 2019, we went properly old-school with our visit to this Soho institution. We enjoyed classic French cuisine, kicking off with one of the two best vodka martinis we'd had this year, and progressed through lobster bisque and snails with garlic (obvs) to Tornedos Rossini and pistachio souffle. On an arctic winter's day the bonhomie temperature here was turned up to full.
More about L'escargot
Honourable mentions – Our remit to try more of London's classic restaurants saw us enjoying the hospitality of Bellamy's in Mayfair, Pied a Terre in Fitzrovia and Ognisko in South Ken (the provider of our second-best martini of the year). Each establishment more than proved why they'd stood the test of the time – and are likely to for some time to come.
Most obvious trend – Food Halls
With five massive food halls opening to the public this year, 2019 was most definitely the year of the food hall (or court). Arcade Food Theatre was the first to kick off, scoring a particular hit in atracting Tata Eatery to open their katsu sando offshoot Tou. Then we had Seven Dials transforming Thomas Neal's Warehouse and introducing Londoners to the concept of conveyor belt cheese plates.
In just one week in November, two food halls opened their doors at either end of Oxford Street – Market Hall West End and Mercato Metropolitano – and the year concluded with the arrival of Borough Market Kitchen. While that last one might not be a completely covered food court, is still very much that experience with 20 traders and communal dining spaces
More about London's food halls and courts
Honourable mention – High rise. Five high rise restaurants opened up in London this autumn, all within weeks of each other. But the good news is that nowadays having an epic view no longer means that the food comes second place.
Best veggie dish – Artichokes, Silo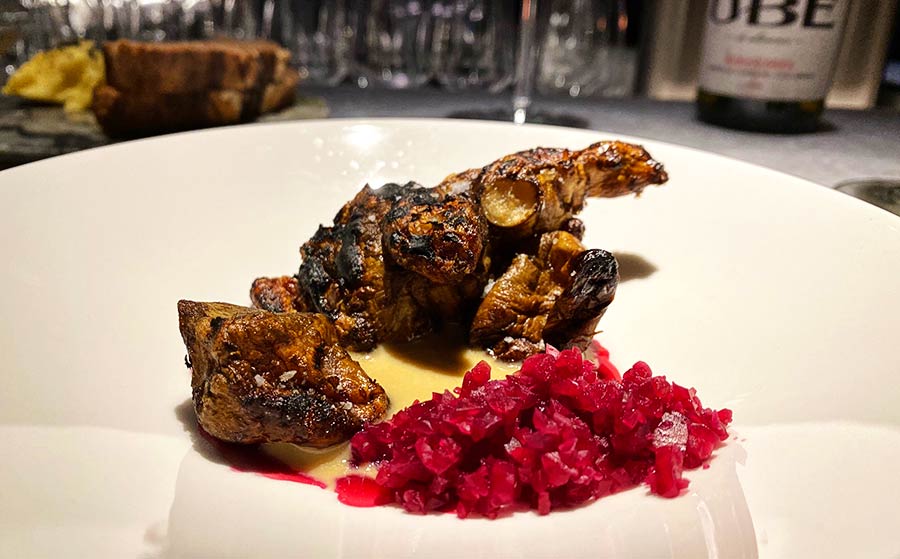 The White Building, Unit 7, Queens Yard, Hackney Wick, London E9 5EN
Silo came to London with a lot of hype and huge expectations from Londoners – and it happily delivered. And as well as following a strong no-waste ethos while also delivering an excellent restaurant, its vegetarian dishes are particularly strong. That was exemplified by their charred white artichokes – slowly grilled over the fire and then seared by plunging them into the coals, these were quite phenomenal, with a Stichelton blue sauce rounding everything off. We could have devoured these all night long. 
More about Silo
Honourable mention: the Kale citrus salad with mixed Valencian citruses, three tomatoes dressing, cashew nuts at Arros QD challenged our preconceptions about kale – in a good way.
Most enjoyable dining experience – Seabird
14th Floor, 40 Blackfriars Rd, South Bank, London SE1 8PB
It might surprise you to learn that when someone asks us in person where our last good meal out was, our brains tend to empty out. But for weeks after our weekend lunch at Seabird this became our go-to recommendation. The dining room and terrace look like you could be in Miami (if it weren't for the grey London skies), the food is super and the staff here were the smiliest, friendliest folk we'd had looking after us in ages. Everything just clicked – and that's rarer than it sounds.
More about Seabird
Honourable mention – we're all for messing about on the water, and watching boats go by whilst sipping on English fizz and the best fish that Cornish day boats have landed on The Grand Duchess at Paddington this summer was a particuarly peachy way to spend an evening. While for the sheer ingenuity of its cocktails matched with the food from Ta Ta Eatery – a nod must go to Tayer & Elementary too.
Look out for more awards on Thursday
We want to hear what you think…
Vote for what was your favourite new restaurant opening of 2019 and you could win a cracking night out in London and some enticing restaurant freebies. Cast your vote now. 
Subscribe to hear the latest from Hot Dinners
Source: Thanks https://www.hot-dinners.com/Features/Hot-Dinners-recommends/food-drink-restaurants-eating-out-2019-awards