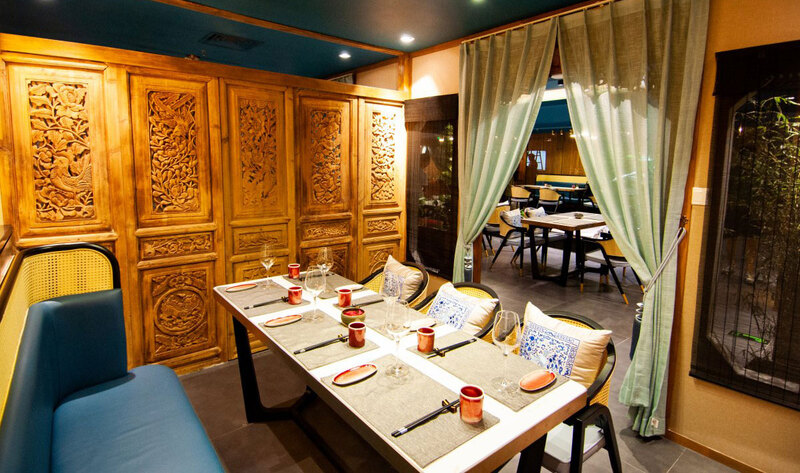 A new upscale vegan restaurant recently opened in the Metroplaza Lido Hotel in Beijing. Be Vegan, Go Green draws inspiration from the Song dynasty era in both decor and locally derived ingredients. The vegan menu is guided by China's 24 solar terms of the traditional Chinese agricultural calendar, during the period when seasonal cooking originated. The Song dynasty was also known as the greatest time for Chinese gastronomy, when plants took a prominent role in the kitchen. The restaurant's seasonal menu offers 10-course meals featuring creative dishes such as vegetable sauce radish cakes, matsutake mushroom soup, yellow vegetable curry, papaya sweet pudding, durian mooncakes, and pesto noodles. The restaurant also displays a wide range of food products that can also be purchased, including preserved tofu, canned fruit juices, spicy sauces, sesame oil, and a variety of fresh noodles and flour. The owners of Be Vegan, Go Green run a non-profit organic food company with 400 acres of organic farmland, where the majority of the restaurant's ingredients are sourced from. As their first foray into fine-dining, the owners hope to change the perception of vegan food by highlighting the range of flavors and ingredient combinations that can be made with plants.
Photo Credit: The Beijinger 
Want more of today's best plant-based news, recipes, and lifestyle?
Get our award-winning magazine!
Subscribe
Source: Thanks https://vegnews.com/2019/12/new-vegan-restaurant-in-china-takes-inspiration-from-10th-century-song-dynasty