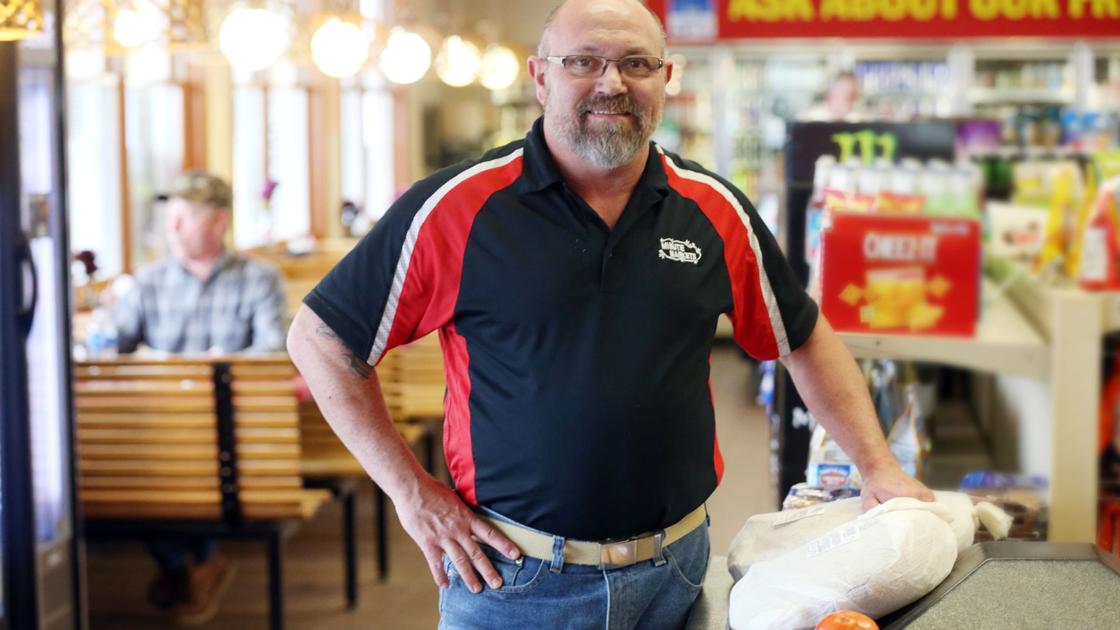 REDWOOD — The executive chef brought a plate heaped with turkey, stuffing and mashed potatoes out to the table where a group of regular customers had sat down to lunch.
The women at the table, all longtime friends, routinely dine there on the third Thursday of every month. Not three feet away from where they sat, shelves displayed row upon row of 2-liter soda bottles, with brand-name cereals and bread loaves an aisle away.
The establishment hosting this Turkey Thursday meal wasn't a restaurant, but a convenience store, the Redwood Express Mart, and the chef serving them, Bo Bernard, also works as a store manager. Before Minute Market Inc. chain owner Danny Perdue brought him on board in August, Bernard spent two decades preparing meals for hundreds of students at Ferrum College.
Though he's new to the job, everyone there seems to know him. "He's like a local celebrity," said Parker Samson, 22, a store employee. "People come in and keep asking for him."
Bernard said he quit as assistant director of dining at Ferrum College after the administration contracted its food services to an outside vendor. He asserts that the switch to working in a convenience store kitchen is the best thing that's happened to him in years.
"Now I'm being creative. I'm rocking down here," he said. "I love this. Every day when I leave here, I'm hurt and I'm tired and I'm sore and I'm beat, but I'm happy. I have such a ball with these folks. I just laugh all day."
To say Bernard, 58, has thrown himself wholeheartedly into this late-in-life career change-up would be an understatement. That particular Thursday, he was quietly ecstatic about how visitors to the store have received his changes to the menu. He organizes each day's offerings around a theme. Just two days prior, Catfish Tuesday concluded with the store selling out of catfish.
"We're getting to where we're having to buy more food, which is cool," he said. "I came in and lowered every price, and we're still making money."
He was already looking ahead to Flounder Friday. "We'll run out tomorrow, but I've brought in a backup so we should be OK."
He said he makes it a point to keep the menu evolving. "Every Wednesday I have a smoked product that's not the same. We had ribs, we had pork shoulders, we had smoked chicken the other day and sold out of it."
"Food's got better and prices got cheaper," said regular customer Matt Hall, 36. "I think it's going in a really good direction, especially with the daily specials."
"I've been with the company for a while," said manager LeeAnn Wright, 45. "I have seen a difference since August."
"She's my mentor," Bernard said. He gestured toward the store shelves. "She's teaching me about this end." Then he gestured toward the kitchen. "I'm teaching her about this end."
Credit must be given where credit's due. The Redwood Express Mart was already an established eatery with a loyal clientele before Bernard took it over. "The food was good before," said Alice Hall, who retired in 2007 after 11 years as Franklin County's clerk of circuit court and 44 years working in that office. She was part of the gathering of women at the lunch table.
"When I retired, I came out here and ate breakfast and lunch every day," she said. "When they sold to Danny, I continued to come every day. I enjoy it because I meet all of the people around here and away from here."
The store's former co-owner, Nancy Thurman, sat across from her at the table. She said Bernard has added a lot to what the mart can offer. "He's done great with it."
Thurman and her husband Ravon built the store, opening in June 1990. They put effort into the menu themselves. "We ground our own meats and stuff," she said. The Thurmans ran their mom and pop store for 29 years before selling to Perdue.
"They looked after me," Hall said, "and so does the ones out here now. They brought my coffee to the table every morning, and they still do." She pointed at Matt Hall, no relation, who had taken a seat at a booth. "That's my buddy, too. He gets my coffee refills for me. He's a good friend and a good person."
Bernard's real first name is Timothy, but Sontag resident Andy Potter, 68, referred to him as "Bobo," because "I've known him since he was born. When I was little we lived just a couple blocks away from each other. He grew up right behind the courthouse in town." When Potter was older, he enlisted in the National Guard based in Rocky Mount, where Bernard's father Bill was the first sergeant.
Potter and friend Ronald Blankenship, 64, were seated in a booth having Turkey Thursday lunch. "It's a whole lot nicer menu to eat for lunch," Potter said. "Bobo's a good cook. He's a craftsman, ain't no doubt about it."
There's more to the store's appeal than the food. "You can't beat the company," said Jackie Hodges, 59, another regular customer who's known Bernard since childhood. "This is a tight-knit community, man."
Bernard started attending culinary school at night while working under the chefs at Hotel Roanoke. He earned his executive chef certification after Ferrum hired him. "You have to put in so many years," he said. "I just studied and practiced."
He said he has had younger chefs that he's worked with approach him about a job at the Express Mart, but he's steered them away, telling them, " 'It's a great job, you'll love it, but it ain't going to be enough for you. You're still hungry.' I'm not hungry anymore. God has a divine plan for me and this is it. I truly believe in my heart that I'm here for a reason, because everything fit and I get to do what I want to."
He pondered a way to further enhance the flavors of the store's hamburger patties. "If I could take that and I could get my mixer up here and I could enhance that burger by adding some stuff to it, just some flavors, maybe a Montreal rub inside the mix, just to bring the flavor up a little bit. We put it on it, but if you can put it inside it, it makes a whole world of difference."
Alice Hall stopped by the front counter on the way out. "Bo, it was wonderful. Thank you so much," she said. "I'll see you in the morning."
Source: Thanks https://www.roanoke.com/news/local/a-franklin-county-executive-chef-orders-up-a-career-change/article_8930431e-8dea-5bf0-8410-a925e174d039.html