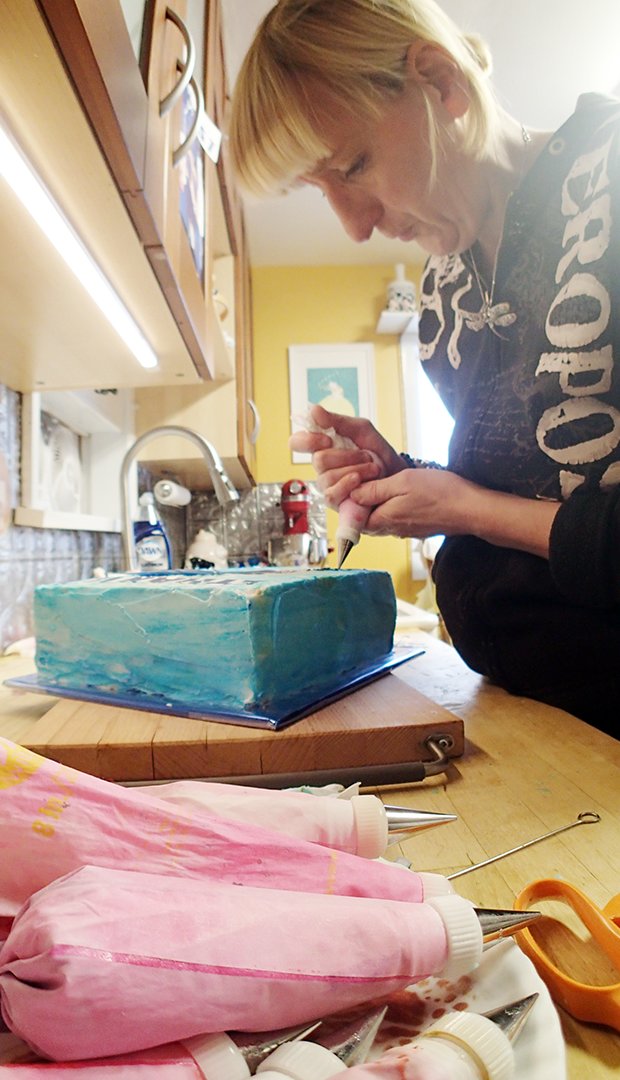 Keith Vandervort
ELY – "…And I'll make the cake." That simple phrase launched a new career for Susan Laine since moving here two years ago. Her cake decorating skills have gathered quite a following around Ely.
"I have been made aware that I even have my own groupies," Laine said recently in the kitchen of her Pattison Street home, located within reach of a long home run over the fence of Veterans Memorial Baseball Field.
Susan, who has been making cakes for more than two decades, is assisted on the front end of the creative process by her husband, Curt, who helps her with the design process. "He is actually the brains of the whole thing," Susan said.
She starts with receiving a request for a cake and the size of the sheet cake she will create, typically a 10-inch by 10-inch size, or 12 by 15, or something in that range. "My cakes are very tall (about four inches) so they serve more people," she said. Almost any flavor is available.
"Here's a little secret: Keep the kitchen quiet while the cake is baking in the oven. It keeps the cake happy," she said. "I set the oven at 300 degrees, because 350 is just too traumatic."
After cooling, she puts the cake in the freezer. Then she gets down to what should be decorated on the cake. She talks with the cake customer and determines the subject's interests, hobbies and whatever special occasion they might be celebrating.
On a recent afternoon, Susan was producing a birthday cake for Ethan Tome, who was turning seven years old. "He really likes Roblox," she said. "In this last year I have had to learn a lot about the new culture of things going on, such as video games and things like Minecraft and these Roblox that I never heard about. Mom (Helen Tome) sent me an image that Ethan created."
Curt said that while so many images available may be copyright protected, such images can be used for personal use. "If you want to put a picture on a birthday cake, you can go ahead and do that," he said, "but you couldn't put that image on a greeting card and sell a thousand of them."
Susan forwards her ideas and images to Curt who sizes and composes the image to a one-to-one ratio for transfer to the size and shape of the cake.
"There is lots of creative energy put into each design," Susan said. "I fret over what font (letter shape design) to use. For Ethan's cake I thought an 'art deco' font would be so cool."
She will find and incorporate creative images of hobbies or passions of the cake subject. "For another cake I wanted to use dolphins, a basketball and roller skates. "I spelled out the word 'Love' with the roller skate as the 'L,' and it turned out so cool," she said.
"I am so honored when people asked me to be a part of their family celebrations," Susan gushed. "It is always a good celebration. No one asks for cake when something bad is happening," although she admitted that she did do a funeral cake on one occasion.
She likes to work alone when she tackles the decorating. "Curt goes far away when I get into the zone," Susan said.
While she has been working on her creations in her small kitchen in their home, she revealed that early next year she will begin working out of her new cake studio, located in the former Jugoslav Home on the second floor of the Napa Auto Parts building in downtown Ely. Curt will also have office space right down the hall to use for his media production agency.
"It is set up as a commercial kitchen and will be a real joy to work in," Susan said. "I will have more room to spread out. New flooring and a state inspection are all that need to be completed."
Curt and Susan moved to Ely in 2017. Curt's grandfather moved to Ely in 1898 and his father later owned a camera and record shop, located in what is now Britton's Café. His brother, Roger, owned Roger's Printing until just a few years ago. Susan, originally from Altoona, Pa, moved to the Twin Cities in the mid-1990s.
"I started this cake stuff in 1995 and I can't even count the number of cakes I have made since then," she said.
She makes mostly sheet cakes, but created a couple of multi-tier wedding cakes. "You can have any flavor you want," she said. "Carrot cake is the best. That's custom made from scratch. And we just started making keto cake."
When Susan and Curt first moved to Ely, they would often meet up with Curt's Ely classmates (class of 1971). "They would be talking about celebrating a birthday, and I would say, 'And, I'll make the cake.' And that's how my new business was born," she said.
On average, she produces about 10 cakes a month, and prefers a lead time of four or five days to finish an order.
Look for Susan Laine on Facebook, or call her at 218-235-8065.
Source: Thanks http://timberjay.com/stories/ill-make-the-cake,15833