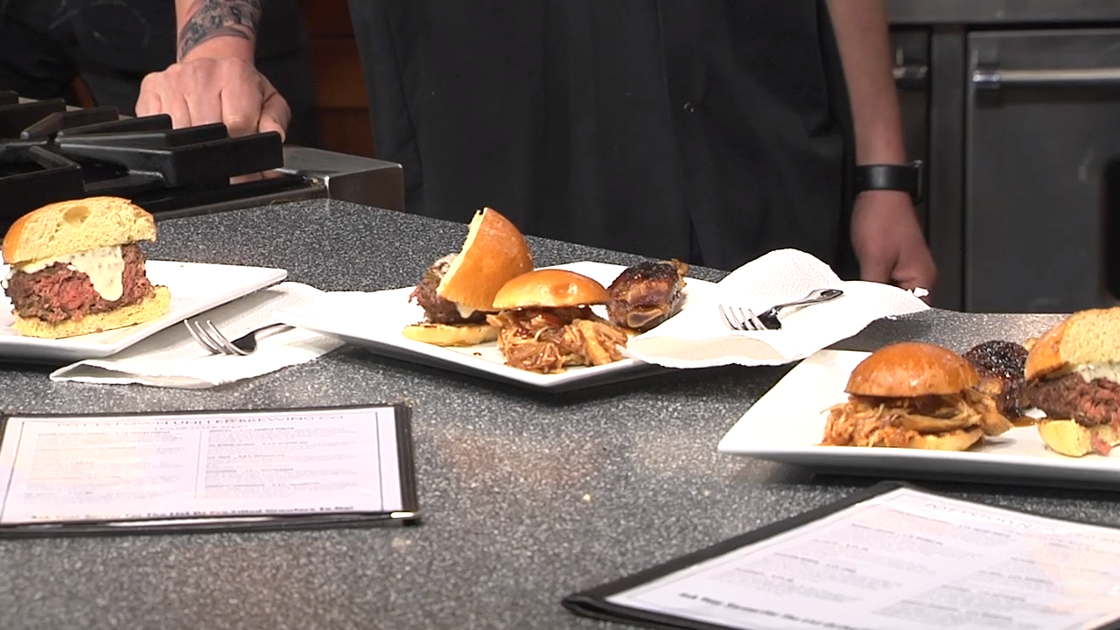 Chef and owner Adam Burke and sous chef Asa Zarzeka with Pottstown United Brewery Co. visited the WFMZ kitchen to prepare some of their favorite dishes.
Pork wingettes with Korean BBQ sauce
appetizer feeds 5
10 pork shanks pre cooked
Korean BBQ sauce (your liking)
Get cast iron pan or sauté pan hot with a little oil. If you have a table top fryer use that. Lightly place wingettes into the oil once it's hot.
Lightly brown the outside of the wingettes and heat until center is hot. Take off heat and toss in sauce. Use a medium bowl and tongs if needed.
Jalapeno beef burger with beer cheese sauce
makes 5 burgers 8oz per burger
2.5 pounds 80/20 ground beef
5 kaiser or brioche rolls (your choice)
4 diced jalapenos
2 cups extra sharp cheddar cheese
2 cups heavy cream
1 ounce corn starch and water (slurry)
Salt and pepper to taste
5 oz. beer (lighter ale or pilsner preferred but again use what you like or have)
Mix the diced jalapeno and burger meat together in a bowl. Turn your grill onto high heat. These can also be baked at 400 degrees in an oven.
Spray with nonstick spray and place burgers on grill. Flip burgers and cook until your preference in temperature.
In sauce pan, pour beer, cheese and heavy cream. Heat until cheese melts and then add slurry once it starts bubbling. Once cheese sauce thickens, pour over burger and enjoy.
BBQ chicken sliders
for 5 sliders
3 boneless chicken breasts
2/3 cup BBQ sauce (your choice)
1½ sliced onions
5 slices of American cheese
Place chicken in boiling water and boil lightly until fork tender. Cool chicken then pull.
Sauté sliced onions until opaque. In the same pan, combine the pulled chicken and BBQ sauce and heat together. Put meat onto the bottom of the slider rolls and put the American cheese on top. Bake at 350 degrees until melted.
Source: Thanks https://www.wfmz.com/food-and-recipes/sunrise-chef/sunrise-chef-pottstown-united-brewery/article_e5036e56-28ac-11ea-a463-03857e8b4225.html