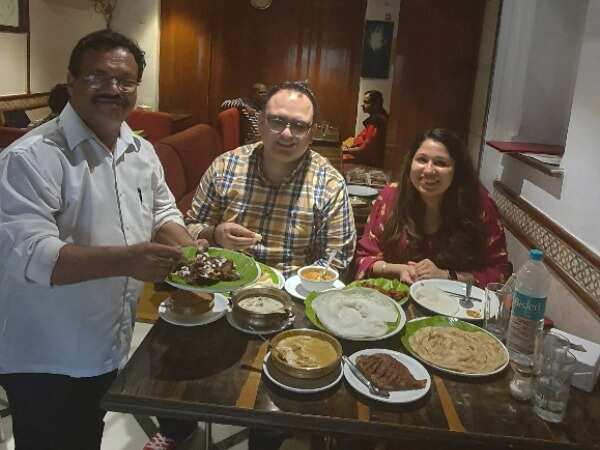 Grateful and overwhelmed due to your responses to be my #Foodieblinddate in Chembur. I could coordinate my time to meet only a few of you who emailed. But, thanks to you, what delicious discoveries — from the well-known Sindhi specialty ones, best kulcha cholley, Sindhi chaat to the famous plump, spongy gulab jamun. From the ever-popular trendy café to a fitness café, too. All thanks to my foodie blind dates, Rachi Gupta and Megha Purohit. Also thankful to other charming Chemburites, Raj Anand, Rishabha Bhandari and a surprise guest, yet another Chemburite, Anupam Gulati, the executive chef of a leading five star hotel.
Today's column is dedicated to my most favourite cuisine of Kerala. Leading me to this Chembur icon is Rachi, who is a trained chef from Aurangabad and Ducasse, Paris, an entrepreneur of healthy desserts business and a full time foodie. We also have the good luck to benefit from two decades of experience of Chef Gulati, who meticulously rates each dish from the point of view of flavour and freshness of ingredient. We all give Udaya a thumbs up.
DÉCOR
Leading off the cacophonic Chembur main road is this tiny lane which ends at a squat bungalow-like structure. Walk in and choose to sit in the air-conditioned section. Simply but pleasantly done up space.
FOOD

Zero in on Kerala, skip Chinese (you read that correctly) and North Indian. Begin with baby pomfret fried to perfection, bite through the tasty, crisp crust into the soft, snowy white fish. Silken, mellow, coconutty 'Fish Moilee' aromatic with whole spices is recommended. Though the appams should've been served hot off the appam pan, they were nonetheless tasty and paired brilliantly with the mild mutton stew, which had the perfect infusion of spices. Robustly spiced, tender boneless, mutton attirachi fry with notes of freshly pounded black pepper.
Chef Anupam found out all about how they get their whole spices from Kerala, especially black pepper cinnamon and green cardamom jaggery infused payassam made for a sweet ending.
MINUS POINTS

My favourite Karimeen fish is not served here. Overfried Nardan Chicken Chilli and lacklustre Kerala biryani chicken. Very few options for vegetarans — kadala curry, ghee rice to name a few. No parking. No alcohol.
MY POINT

We fell hook line and sinker for Nitin Balan of Calicut's Kerala eatery. Mumbai needs more such regional Indian cuisine restaurants. Happily, Udaya Lunch Home in Chembur serves up authentic food from Kerala, though it slips up on a few dishes and could do with more vegetarian ones. It keeps its price points low and standards consistently good. If in the vicinity, drop the anchor here.
Source: Thanks https://timesofindia.indiatimes.com/life-style/food-news/restaurant-review-udaya-lunch-home/articleshow/72981354.cms