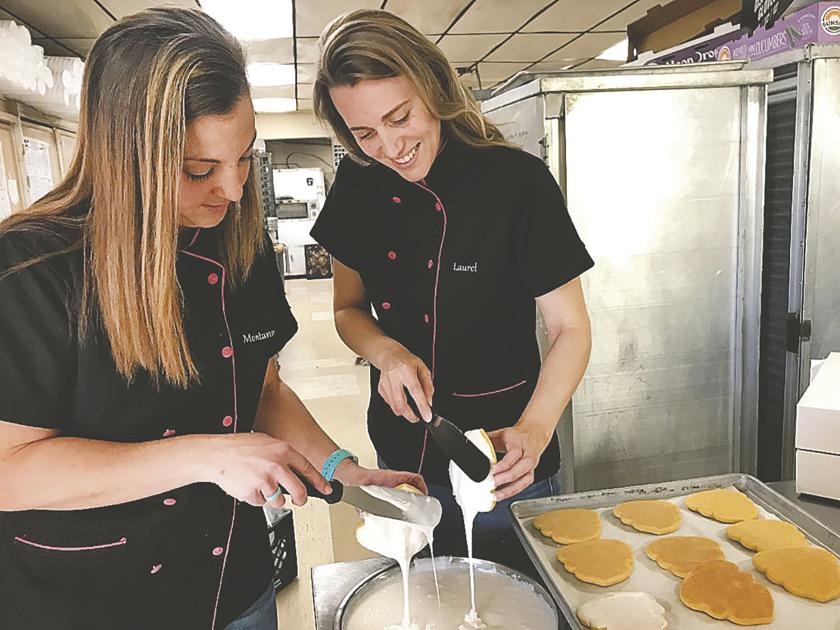 Montanna Meyer and Laurel Baechle, co-workers at Harter Bakery in Arnold, got an early Christmas present on Thanksgiving weekend: Fame and glory.
Bakery manager Meyer, 28, of Pevely and decorator Baechle, 29, of Kimmswick appeared in an episode of the TV cooking competition show "Sugar Rush Christmas," released on Netflix on Nov. 29.
"We never dreamed we would ever do something like this," Baechle said. "And we went out there and just did it. It was literally the time of our lives."
Meyer and Baechle went to California early in the year to film their part in Episode 5, called "Here Comes Santa Claus," of the popular show, a holiday version of the regular "Sugar Rush" competition.
The show format features four teams of bakers competing in three rounds, with one team eliminated in each round. The winner receives $10,000.
Meyer and Baechle made it through the first round on the strength of their recipe for vanilla cupcakes with cranberry-apple-orange filling and buttercream frosting.
"We were amazed," Meyer said. "We honestly didn't think we would ever get through even the first round."
In the second round, which called for dippable confections, the ladies got through by reaching for their roots, whipping up peppermint gooey butter cookies with Rum Chata chocolate ganache.
"I was glad to rep a St. Louis icon like gooey butter cake," said Meyer, whose shop makes hundreds of the decadent desserts each year. "Shout out to the hometown!"
In the final round, in which contestants had to make a gingerbread cake around a Santa's Workshop theme, the Harter team had some challenges.
"Ugh. It was awful," Meyer said of her struggle with an industrial-sized mixer in an attempt to save time by mixing multiple cake layers at once.
Baechle shrugged and said, "Ummm, I'm not an engineer," about errors in measurements for the walls and roof for the gingerbread workshop.
Although the judges praised their design and workmanship, it was no surprise to either of the Jefferson Countians when the other team won the episode.
"But we were laughing and crying and so excited," Baechle said. "We felt like we'd won just by being there. (The winners) were looking at us like, 'Um, you know we won, right?' and we just didn't even care. We were having too much fun." 
Candy is dandy
Meyer, the single mother of a 6-year-old son, went through the culinary program at Jefferson College starting in her sophomore year in high school. She joined the staff at Harter at 18, and has taken decorating classes and studied with several mentors on her way to becoming the store's manager two years ago.
Baechle, married for six years to husband Adam, was studying pre-med at the University of Missouri in St. Louis when she decided to pursue instead her childhood love of baking. She worked at several bakeries before being hired by Meyer in 2017.
In September 2018, the two attended "Show Me Sweets," a cake and candy convention in St. Charles. 
"It's one of the biggest trade shows in the area," Meyer said. "There are always lots of people there from the Food Network, TLC, all the (TV) shows."
At the Harter Bakery booth, Meyer and Baechle showcased a cake they designed around the convention theme of "Candyland." 
"It was a six-layer cake, with scenes and characters from the game on the front," Baechle said. "The back was an homage to the creator of the game."
Someone at the show apparently liked the cake and its two enthusiastic creators.
"We got a call the week after from the 'Sugar Rush' producers at Netflix, saying we'd been recommended for the show," Meyer said. "We have no idea who it might have been. We certainly never applied to go on the show, or even thought about doing something like that. I wouldn't have a clue how to even start."
After clearing it with John and Simay Souvannarath of Imperial, who have owned Harter Bakery since 1997, Meyer went ahead with the process.
"We filled out an application, and they did a bunch of checks – background checks, credit checks, they looked at all our social media," she said. "We did a Skype interview and a couple of phone interviews. It was a surprisingly in-depth process."
Treated like queens
In mid-January of this year, Meyer got the call that they were in, and they were told the theme of the episode on which they would appear.
They flew to Los Angeles on Feb. 5 for a three-day shoot.
"Those were some long days, too," Baechle said with a laugh.
There were interviews to film, intercut scenes for the show, background material, short bits for promotional purposes – and then the long day of shooting the actual baking scenes.
Both Meyer and Baechle were thrilled to work with the show's judges, master baker Adriano Zumbo and Sprinkles Cupcakes founder Candace Nelson.
"Oh, my God, it was so surreal," Baechle said. "And they were both so nice, so sweet and encouraging. They had a lot of really nice things to say about our decorating, our 'modern, clean style,' as they called it."
The bakers were particularly gratified when the guest judge, actress Tiffani Thiessen, gushed about their hometown-inspired treat.
"Candace wasn't feeling it when she heard the name gooey butter," Baechle said. "She just had this look on her face. Then Tiffani was like, 'No, you don't understand. I know about gooey butter cake. You HAVE to try this; trust me.' That was great."
And it wasn't just the celebrities under the lights who treated the Jefferson County ladies well.
"Even off camera, everybody was so nice," Meyer said. "The producers, the kitchen managers, even the drivers who took us back and forth and to the different places, they were just so wonderful."
Still going forward
Back at their busy bakery in Jefferson County, Meyer and Baechle are hard at it, cooking cheesecakes and pastries by the dozen and crowding into the tiny decorating room to finish off an endless mountain of cookie and cake orders.
In the odd free moment, they put their heads together with fellow designer Grace Paszkiewicz, 34, to come up with new designs, learn new techniques and incorporate some of what they saw on their trip.
"Even though we were only there three days, we visited four local bakeries," Baechle confessed. "It was so interesting to see the way they do things out there."
The two say they won't ever stop exploring, learning and working to make their products better. They also want others to know how much fun can be had by stepping outside a person's comfort zone.
"We never in a million years thought of doing something like this," Meyer said. "But when the chance came, I am so glad we took it."
"Seize the day," Baechle said. She modified that, though, after a brief Google search – "Or, rather, carpe libum – that's Latin for seize the cake!"
Source: Thanks https://www.myleaderpaper.com/news/icymi-pair-from-local-bakery-have-a-blast-on-holiday/article_d4ab94a4-281e-11ea-8657-5bdd8a45009c.html