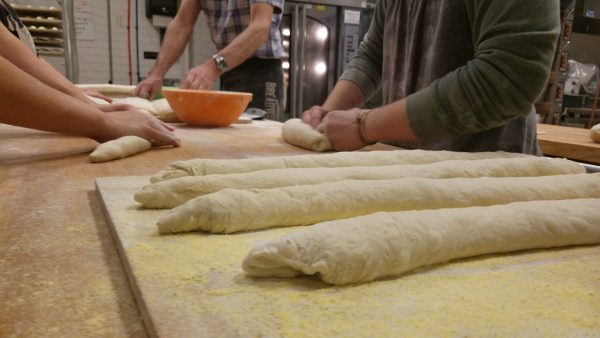 Bakers roll out dough and shape baguettes at Birmingham Breadworks.
On a recent Thursday in Homewood, every table at Bandit Patisserie is taken. People sip coffee and chat as they eat chocolate croissants and lemon ginger scones. When Victor King and Kristen Hall opened the cafe in November, they were surprised by the response. 
"There were lines down the block," King says, "and it's like, ok, everything that we thought was going to be enough is not enough."
"It was like, kind of a strange and terrifying magic show," Hall says. "You know, we'd bring an entire tray of like two or three dozen croissants that were made by hand and I'd put them in the pastry case and then I would turn around to go back into the bakery, and turn around three minutes later and they were gone."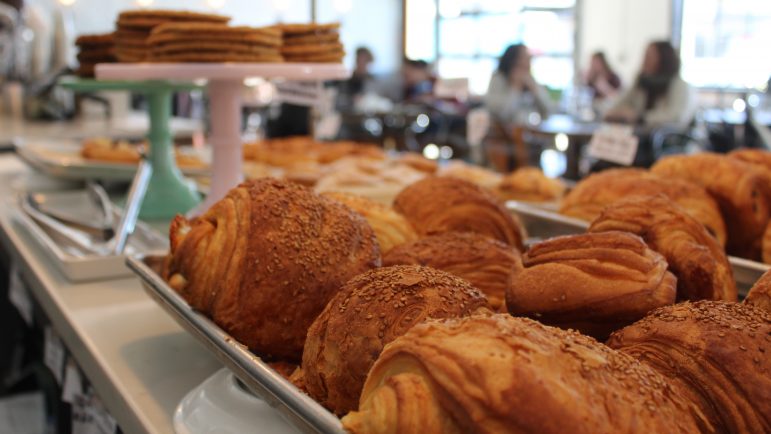 Homewood's Bandit Patisserie opened in November 2019 offering homemade pastries and bread.
Mary Scott Hodgin, WBHM
King and Hall, who also own the restaurant The Essential, opened Bandit to expand their bakery operation. In addition to a wider selection of their popular croissants and scones, they wanted a place to offer their homemade bread.

"It's been really awesome for us to be able to have sort of a separate retail store to share brioche buns, baguettes, country sour for people to be able to come into the store and take home with them," Hall says. 
It's the way people used to buy bread – from a local bakery, made with simple, fresh ingredients. And Bandit isn't the only option in town.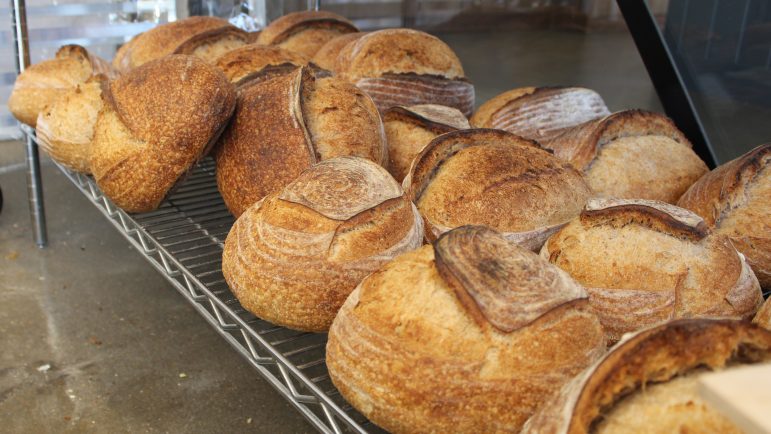 Fresh baked loaves at Bandit
Mary Scott Hodgin, WBHM
A Cultural Shift
"They have two different cycles," says Jenni Dyess, loading a tray of baguettes into the oven. "They have a steam cycle, and that's what's being pumped in there right now is a bunch of steam, and then they have just their regular baking cycle."
Dyess works at Birmingham Breadworks downtown, another bakery that offers fresh bread and pastries. Owner Brooks Taylor says their basic breads are made with just three ingredients: flour, water and salt. 
"This is what bread has been for thousands of years," he says.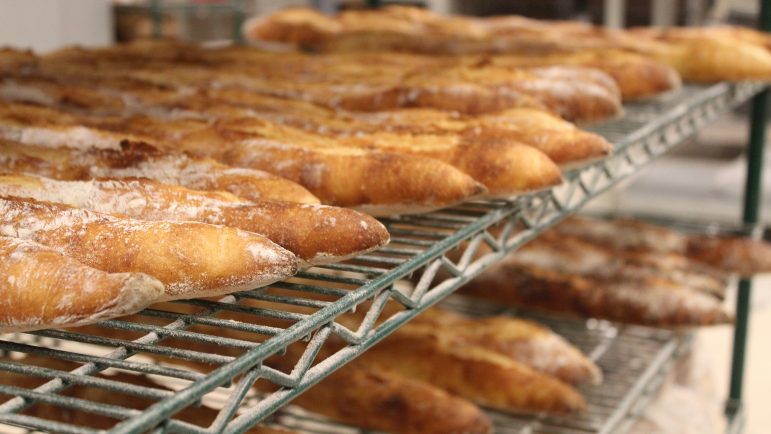 Fresh baked baguettes from Birmingham Breadworks
Mary Scott Hodgin, WBHM
While the basics of bread making might not have changed much in recent decades, there has been a shift in people's attitudes towards bread. Many trendy diets require people to avoid white flour, specifically those found in many breads and sweets. And that's created challenges to opening an artisanal bakery in cities like Birmingham. 
When he opened Birmingham Breadworks about five years ago, Taylor's biggest concern was getting customers.
"Because we are another stop for people," he says. "I mean, we as Americans are used to going to one store and buying everything we need."
Taylor says that is still a challenge, but it's getting better. He says wholesale customers, like local restaurant owners, help drive business. And he says Birmingham has a growing international community, a group more accustomed to making an extra stop for bread.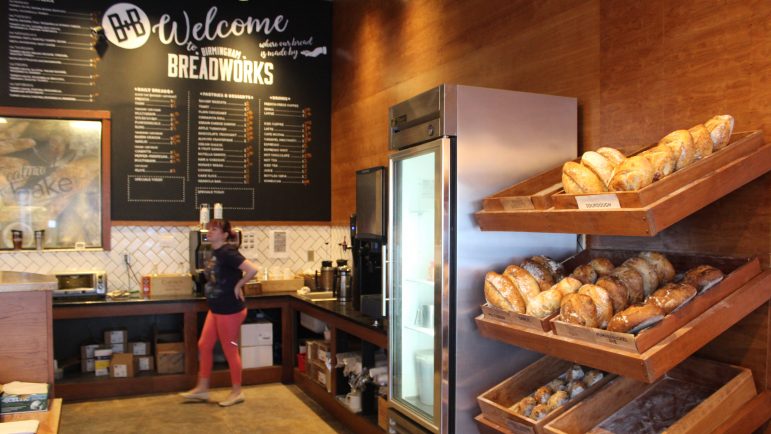 Birmingham Breadworks has several wholesale customers, but owner Brooks Taylor says his focus is more on the "walk-in customer."
Mary Scott Hodgin, WBHM
Birmingham resident Giuliana Russo-Skinner, originally from Italy, says she loves buying her bread from Birmingham Breadworks. 
"I grew up with a fresh loaf of bread every single day," Russo-Skinner says. "We would go to a bakery, we would go to a local supermarket and just buy a fresh loaf. My dad still, he's 81, and he still wants his fresh loaf of bread every single day."
Russo-Skinner says homemade bread is worth the extra effort. She says it tastes better and is healthier than products that have a lot of added ingredients.
Brooks Taylor says more people are starting to feel the same way. 
"I believe what we're seeing and what Breadworks has been able to take advantage of is a trend away from this factory food," he says, "and to get back to more of a traditional sense of how we eat."
Changing the Game 
The folks at Bandit hope that trend continues. Co-owner Victor King says Birmingham still has a way to go before the local bakery makes a true comeback. 
"I don't think we're there yet," he says. "But I think the real education is, in Birmingham and everywhere, is the superior ingredients."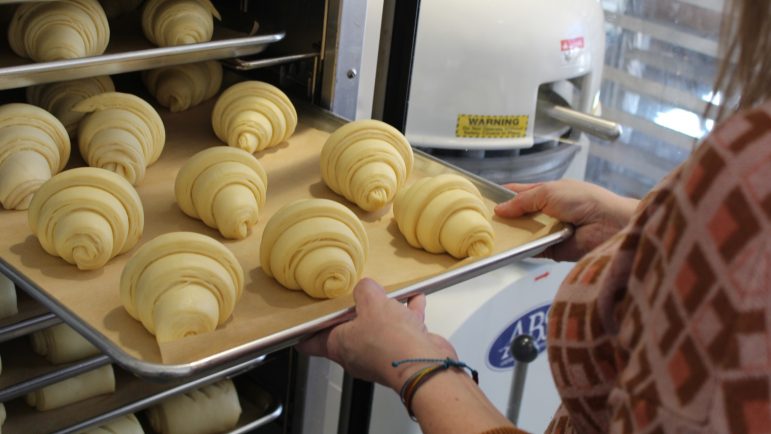 Co-owner Kristen Hall says the croissants at Bandit take about three days to make, and lots of butter.
Mary Scott Hodgin, WBHM
That's part of what King and co-owner Kristen Hall hope to accomplish through their products. But it is not easy. They say one of the biggest challenges so far has been staffing, finding people who will learn to bake, and who will get to work at 5 am. Hall says part of what makes it difficult is that Birmingham is not a big city, but she says that is also an advantage
"There's a lot of other places that actually are probably much easier to staff restaurants in and open restaurants in," Hall says. "But you know Birmingham, there's such an opportunity to open even just a single shop and really change the game." 
And as local bakeries continue to change the game in Birmingham, bakers hope people will choose to support them, not only for an occasional pastry, but for their daily bread.
Source: Thanks https://wbhm.org/feature/2019/quest-for-slow-food-fuels-birminghams-burgeoning-bakery-scene/