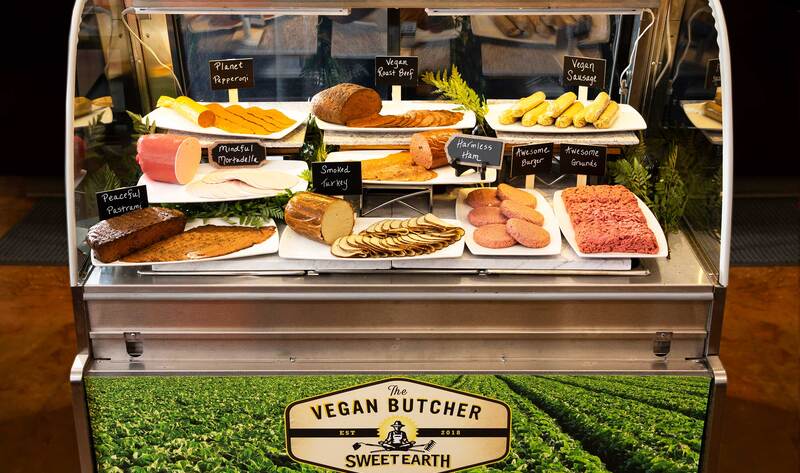 This spring, vegetarian brand Sweet Earth will unveil a line of vegan deli slices which will be available in packaged form and served from deli counters emblazoned with the phrase "The Vegan Butcher" at supermarkets. Some of the new deli meat offerings will include pastrami, mortadella, and roast beef, which will be displayed alongside its new Awesome Burger and Awesome Grounds. The case will also contain Sweet Earth's newly announced vegan sausage, which is scheduled to debut in three flavors—Habanero Cheddar (made with vegan cheddar cheese), Asian Ginger Scallion, and Chik'n Apple—in March.  
Sweet Earth's parent company Nestlé is currently in a trademark battle with family-owned vegan shop The Herbivorous Butcher over the use of the phrase "The Vegan Butcher." In August 2017, The Herbivorous Butcher—founded by brother-and-sister team Kale and Aubry Walch—attempted to register the trademark "Vegan Butcher" with the United States Patent and Trademark Office (USPTO). Shortly after the USPTO denied The Herbivorous Butcher the trademark—citing that the term was "merely descriptive"—Nestlé filed a trademark application with the USPTO for a nearly identical term, "The Vegan Butcher." In September, as Nestlé's trademark application neared approval, The Herbivorous Butcher filed an opposition with the USPTO to bar the company from trademarking the term, which has become crucial to the marketing and operations of the independent vegan butcher shop. While Nestlé's new deli cases boldly display "The Vegan Butcher," legal proceedings over the usage of the phrase are expected to continue through 2021.
Want more of today's best plant-based news, recipes, and lifestyle?
Get our award-winning magazine!
Subscribe
Source: Thanks https://vegnews.com/2020/1/sweet-earth-s-vegan-butcher-counters-are-coming-to-supermarkets