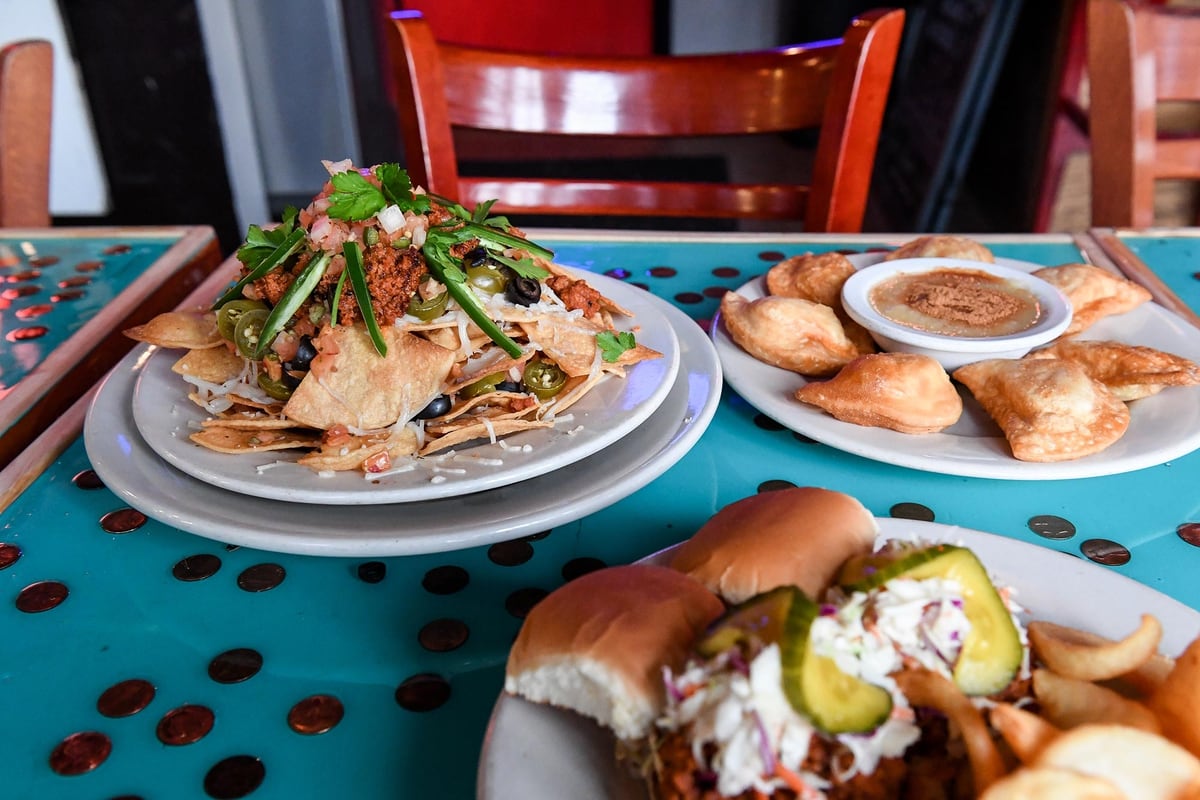 Every other vegan restaurant in Portland seems to be vying for a spot on the Instagram feeds of wellness influencers. New vegan spot Paterson, however, appears to be angling for a segment on Diners, Drive-Ins and Dives.
Owned by Patricia Earley, a co-founder of Killingsworth's lovably skeezy Florida Room, the Kerns bar and restaurant has a menu less reflective of a particular cuisine than a certain sensibility—that is, plant-based gut bombs.
The food is unfussy, fairly cheap and totally indelicate. There's standard bar food like nachos and tacos, but also tangy sloppy joe sliders, pierogies and bruschetta. Everything is served in towering portions—the $9 plate of poutine drenches a heap of thick fries in mushroom gravy and stretchy faux-cheese even the heartiest eater would struggle to finish in one sitting.
The bar's signature cocktails ($10) are no joke either. The tart Camper substitutes egg whites with the water from canned chickpeas, and the Rush In is an almond milk white Russian that's sweet, creamy and plenty boozy.
Paterson may not have Florida Room's graffiti-stained, sticky-tabled smoking patio, but it makes up for it with sincere DIY charm. The interior is like a 1950s diner mashed up with a dive bar. The house-crafted table tops are plastered with pennies and cutouts from midcentury cigarette ads. A shelf suspended from the ceiling is decorated with what looks like the contents of a tchotchke shop run by John Waters: naked Barbie dolls climbing chains, a plush stuffed lion gnawing on a plastic leg, and a box for a board game called Handimonium: The Tiny Hand Game.
It all makes for a bizarre and slightly confusing atmosphere, especially when combined with the intense post-emo soundtrack. But it's also a welcome respite from the foodie-centric, millennial-chic eateries just down the street on Burnside, where every patron carries a yoga mat and paying $15 for a glorified salad is considered acceptable.
That said, while Paterson may be relied on for cheap, comforting basics like the humble bowl of chili ($7), its risks don't quite pay off. Vegan nachos are always a problem. In the case of Paterson's olive- and jalapeño-loaded nachos ($10), the cheese is dry and not particularly flavorful, and you might find yourself dousing the mountain of chips in hot sauce to mask its faintly chemical taste.
A lot of the food is also extremely salty. That's especially the case with the poutine. As with the nachos, the fake cheese provides some stretchy texture but not much flavor. The gravy is full of enticing, thick chunks of mushroom, but the flavor is more briny than umami. It's a trying amount of sodium to consume for a meal, though washed down with PBR and shared with a friend or two, it'd certainly satiate a bad case of drunchies.
For the most part, Portland vegan food falls into two categories: puritanical health food or messy slop fests. Paterson proudly leans toward the latter. It won't satisfy snobs, but it will probably pacify a late-night crowd of jean jacket-clad, tallboy-touting scenesters. And to that degree, Paterson can't be called anything other than a success.
DRINK: Paterson, 108 NE 28th Ave., 503-764-9863. 4-11 pm Monday-Thursday, 4 pm-midnight Friday, 3 pm-midnight Saturday, 3-11 pm Sunday.
Source: Thanks https://www.wweek.com/bars/2020/01/22/most-portland-vegan-spots-are-dainty-and-delicate-paterson-is-the-opposite/