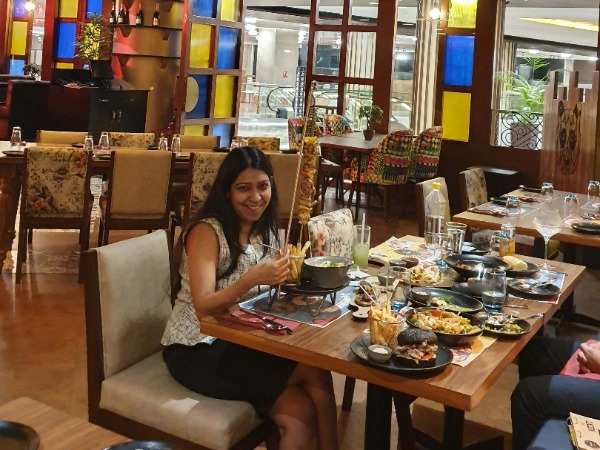 One of the greatest perks of my job? Interacting with you, my reader. Even better is dining with you as my foodie blind date. And of course, being in constant touch (like I have been with many a reader) is the best upside.
Here's the biggest downside… a disappointing restaurant and pronouncing it so. So while I was happy to catch up with a long-time loyal reader and that too on Shilpa Chawla's birthday, we were disappointed by the restaurant's food. The lovely, lively Shilpa, a social media influencer, loves micro blogging and has been exploring new restaurants for the past 18 years, which is roughly the time she has been in touch with me. I went back alone to Rassasy By Barcelos, several weeks later, ordered across the menu and, once again, the mish-mash of a menu did not pass muster.
DÉCOR
Tucked into the gleaming ORB right next to the international airport, the large space is brightly done up. Its wide 28-feet bar offers a range of drinks. Artworks adorn the walls, reflecting the good old days, and there's a separate smoking lounge, too.
FOOD

Italian, Portuguese, Mexican, American… you name it. However, only four dishes (amongst the long winding multi-cuisine menu) passed muster.
Chicken mince meat balls were moist and tasty, smeared with slightly sweet tangy tomato sauce. Quesadilla with corn paneer? Thankfully, tasty and generously portioned, too. Chicken Espetada on a skewer was succulently tasty one dinner and overcooked the next. Hearty Italian stallion chicken sandwich. The African influence is present in the choice of four peri peri sauces. There are plenty of cocktails as well.
MINUS POINTS

Can anyone get guacamole so wrong? So bitter? On my second visit, guacamole wasn't available. Can Tiramisu be rancid? Cheesecake, too? Below average thick, chocolaty Opera.

Avoidable, dry biscuity base pizza. Overcooked aglio olio pasta. Intriguing 'Black Burger' is stodgy. Lacklustre Trinchado Portuguese curry with rice Avoidable, seriously small chicken wings with peri sauce and peri mayo.
MY POINT

Rassasy By Barcelos, the intriguing name of this African chain of restaurants propelled us from South Mumbai to the airport. Its indifferent mish-mash fare had us retreating right back. I'm fully aware of the investment of money, time and dreams that owners put into restaurants. And while I can empathise with them, my first duty is to you, dear reader. So, I went back unannounced to the restaurant for the second time. And though only ever so slightly better, the below average mish-mash of Mexican American Portuguese et al disappointed. We'll stay away till they get their act together.
Rassasy By Barcelos
The ORB, Next to JW Marriott Sahar
Chhatrapati Shivaji Maharaj International Airport, Andheri
Contact: 9111900003
Timings: 12 pm to 1 am
Meal for two: Rs.3000
Rating:
Food: 2.25
Service: 3.5
Décor: 3.5

Source: Thanks https://timesofindia.indiatimes.com/life-style/food-news/restaurant-review-rassasy-by-barcelos/articleshow/73558158.cms