Shimmering turquoise waters so clear you can see the turtles beneath, stretches of perfect white sand beaches, and dense rainforests hiding the endemic Cagou – New Caledonia is postcard-perfect. Less than three hours flight from Australia's east coast, the French island is often referred to as the jewel in the Pacific's crown.
New Caledonia is worth visiting on face value alone, but dig a little deeper into the dreamy destination and you'll find there's a fascinating food culture just waiting to be uncovered.
From enjoying a true Melanesian meal with the local Kanak people, to indulging on the finest of French fare in the heart of Nouméa, these are the food experiences worth hunting down in New Caledonia.
Share Bougna With the Locals
Traditional Kanak bougna – New Caledonia's most iconic meal – may not grace the menus of Michelin star restaurants, but it's a dish laden with love, tradition, and coconut milk.
Bougna is essentially a combination of yam, taro, sweet potato, banana, and either chicken, fish, or assorted shellfish. Simple in makeup, the recipe is a true labour of love. Once prepared, the mixture is wrapped tightly in banana leaves and left to cook long and slow in an earth oven. The result? A hearty and deliciously earthy meal, ready to be shared table d'hôte (at the host's table).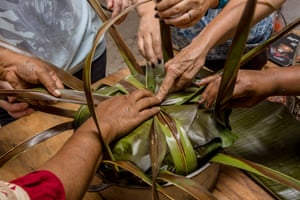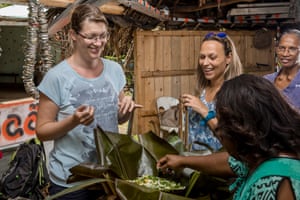 Préparation du bougna – Bougna preparation. Photograph: NCTPS.
Experiencing bougna the way it's intended requires venturing further afield than the capital of Nouméa. Drive an hour and a half north to the small Kanak tribal village, Tribu de Unio-Katricoin. The lush, mountainside community welcomes visitors to stay at their camp sites, to walk their waterfall dotted hiking trails, and to sit in on their table d'hôte experience.
Outside of Grand Terre, there are plenty more local tribes who will welcome you into their home to experience bougna. The island of L'Île-des-Pins is just a 20-min flight from Grand Terre. On the island, L'Île-des-Pins Guide can assist in setting up a table d'hôte experience with a tribe by the channel that leads to the natural aquarium, piscine naturelle. The experience is also just a short beach stroll from the exquisite Le Meridien L'Île-des-Pins hotel, should you need somewhere to stay.
Have a Barbecue Lunch with the Cowboys
New Caledonia isn't all beaches and rainforest, nor its cuisine all baguettes and bougna. Head two hours north of Nouméa to the Bourail region, and the scenery and cuisine changes dramatically.
Despite its geographical location on the east coast of Grand Terre, Bourail is known as New Caledonia's 'wild west'. The island's rural capital is characterised by scrub bush, alluvial plains, and livestock farms, not unlike parts of Australia. It's also home of the whip cracking cowboy.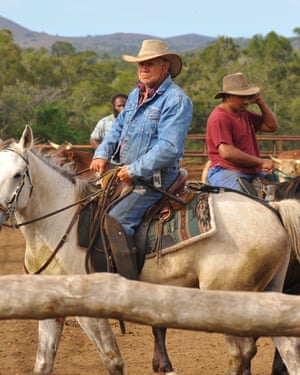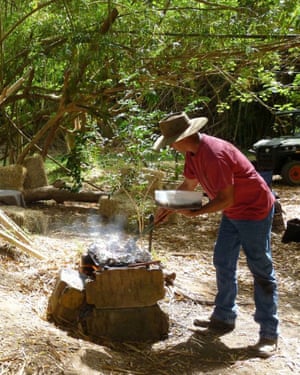 Néméara farm, Bourail. Photograph: NCTPS.
Visiting La Ferme de Néméara in rural Bourail, showcases a whole other side of New Caledonian cuisine. Before heading out on the back of an ATV to muster the cattle, guests are treated to a true farm to table experience. The farm's own beef and wild deer are on the bush barbecue menu, as are Melanesian inspired sides, and some local Number One beer.
For a bush barbecue with a view, let Gecko Evasion guide you to the top of their mountainside property. Enjoy a spectacular sunset over the Néra river and ocean, while your host cooks up a venison dinner. There's an option to camp the night here, or the much lauded 5-star Sheraton New Caledonia Deva Spa & Golf Resort is just a short drive away.
Explore the Local Food Festivals
Avocados, vanilla, and yams; the best way to sample the produce that New Caledonia and the Loyalty Islands are known for, is at one of the country's many food festivals.
In April, the island of Maré celebrates their main commodity, the avocado, with a colourful festival of traditional dances, music, and plenty of the green fruit. Guests flying in to the festival are invited to stay with the tribes on the island, giving them a further insight into Kanak culture and the agricultural side of Maré.
Around the same time, many yam festivals pop up across New Caledonia. The yam is considered sacred to the Kanak people, so the start of the season is cause for much celebration. Nouméa hosts the largest of the yam festivals, with many smaller ones taking place across Grand Terre and the surrounding islands.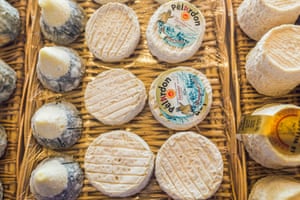 The colourful Cheese Festival in Noumea has been delighting participants for the past 14 years. Photograph: NCTPS.
New Caledonia isn't the capital of caseiculture (cheese making), but a deep appreciation for cheese comes with the French territory. In June, Nouméa becomes a turophile's playground as the annual cheese festival rolls into town. The festival brings in award winning cheese masters from around the world, and a huge fromage buffet with over 130 different cheeses. Stay on the water at Noumea's Château Royal where you can attend their in-house cheese festival, before dining at the French inspired La Pirogue restaurant – if you can leave some room for it.
One of the more famed flavours coming out of New Caledonia – specifically Lifou – is vanilla. Not only is the idyllic island home to tranquil beaches and brilliantly blue waters, but the local Mou tribe have cultivated vast plots of land for thriving vanilla plantations. Over three days in October, guests can visit the plantation for the Vanilla Festival, with traditional singing and dancing, and, of course, an opportunity to try all things vanilla.
Should your New Caledonian sojourn not align with any of the many food festivals on the island, pay Au P'tit Café in Noumea a visit. The chefs visit the local markets daily, where they pick up fresh, seasonal ingredients to work into their weekly menu.
Savour French wine and cheese
The French influence on New Caledonian cuisine is undeniable. Fresh baguettes are as abundant on Grand Terre as they are on the streets of Paris, confit is commonplace, and even foie gras has found its way onto many menus. It might not sound like the kind of fare you'd expect on an island in the Pacific, but the French food culture is alive and well in New Caledonia.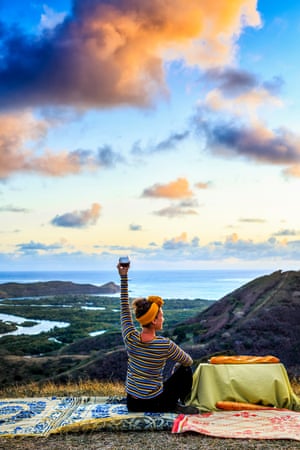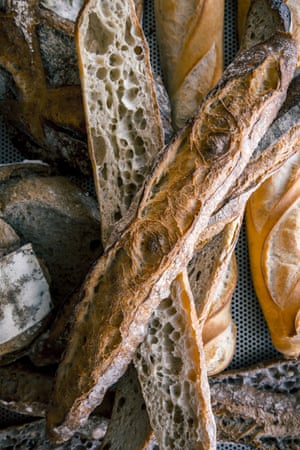 No other place does French cuisine with a tropical twist better than New Caledonia. Photograph: NCTPS.
Serious oenophiles will delight at the wine list of Chai de L'Hippodrome in Nouméa. It's far more extensive than most, and has some serious vintages amongst it. Enjoy a glass or two with French favourites like foie gras and charcuterie, or arrange a bespoke wine and cheese pairing experience in their private rooms. If you'd prefer a minimal intervention drop, seek out Noumea's natural wine store, Régénérés.
Showcasing a different side to French cuisine, La Table des Gourmets brings the Alsation gastropub style to Nouméa. Steak and frites, pan seared foie gras, and duck confit are all regular features on the rotating menu, with other French favourites – like tartare – making an appearance too.
Though heavily based on traditional French cuisine, the influences of the Melanesian, Creole, and Asian food cultures on New Caledonia have helped to shape their own vibrant and unique food scene, well worth the three hour flight.
Learn more about the French paradise on Australia's doorstep and discover the unforgettable experiences that make New Caledonia one of the true jewels of the South Pacific.
Source: Thanks https://www.theguardian.com/new-caledonia-feel-the-pulse/2020/jan/28/from-bougna-to-baguettes-new-caledonias-broad-food-culture-explored