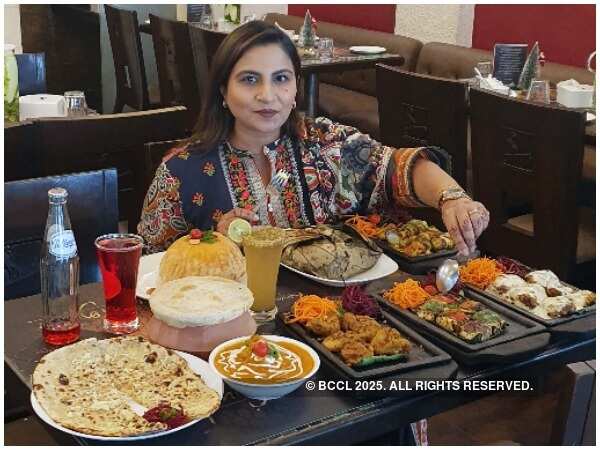 It was exciting. And exacting. And exhausting. I was on a Navi Mumbai exploratory round. And I ended up in the delicious value for money Biryani Guru. All thanks to my other set of gurus — my #foodieblinddates. In this case, it was the vivacious, Zulekha Jabeel, who's been running her small business for 27 years in Navi Mumbai. She loves cooking and entertaining at home and also eating out. I drove in from South Mumbai and met my #foodieblinddate directly in the restaurant and spent an amazing afternoon.
DÉCOR
Cheerful. Well-lit. Decorated with photos of musicians, from Bhimsen Joshi to Mick Jagger. A warm, happy vibe infused the ground-floored restaurant.
FOOD
Of course, you must opt for the biryanis (choice of 15) but before that, ask for the plump, well-marinated, boldly flavoured fish tikka with hammering notes of garlic, the velvety soft paneer delightful with black pepper. Richly succulent with cheese, chicken kebab and fleshy, tasty bhatti kumbh. Sounds strange but the 'Istanbul Pardah Biryani' came up tops. Cut through the sphere, with it's thick coating into the moist, flavoursome mutton biryani. Also must-try the 'Bombay Matka Biryani' for its long-grained rice, vibrant with masala. End with the silken, sweet delicious caramel custard. Plenty of choices for vegetarians.
I met Alok Sharma who drove all the way from Vashi and was waiting to pick up biryani as a takeaway, since it's the best here.
MINUS POINTS

Some of the dishes were over-spiced and even oversweet, like the butter chicken. Leathery garlic naan.
MY POINT

Details: Piquant homemade capsicum chutney, tangy, silken beetroot chutney and, of course, robustly spiced, tasty biryanis and kababs make this a must visit if you happen to be in the vicinity. It's moderately priced and it's open throughout the day. It sure is a biryani lovers mecca, which lives up to its name — Biryani Guru.
BIRYANI GURU
Mermaid 1, Opposite Indian Naval Canteen, Sector 11,

CBD-Belapur, Navi Mumbai

Timings: 10 am to 11 pm

Meal for two: Rs.1,000
Rating:
Food: 3.75
Service: 3.5
Décor: 3.5


Source: Thanks https://timesofindia.indiatimes.com/life-style/food-news/restaurant-review-biryani-guru/articleshow/73769643.cms