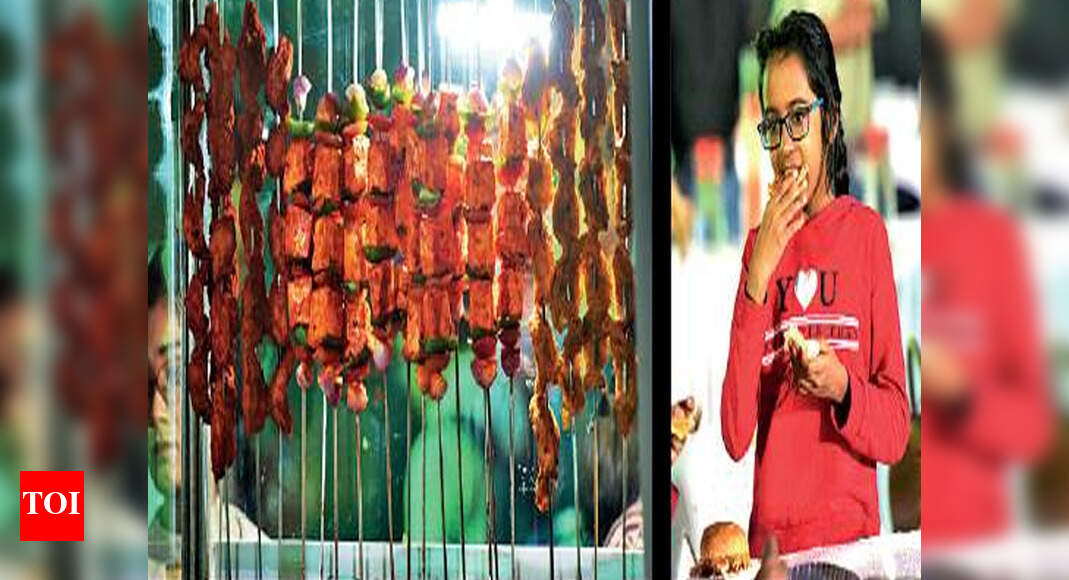 PUNE: Good food, live music and a steady flow of beverages ensured Puneites had a great time at The Times of India Green Dot Gourmet Food Fest.
A first-of-its-kind vegetarian food festival, Green Dot received an overwhelming response on Sunday as food lovers thronged to Vrindavan Lawns at Baner Road to indulge in an assortment of gourmet vegetarian fare.
For hardcore foodie Veena Joshi, Sunday evening was a special delight. "Being a vegetarian and a foodie, it's hard to find specially curated food festivals like this. This was a perfect Sunday for me and I had a fun evening listening to music by the band RDX and sampling the different cuisines," she said. Joshi particularly enjoyed the "hurda", a Maharashtrian winter delicacy. "I loved that dish. It was perfect for this weather," she said.
Anirudh Patil, founder of Pune Eat Outs – an online community of food-lovers – was responsible for the curating the cuisine experience. "Curating vegetarian meals meant having fun with all things vegetarian. We loved opening up the palate for people to experience. Green Dot was not about preaching vegetarianism. It was simply about giving the participants a chance to savour the vegetarian food palette."
Food blogger Darpan Chordia said, "There are very few options across various cuisines at regular food festivals and that is what sets Green Dot apart. An assortment of only vegetarian dishes across cuisines was made available at the festival, which we thoroughly enjoyed. We tried tandoor, Chinese, shwarma, raj kachori, bamboo biryani and much more."
Another food blogger Sonal Khule said, "We relished the Litti Chokha, which is not readily available in the city. We also found milk puddings at the festival which was very fresh and tasty."
The food bloggers, while enjoying the delicacies, also swarmed across the various food stalls, mixology sessions and masterclass. They lined up to click photographs of the event and save the memories of the delightful atmosphere.
Another food blogger, Nikita Sojoni said, "This first-of-its-kind vegetarian food festival was a different and delightful experience. I tried various dishes at multiple stalls and all of them were a treat."
Several workshops were also held as part of the event, with a cookery class for children, followed by a mixology session by chefs from Radisson Blu and Lemon Tree Hotels.
Nupur Pittie held a session in the evening about "Building H2O People". Her talk focused on how finding the right food can make people say goodbye to medicines. "People have a habit of relying on medicines. What we forget is that we have most of the ingredients to stay healthy at our homes," she said.
The Times of India Green Dot Gourmet Food Fest is powered by VTP Realty and curated by Pune Eat Outs. Associate sponsors are Girikand Holidays and Ranka Jewellers.
Source: Thanks https://timesofindia.indiatimes.com/city/pune/lip-smacking-vegetarian-food-beverages-wow-puneites/articleshow/73886546.cms