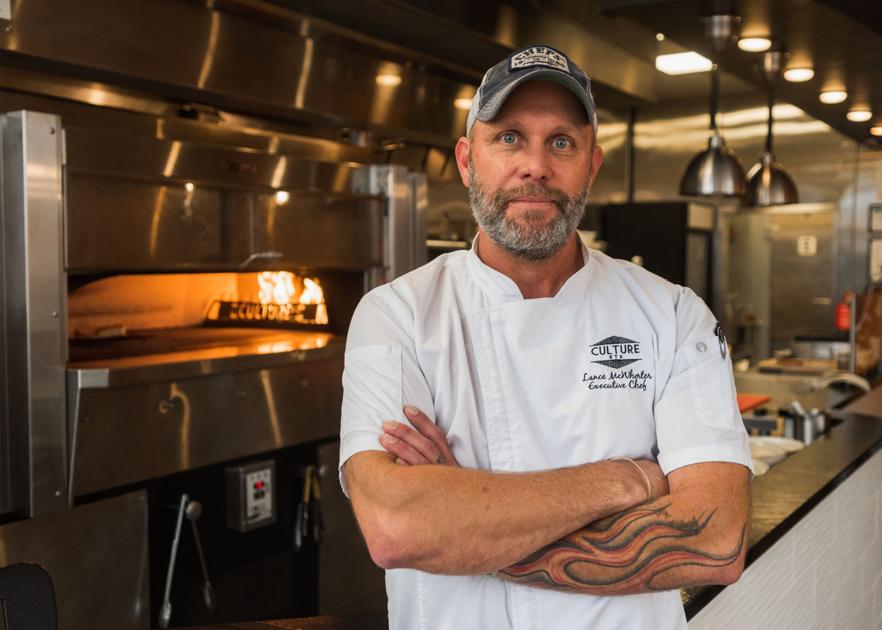 TYLER — A Tyler chef will be displaying his skills in the kitchen in an upcoming episode of "Chopped" on the Food Network.
Lance McWhorter, owner and executive chef of Culture ETX, a restaurant on the downtown square, will be one of the contestants in an episode set to air Tuesday.
McWhorter filmed the episode about two years ago when he was affiliated with a restaurant in Dallas and had to keep the news quiet.
Word about McWhorter's appearance spread on social media when someone spotted him in a television commercial promoting upcoming episodes of the show.
"It was one of the most positive experiences of my life," McWhorter, 49, said about being on "Chopped." "It's one of the coolest things I've done."
He can't talk too much about the specifics of the show and how he did until after it airs.
On the show, four chefs are given often strange foods and tasked with using all of them to make a dish in a short amount of time.
The dishes are presented to judges who evaluate them on taste, appearance and creativity. The judges select which chef was least successful, and that contestant is eliminated, or as they say on the show, chopped.
Contestants who are not chopped advance from the appetizer to the entree round and, finally, the dessert round.
"It was hard," McWhorter said of the challenge. "When that clock starts, you go. There's no movie magic involved. There's no do-overs."
"Chopped" is filmed in New York City. He said contestants were on the set from nearly 6 a.m. to 9 p.m. Show assistants bring contestants onto the set before the filming begins so they can become familiar with the location of foods, spices and appliances in the pantry and refrigerator, he said.
When not cooking, the contestants are in a room just off the set, he said. Although on TV everything happens quickly, during the day of filming there is a lot of time between rounds of competition.
He said the superfast cooking and the nervous moments when the contestants face the judges are just like what viewers see.
"When they lift that lid (to reveal which dish was the least successful) that's when we find out," he said. "The reactions are genuine."
McWhorter has been cooking since he was a boy.
"I spent summers (as a child) with my grandparents here in East Texas," he said. "One of my earliest memories was standing on a bucket and cooking at the stove with my grandmother in Athens."
As a teenager, he lived in Utah and worked in what he called dives and greasy spoon restaurants.
"I started out in the dish pit (washing dishes). I could get money and food."
When he turned 17, he enlisted in the military. During tours of duty overseas, he said he often watched "Chopped" and TV shows featuring the late Anthony Bourdain, a world traveler who used food to build connections to people in other cultures.
After military service, he worked in the private sector dealing with security issues at government facilities in, among other places, war zones. The military and his security job took him to about 40 countries, where he experienced different foods and cultures.
After time in military-related work, he returned to Texas and went through a difficult transition back to civilian life.
He said for a while he felt depressed and uncertain and faced other post-service issues many veterans experience. He credits a return to the kitchen with helping him get his life back on track.
"Cooking saved my life," he said. "There's no question about it."
McWhorter eventually opened McGarity's Saloon in Jefferson. A desire to work at some of the best restaurants led to chef's positions at Dallas' SER Steaks+Spirits in the Hilton Anatole, FT33 Dallas and Macallaio.
McWhorter and his wife, Bailey, then moved to Tyler, where he landed a job as the chef at Black Pearl in downtown Tyler. Bailey, a barbecue pitmaster, put her skills to work at Brisket Love Barbecue in Lindale.
When a small restaurant came on the market a few months ago at the corner of Erwin and College streets in Tyler, McWhorter bought it and opened Culture ETX.
He said he is applying all of his experiences in the kitchen in a what he calls upscale "East Texas comfort food."
The restaurant's lunch menu includes small plates, salads and sandwiches. Dinner main courses include wagyu beef bolognese, duck confit and rack of lamb.
He said that for years he had wanted to be on "Chopped."
"I kept telling my wife, 'I can do that,'" he said of watching contestants cook on the show.
He credits Bailey with convincing him to finally apply to be a contestant.
She told me, "Your mission is to get more vets in the kitchen. You can get this message in front of millions of people.'"
McWhorter said his story of how as a veteran cooking helped him refocus his life brought one of the judges to tears.
To prepare for the show, McWhorter and his wife watched episodes and took notes about the foods in the "mystery baskets" and strategies the successful cooks used.
To practice, she assembled mystery baskets that he quickly turned into dishes.
During filming, he tried to stay calm, cool and organized.
"Your head is racing," he said. "At one point, I stopped what I was doing and went in a completely different direction."
McWhorter keeps in contact with two of the other contestants.
"We're talking about maybe making group appearances at each other's restaurants," he said.
McWhorter has not seen the episode he will be featured in and is eager to see how what happened will be presented to the public.
His long-term plans include opening a restaurant with his wife that features both of their skills.
He also is looking for opportunities to help veterans transition into culinary careers.
Source: Thanks https://www.news-journal.com/features/lifestyle/tyler-chef-to-appear-on-food-network-s-chopped/article_221b0c6b-2b42-5e5f-af3e-a619a8829db3.html