{{featured_button_text}}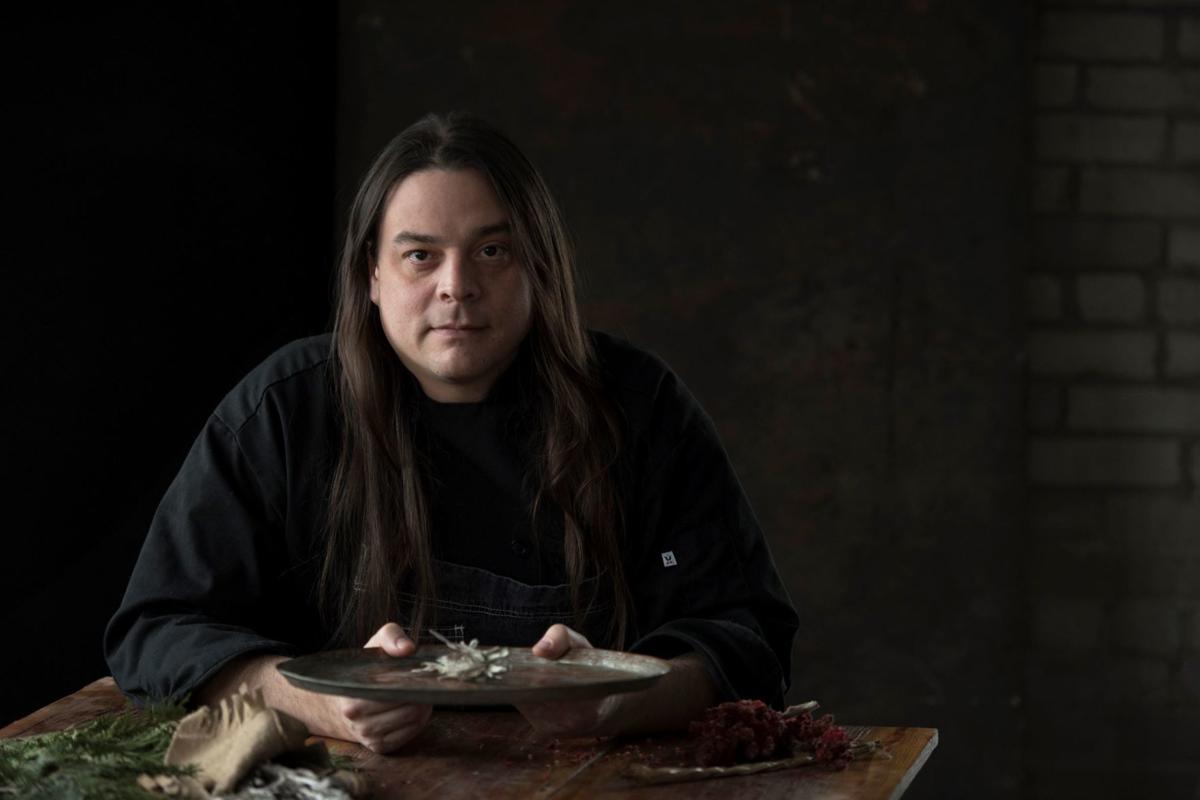 Award-winning chef, cookbook author and entrepreneur Sean Sherman's passion is to help Native Americans rediscover the flavors and healthfulness of their culinary heritage. Sherman will be a special guest and will be signing his cookbook, "The Sioux Chef's Indigenous Kitchen" at the first Lakota Food Summit in Rapid City.
The Lakota Food Summit is promoting Native American food sovereignty, tradition, culture and community empowerment. The summit will be Tuesday through Thursday at Rushmore Plaza Holiday Inn. The summit's opening day activities from 1-5 p.m. Tuesday, are free and open to the public. Tickets are required for Wednesday and Thursday forums and special events; admission is $50 to $150. For tickets and information, go to sfrelsi.wixsite.com/lakotafoodsummit
"Food sovereignty is a big thing right now," said Dianne Amiotte-Seidel, food sovereignty director for Thunder Valley Community Development Corporation and the organizer of the Lakota Food Summit.
"On Pine Ridge, to me how I see food sovereignty is there is no grocery store for miles away. That's why it's very important to teach people how to grow gardens, how to be sustainable, to teach children about gardening and to eat healthier," she said. "I'm excited about this summit to get our people to start eating healthier again and to teach each other skills."
Two drum groups, hoop dancers and traditional hand games will be part of Tuesday's lineup at the summit, along with chef talks and food demonstrations, from 1-3 p.m. Starting at 3 p.m., the public can sample indigenous foods from Sherman's The Sioux Chef/Indigenous Food Lab, Et-i-quette Catering, Redco, The Cheyenne River Youth Project, Makoce Agriculture Development, Native Mobile Food Market, Black Hills State University, Tanka Bar, Partnership With Native Americans, Linda Black Elk and Shari Decheneaux. Sherman also will have a book signing from 3-5 p.m.
"We'll be tasting and mingling. People can talk to different cooks that came up with this food and sample food that represents the area," Sherman said.
Sherman shares Amiotte-Seidel's vision for food sovereignty. Growing up in Pine Ridge, he recalls eating such indigenous foods as chokecherries and wild prairie turnips that he champions now in his business and cookbook.
In 2014, he launched The Sioux Chef, a catering and food education company inspired by his Oglala Sioux heritage, in Minneapolis. In 2017, Sherman published his first cookbook, "The Sioux Chef's Indigenous Kitchen," which won a James Beard Award for Best American Cookbook in 2018. In 2019, Sherman won a second James Beard Award for leadership. This summer, Sherman is launching an Indigenous Food Lab in Minneapolis, a nonprofit restaurant where people can eat and learn about indigenous foods.
"Our goal is to work with tribal communities in the region and develop at least one healthy indigenous kitchen for their communities," said Sherman, who ultimately wants to open indigenous food labs nationwide.
"It's so normal across the United States that you can find food from across the world but nothing that represents the land you're standing on," he said. "We want to keep bringing awareness to the beauty of indigenous food knowledge … and how much there is to explore."
By returning to an indigenous diet, native people explore their history and heritage while eradicating diabetes, obesity and even tooth decay, Sherman said. Rich in plant diversity and protein, an indigenous diet can include heirloom varieties of vegetables, wild tubers and garlic, greens, potatoes, wild turnips, wild game and rabbit, as well as pine and spruce for seasoning and much more.
Wednesday and Thursday, the summit will be comprised of educational forums and seminars. Speakers from Pine Ridge, Rosebud, Standing Rock and other tribes will be sharing expertise on gardening, traditional foods and plants, nutrition, beekeeping, all-natural meats, small business, climate change and more. The summit will conclude Thursday with a buffet featuring buffalo roast donated by Oglala Sioux Tribe Parks and Recreation. For a complete schedule, go to sfrelsi.wixsite.com/lakotafoodsummit/schedule.
Kelsey Ducheneaux, national resources director for the Intertribal Agriculture Council, is leading sessions on Wednesday for high school youth. About 40 teens from Mobridge, Dupree, Lower Brule, St. Francis Indian School and Red Cloud high schools have been invited for the summit. The teens were invited after entering a statewide poster contest with the theme, "What does your future as a Lakota food sovereign nation look like?"
Ducheneaux commended the schools that view the summit as an opportunity for students. The summit will focus on the concept of food sovereignty, how kids can get others excited about it, how they can work with older generations, and possible careers, she said.
"We're going to talk about specific careers in food, nutrition and public health … and how that relates to ag business and economic development, and how it all ties to Lakota food sovereignty and the stability of a community's economy," Ducheneaux said.
"The number one employer in Indian Country is agriculture, especially in the Great Plains. We need our young people to capitalize on that and preserve it for generations to come," she said. "We can ensure our youth are reaching that pool of knowledge (about food and agriculture careers). They're surrounded by an exponential amount of resources in food and agriculture resources. There's a career path for them if they look for it."
The Lakota Food Summit grew out of the Lakota Food Sovereignty Coalition's ongoing work to strengthen food sovereignty and educate communities. The coalition is made up of members from Thunder Valley Community Development Corp., National Resource Conservation Service, United States Department of Agriculture, Oglala Lakota College, South Dakota State University extension offices, Red Cloud Schools, and community members from the Pine Ridge and Rosebud Indian Reservations.
Source: Thanks https://rapidcityjournal.com/news/local/award-winning-chef-highlights-lakota-food-summit/article_2a795220-778c-5195-941b-2ae7144dbb89.html