Former Royal Navy sailor Shane Mason, 35, took delivery of the misshapen grey lump at 7am at home in Southsea before his son Maxwell's eight birthday party.
He had hoped surprising Maxwell with the aircraft carrier cake would be the crowning moment of the ship-loving youngster's birthday party today.
Read More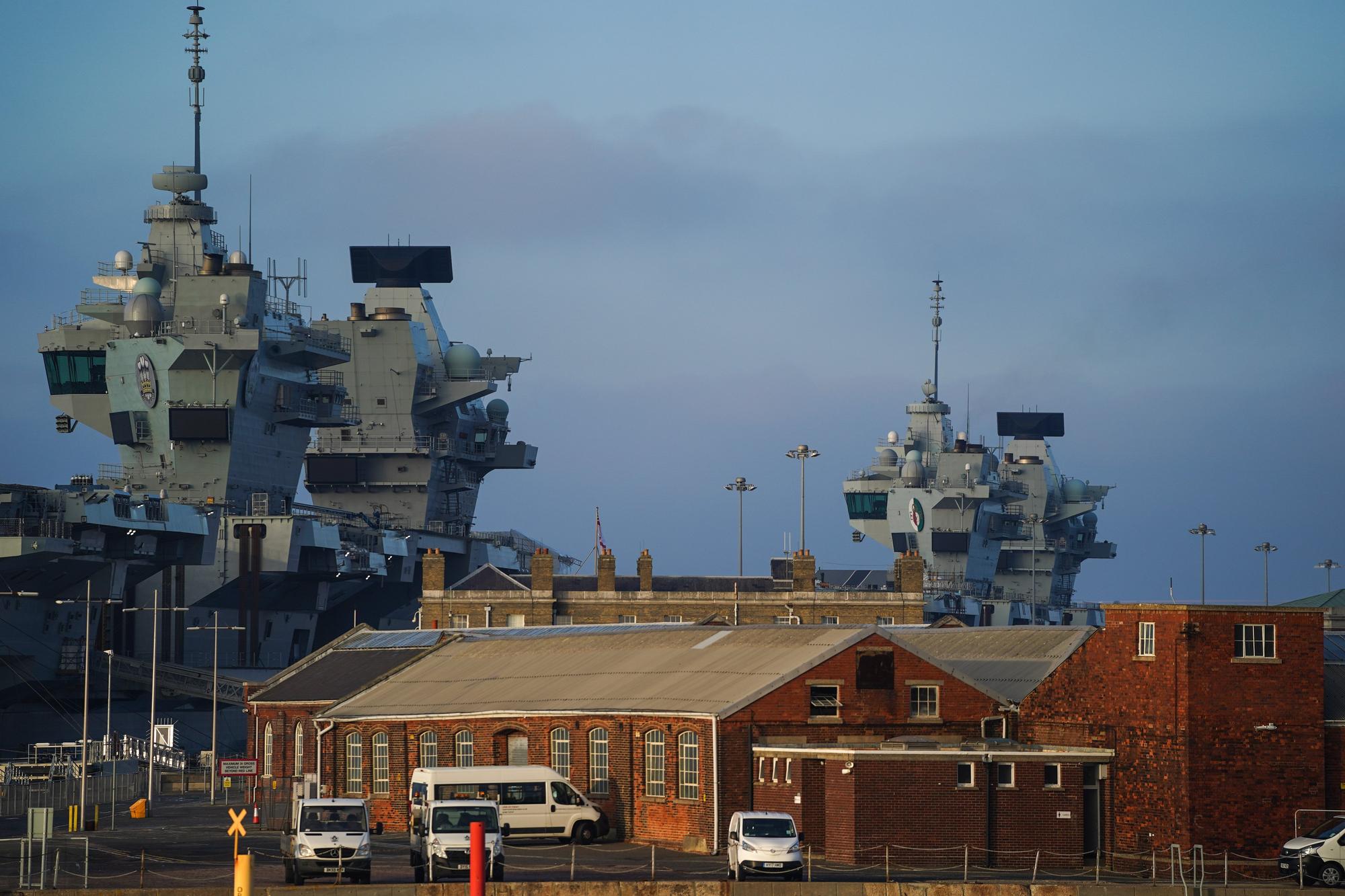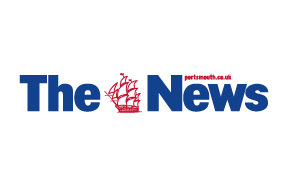 Read More
Portsmouth's plea to allow tours of Royal Navy carrier HMS Prince of Wales and revive Navy Days
But instead on seeing the cake, he laughed so much that he woke his sleeping son. Before waking up Maxwell he quickly asked for a refund of the £60 deposit from the apologetic but embarrassed baker, who had been recommended via Facebook.
The birthday cake bore little resemblance to the 8ft one created by 3D Cakes at Roseburn, Edinburgh, for the Queen at the commissioning ceremony of the carrier in 2017.
Despite being disappointed, Shane saw the funny side. He said: 'If I look at it for a serious minute – she could've ruined a little eight-year-old's birthday party.
'I thought it will be a little surprise for him. He loves the navy and ships – he absolutely loves them. So really it could've broken his heart.'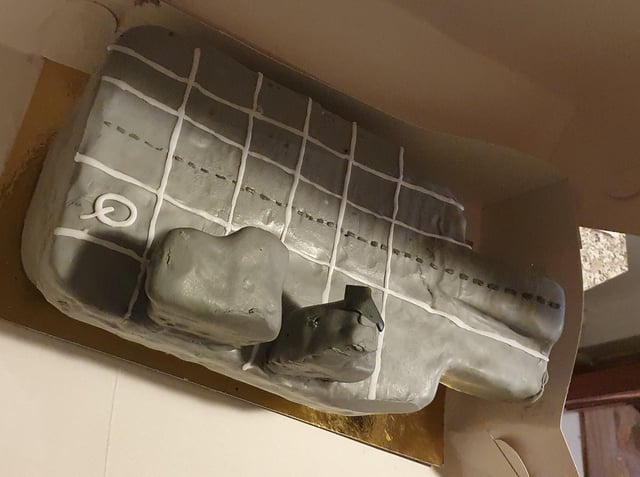 Shane Mason, 35, wanted the perfect HMS Queen Elizabeth aircraft carrier cake for his son Maxwell's eighth birthday party on February 29. But instead he got a 'monstrosity' of a cake. Shane told the baker to take it with her and refund his £60 deposit.

Pictured: The offending cake with a Q to indicate what it should have been
Shane snapped a photo after taking his £60 deposit back for the £120 cake but declined to keep it even though the baker said he could do so.
When Maxwell saw the photograph he burst into laughter and said: 'What on Earth is that supposed to be daddy?'
Dad Shane said he found the Gosport-based baker through a recommendation Facebook and got in touch with her.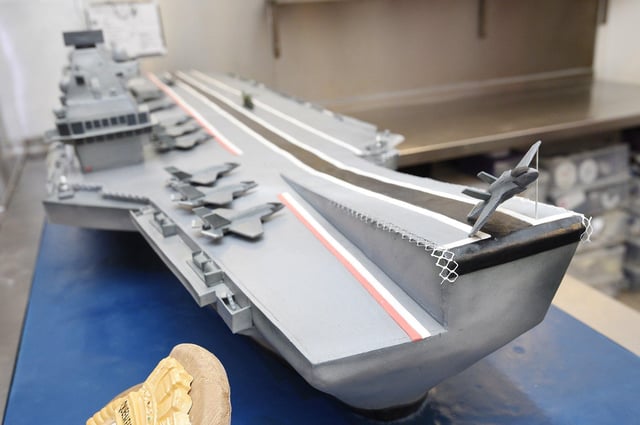 David Duncan and his staff at 3D Cakes at Roseburn, Edinburgh have created an 8ft scale replica cake of the HMS Queen Elizabeth which was driven down to Portsmouth today and presented to the Queen at the commissioning ceremony of the HMS Queen Elizabeth in 2017. Picture: Greg Macvean
He added: 'She said: "It will be a lot smaller" and we said £120. I paid her half the money.
'She turned up at 7am, so before he got out of bed – I'd said come round early.
'She's come round and she just opened it – it was a monstrosity.
'I said: "I want my money back". She said: "I'm so sorry".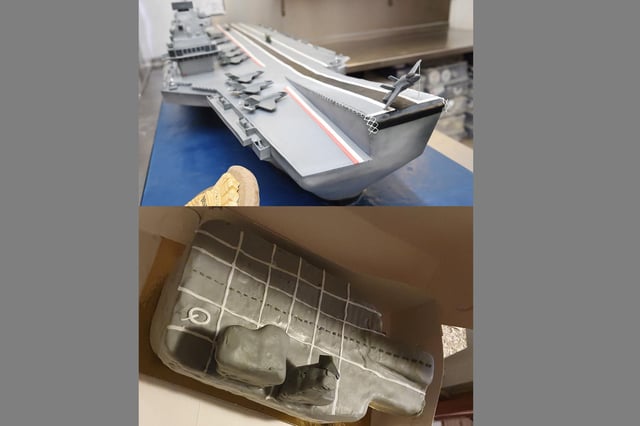 Above, the HMS Queen Elizabeth cake made by 3D Cakes at Roseburn, Edinburgh, for the Queen at the aircraft carrier's commissioning ceremony in Portsmouth. Below, the version made for Maxwell's eighth birthday by a person recommended to his dad Shane Mason. Pictures: Greg Macvean/Shane Mason
'She said "you can keep the cake" but I said: "No take that monstrosity back".
'I said she could take it with her and she left. I was crying with laughter so much I woke up my son.'
He added: 'She had the money, the £60 deposit in her front left pocket – she had expected it.
'I took a picture – I had to show his mum and why he's not got a birthday cake. We had to go buy Colin the Caterpillar.'
The cake mishap did not ruin Maxwell's day, which he enjoyed with friends and family, including mum Emma, 40, who lives in Woking.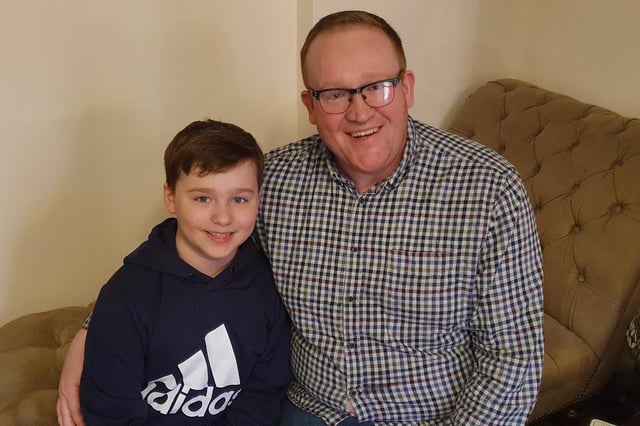 Shane Mason, 35, wanted the perfect HMS Queen Elizabeth aircraft carrier cake for his son Maxwell's eighth birthday party on February 29. But instead he got a 'monstrosity' of a cake. Shane told the baker to take it with her and refund his £60 deposit.

Pictured: Shane Mason and his son Maxwell laughing about the cake
Source: Thanks https://www.portsmouth.co.uk/news/defence/royal-navy-loving-boys-hms-queen-elizabeth-birthday-cake-branded-ps120-monstrosity-2004843