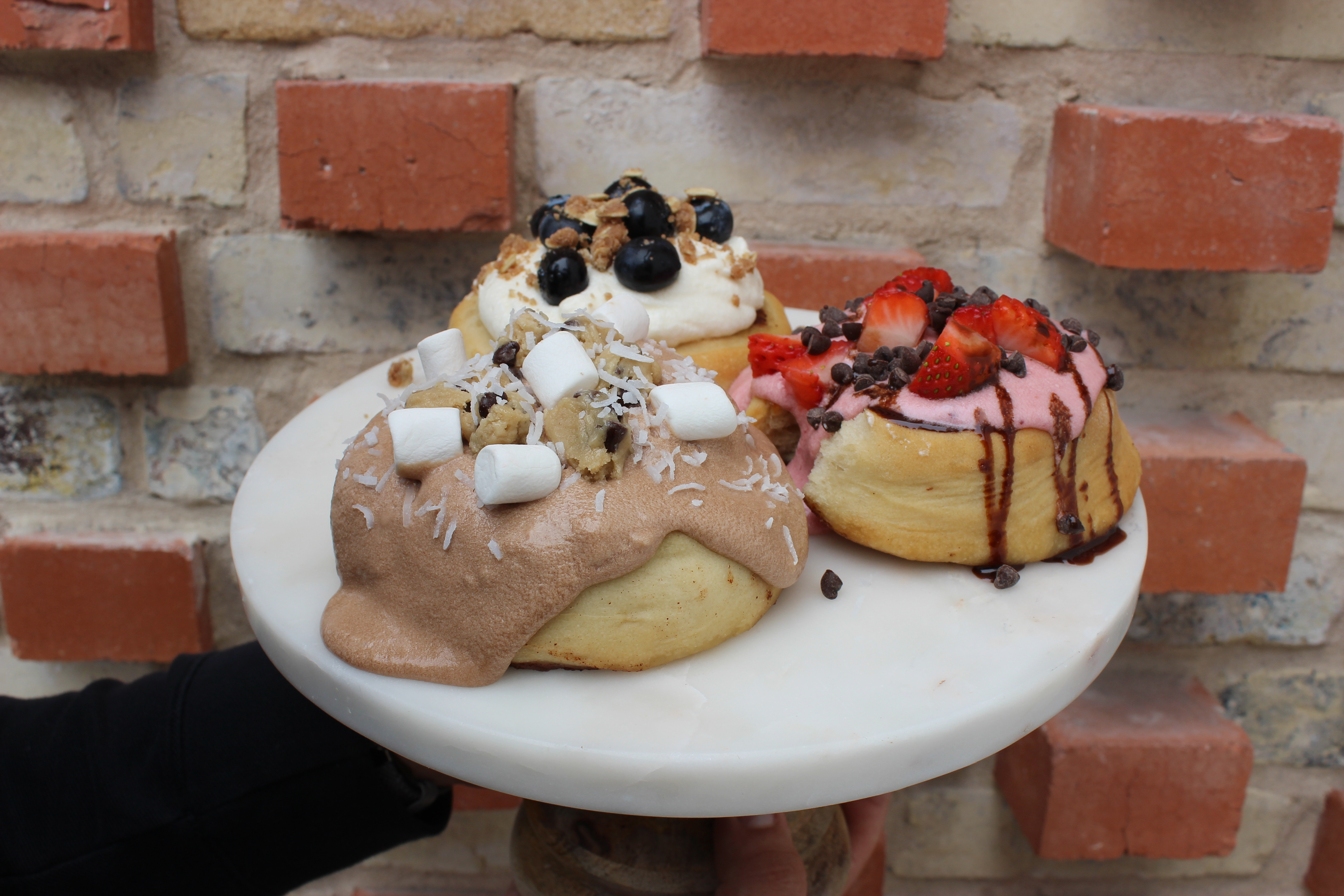 Photo courtesy of @foodieee.couple
DANIKA GARZA – CONTRIBUTING WRITER
A vegan bakery chain named Cinnaholic just opened its first San Antonio location on Valentine's Day. 
Having been featured on the ABC show "Shark Tank" in 2014, creators Shannon and Florian Radke received an offer from investor Robert Herjavec. They later declined to stay true to their original vision and grew Cinnaholic through a franchise business model. Expanding from the first store opened in Berkeley, California in 2010, the gourmet cinnamon roll bakery now has opened locations across the U.S. and Canada. With six locations in Texas already, it has made its way to San Antonio. 
When walking in, one is greeted by friendly employees and the delicious smells of made-from-scratch desserts. Displays of freshly made cinnamon rolls and cookie dough are presented front and center when walking in, ready to be ordered. Among cinnamon rolls, Cinnaholic's menu also includes mini rolls, brownies, cookies, and cookie dough. Coffee is also available and provided by next door neighbor, Brown Coffee Co. Cinnamon rolls at Cinnaholic are made every 30 minutes so that customers are always served a fresh roll. The bakery offers over a dozen frosting flavors, from lemon, orange, chai, and amaretto.
"It's a make your own cinnamon roll bar. You can choose icings such as marshmallow, almond, orange, chai, peanut butter, and so much more," said Katie Drees, junior biology major. " [It's] a lot like an ice cream shop."
Local husband and wife team, Ben and Nicki Reedy, own and operate this new location. After discovering the concept of Cinnaholic in 2018, the couple fell in love with the idea of a great tasting egg-and-dairy-free dessert for all to enjoy. After an interview with the SA Current, the Reedys hope to transform the outdoor space, that was previously shared with the former Steel City Pops storefront, into a place for customers to play and enjoy their baked goods. 
In preparation for their grand opening, the Reedys reached out to their community in hopes to find someone to paint the company's logo on a featured brick wall and found St. Mary's own, Danika Garza, a sophomore marketing major. Garza worked with the Reedys to recreate the meaningful design that represents the Cinnaholic name in a 54 inch by 54 inch area.
The Cinnaholic logo features a swallow—a species of bird—in the style of a traditional sailor tattoo, which symbolizes the experience, team value, and family the company prides itself on. Swallows would be the first birds sailors would see when returning safely to their harbors after long and dangerous trips. So in turn, Cinnaholic wants their customers to feel the same comforting experience of coming home at all of their locations, and considers its franchise partners, employees, and corporate team a family representing the success of the brand. 
The new location on 1812 S. Alamo St. in Southtown is in the perfect spot for busy foot traffic events like First Friday, a monthly event for people to enjoy art, food, and music. With Cinnaholic open until 11 p.m. on Fridays and Saturdays this will make the perfect stop for those looking to satisfy their late-night sweet tooth. Cinnaholic offers recycled and compostable containers for most products and is a 100% vegan brand.
Source: Thanks http://www.stmurattlernews.com/home/2020/03/07/vegan-bakery-chain-opens-first-location-in-san-antonio/