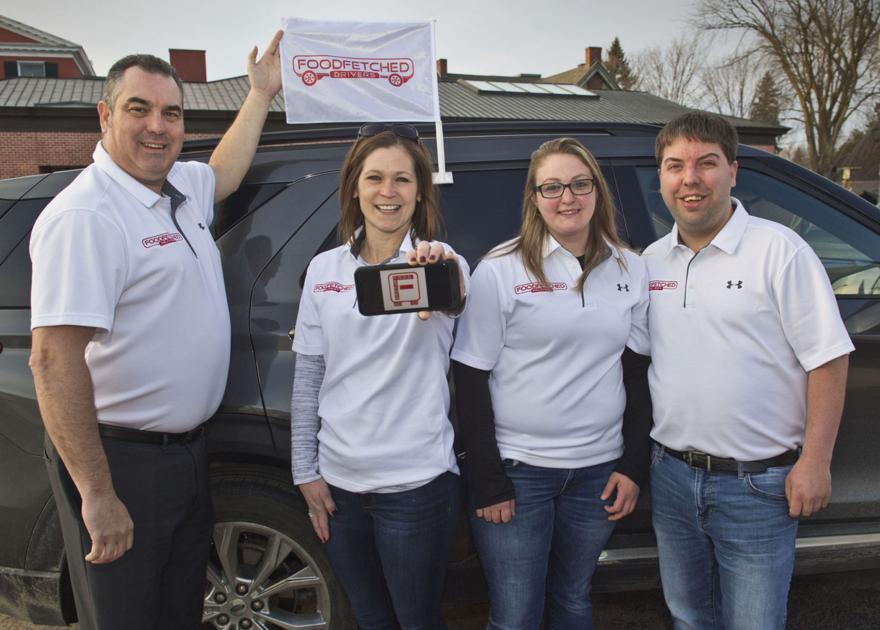 OGDENSBURG — Jerry and Stacia Sheppard were in Florida, waiting to go to a wedding and getting hungry.
"So, my nephew said, 'Just get Grubhub,' so we did," Mr. Sheppard said.
It was the first time they had ever used a service like that.
Grubhub is an online and mobile, prepared food ordering and delivery system that is available in many large cities around the country, but not in Ogdensburg.
When the Sheppards got back to Ogdensburg, Mr. Sheppard went to see his friend, Jeff Lago, owner of Cam's Pizza. The two often kick around money-making ideas, Mr. Sheppard said.
"I walked in," Mr. Sheppard said, "and he goes, 'What do you think about a food delivery app for the north country?'"
That was in November and along with Mr. Lago's wife, Tracee, the four began working on the idea.
By the end of this month, the four friends plan to launch FoodFetched Delivery service in Ogdensburg.
FoodFetched will be an app-based food ordering and delivery system that will allow people to use their phones or home computers to get food from local restaurants delivered to their homes or wherever they may be in Ogdensburg and surrounding areas.
The app is in its last stages of build out.
"We're working with a company called Jungleworks. They're U.S.-based out of Seattle, Wash., and they have development teams all over the world," Mr. Sheppard said.
Jungleworks describes itself as the market leaders in delivering mobility solutions to entrepreneurs.
Jungleworks has developed products for national brands like Kentucky Fried Chicken and Sylvan Learning Centers.
Right now, the FoodFetched entrepreneurs are in the process of signing up local restaurants. They have about 12 signed up. They are also signing up drivers to deliver the food.
"It's definitely well-received in the community by the restaurants," Mr. Sheppard said. "We've had no trouble signing on a lot of restaurants."
FoodFetched is focusing on locally owned businesses to partner with.
"We want to go toward the smaller, mom and pop restaurants, single stores or two stores and help them out," Mr. Lago said.
Once they launch, hungry people in Ogdensburg will be able to open the app, find the restaurant of their choices, order from the menus and then keep tabs on process, as the food is picked up by the driver and delivered to their locations.
The delivery charge is $3, all of which goes to the driver, who will also be able to get tips through the app.
The drivers will be wearing branded clothing and customers will see their pictures so they can be sure about who is making the delivery.
All transactions will be by credit or debit card through the app.
They have about 15 drivers signed up and are looking to have a total of 30. A drivers' information meeting will be held at noon March 15 at the Dobisky Center.
They are also looking for more restaurants to sign on. Owners can send an email to [email protected] for more information.
Over the next few weeks, the Sheppards, Lagos and their friends will be testing out the app to make sure everything is working smoothly at launch.
They constantly update their Facebook page at FoodFetched Delivery.
Source: Thanks https://www.nny360.com/communitynews/business/foodfetched-to-deliver-restaurant-food-in-ogdensburg/article_1d029ddd-e64e-573f-b4dc-b042bda75943.html