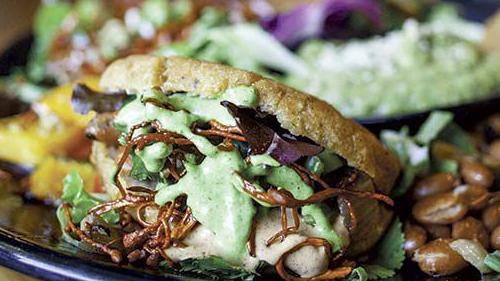 "There aren't many places where I can eat anything on the entire menu!"
My mother, a vegetarian since the '80s, was in good company at Julia's. Then again, the restaurant is impressive to carnivores as well, as illustrated by an apprehensive friend who preemptively exclaimed, "I don't want to pay for food with no meat." And who later ate her words – and lots of mushrooms – while admitting her surprise at how good the food was.
Whether for health or environmental reasons, many people choose to go meat-free or eat fewer meaty meals. Julia's is the only fully vegetarian sit-down restaurant on the Monterey Peninsula, and owner Anthony Gerbino is feeling the trend. "The momentum has been building, but it seems like everyone went vegan on Jan. 1, 2020. We've been hit hard."
So hard that for the first time in Julia's 10-year history, Gerbino is hiring a general manager. He's also happily working on doubling the staff.
I've gone vegetarian (no meat) and vegan (no animal products) several times, and Julia's makes both options delicious. Some dishes involve proteins like tofu or seitan, but most are vegetable based, and not – as my mom says – "trying to be meat." Almost every meal comes with a mushroom recommendation, from cordyceps to lilaceps to lion's mane to fresh truffles.
Chanterelles brought buttery tenderness, complemented by the garlic they were broiled with. The fungi fit right in with build-your-own arepas. Corn patties arrived like blank canvases on a platter of roasted vegetables, beans, guacamole and cucumber salad. Bell peppers, cauliflower and squash showed off complex, herby roasted depth. Lightly spiced pinto beans and onion came equally flavorful.
There is no shortage of variety. There are big breakfasts with the real deal or vegan eggs; bottomless mimosa brunches; salads; pizzas and calzones; a variety of entrees and apps from coconut curry to "faux" orange chicken (cauliflower); good wine, good beer, good home-brewed kombucha and plenty of dessert. It's enough to make a vegetarian giddy, especially in the colorful atmosphere where elegance meets its inner hippie.
For starters, a garlicky roasted artichoke with lemon-garlic aioli feels familiar, yet so thoughtfully prepared. The aromatics do not disappoint, and neither does the egg – and dairy-free dipping sauce.
The list of pizzas deserves attention too, which one can probably guess by the dining room's doughy aroma. The California is suggested for a reason: Heaps of veggies are not overwhelming on this perfectly designed pie. Tangy artichokes, onions, mushrooms, firm tofu squares and a spinachy, cheesy base blend mozzarella and greenery together in a skillful way most pizza struggles to pull off. Dots of feta add a touch of luxury and bigger dots of a creamy dill sauce add pizzazz.
Julia's makes it easy for guests to eat their veggies. Gerbino says the rush has not slowed down. "2020: the moment everything changed," he contemplates.
JULIA'S VEGETARIAN RESTAURANT 1180 Forest Ave., Pacific Grove. 8am-8:30pm Sun-Thu, 8am-9:30pm Fri-Sat. 656-9533, juliasofpacificgrove.com.
Source: Thanks https://www.montereycountyweekly.com/food_wine/reviews/julia-s-vegetarian-restaurant-is-busier-than-ever-and-there/article_bdfeac52-63db-11ea-b4df-db8e3e5fe991.html