I've known Michel for 50 years. I started working at Le Gavroche, Michel and [his brother] Albert's restaurant on Sloane Street in 1970 just after I moved to London. Michel was the first person I met when I arrived at the restaurant, and we built a great relationship.
He had a fantastic sense of humour and could entertain a room full of people singlehandedly. He told jokes and made people laugh, but what I learned most from working with Michel was respect for our diners. The customer was king.
Food changes with time but British food back then was stuck in the past. It was rubbish. Restaurants would just serve avocado with mayonnaise and sausage rolls, with half a grapefruit and cherry confit on top for dessert. It was a joke.
If you were lucky, the best restaurants would have smoked salmon, but everything was overcooked.
You can now eat as well in Britain as in any country in the world thanks to people like Michel. Particularly in London now, the choice is vast. He helped make the food what it is today.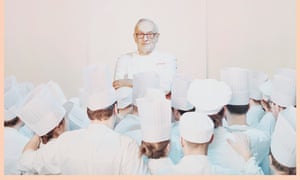 The beauty with Michel and Albert was that they gave young chefs the opportunity to become head chefs. They gave us responsibility and we took it. I worked as a sous chef at Le Gavroche and soon after, I was head chef at the Waterside Inn when it opened in 1972.
He was like a father figure to me, even though he was only eight years older than me. Michel would keep an eye on what I was doing, but gave me a lot of freedom. The menu was almost all mine, and all of us working for him had lots of opportunities to step upwards.
We had the same type of love for food and always remained friends. He loved life and would enjoy French red wines like bordeaux, chateau and burgundy, and his favourite dish was veal blanquette.
The last time we had a meal together with a few friends, he suddenly started dancing. We all did the conga line through the restaurant. We always had a fantastic time together.
As told to Mattha Busby
Source: Thanks https://www.theguardian.com/food/2020/mar/12/michel-roux-made-british-food-what-it-is-today