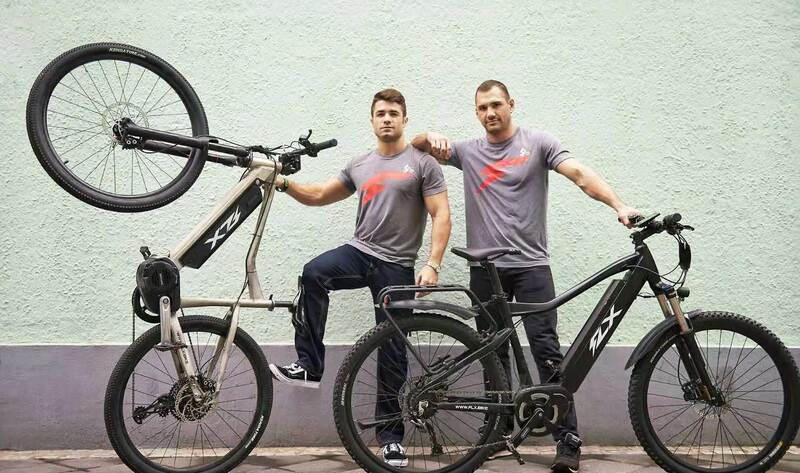 This week, startup FLX Bike raised $1.3 million in crowdfunding, far-surpassing its initial $20,000 goal, in less than one day. The company was founded in 2016 by vegans Rob Rast and Pete Leaviss with the mission of creating affordable electric/traditional hybrid bicycles to inspire people to shift toward more environmentally friendly forms of transportation. "Pete and I met in Beijing, China, a place where you don't just hear about air pollution, you see it, breathe it, and practically swim in it some days," Rast told VegNews. "The problem isn't just in Beijing though, it's worldwide. According to the World Health Organization, 4.2 million people die as a result of exposure to air pollution every year. It's an insane figure."
FLX uses only vegan materials such as vinyl on bike handles and seats instead of leather. "You can make the same great bike without needing an animal's body to do it," Rast told VegNews. "We want to make a product that's going to make the world a better place for every being—animals included." While Leaviss went vegan two years ago, Rast transitioned four months ago after watching vegan documentary The Game Changers. "I had lived as a meat eater for 30 years and knew how that life was," Rast said. "Now it was time to at least try something new and see if I too, could perform like these athletes … while simultaneously doing my part to reduce the impact of animal agriculture."
The current $1.3 million in funding will go toward producing FLX Bike's newest model "The Babymaker"—a sleek, lightweight bicycle with a concealed high-capacity lithium battery hidden in the frame that allows riders to travel between electric-assist mode (at level five) or traditional pedaling (at level zero). With the most recent crowdfunding round, FLX will be capable of serving a wider customer base and bringing down the price of The Babymaker to make it more accessible to customers around the world. To date, more than 1,000 people have pre-ordered a Babymaker, which Rast says has the potential to make a substantial environmental impact. "That's 1,000 opportunities to leave the polluting car in the garage, 1,000 people empowered to exercise as much or little as they please," Rast said. "Every Babymaker shipped has the potential to make the world a little less gray, and a little more green." 
The Babymaker is available in six colors and features a battery that charges in two hours, allowing for 50 miles of pedal-assisted riding. The new model will be available in Standard and Pro and begin shipping in September 2020.
Want more of today's best plant-based news, recipes, and lifestyle?
Get our award-winning magazine!
Subscribe
Source: Thanks https://vegnews.com/2020/3/vegan-startup-raises-1.3-million-in-24-hours-to-make-semi-electric-bikes