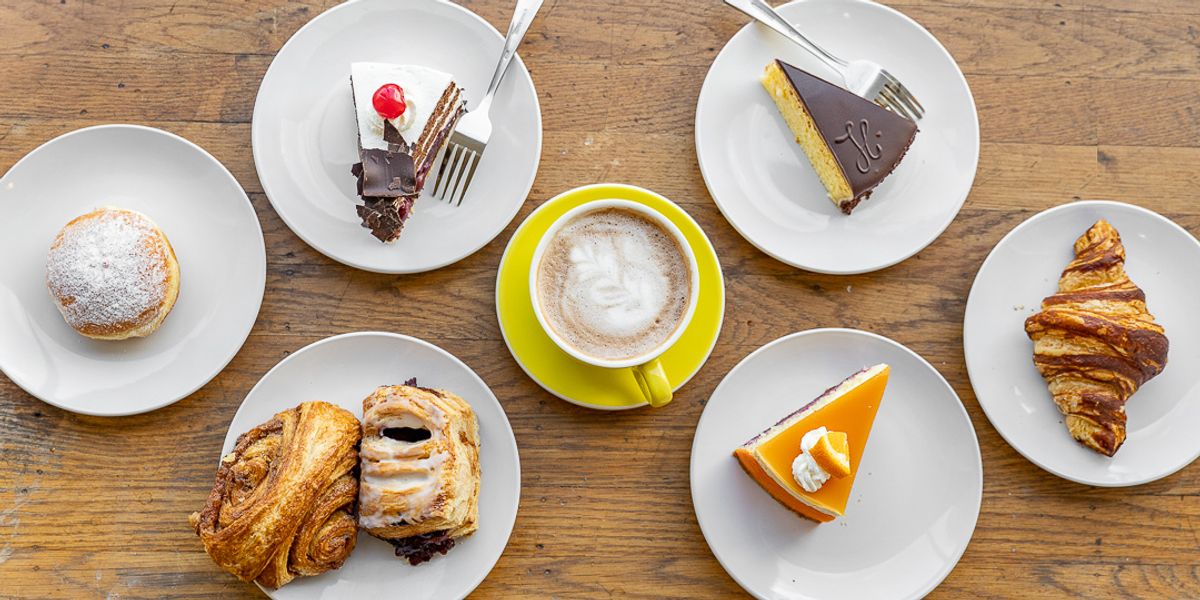 In the wake of the COVID-19 crisis, legacy restaurants such as Delfina have closed temporarily, others have closed for good (RIP Locanda), some are scrambling to pivot from dining room service to takeout and delivery, and still others have actually opened anew (Tosca and Reem's). It's impossible to say which of these businesses has the rougher go: starting a restaurant in San Francisco comes with a whole slew of challenges, as does running a popular one, even with loyal clientele, global pandemic aside.
In the pre-coronavirus era (you know, just a few weeks ago), we looked in on Hahdough, a recently opened German-style bakery on a busy stretch of Fell Street, just off Divisadero. The burgeoning business was hot, with freshly baked pretzels and plump Berliner donuts flying off the shelves and cakes being greedily taken to-go. The shop was closing its doors by midday, its confections sold out. Now, with the restaurant community turned upside down, Hahdough is, so far, still chugging along, offering a taste of something delightful in otherwise depressing times.
---
"There's a feeling that a little bit of life, and the promise of something a bit more special than just the usual groceries, goes a long way to improving morale," said Christian MacNevin, husband and business partner to baker Ha Do, who gives their konditorei, or traditional German bakery, its name. He acknowledges that many businesses in the neighborhood have already closed, but says the Hahdough team remains dedicated to supplying the community with sweet treats for at-home consumption ("Our staff have rent to pay, and so do we").
Raised in Germany, Do's childhood was permeated by the sugary aromas and flavors of cakes being baked at home. Later in her life, she interned in a bakery and then worked with a Swiss baker before moving to the States. Over the past several years, she has perfected her own interpretations of classic German recipes, working from 1950s cookbooks as well as from memories of her past.
The result is a modern-day San Francisco take on a tasty German tradition, and one that has attracted the city's own German community to Hahdough.
(Photography by Sarah Chorey)
A selection of cakes beckon from the cafe's window.
"The thing they always talk about missing is 'kaffee und kuchen', which literally means coffee and cake. It's tradition on Sunday afternoons to go to a konditorei to eat cake and have coffee. It doesn't sound like that big a deal, but it's a really big part of German culture," said MacNevin, who surmises that, throughout German history, many a momentous event and decision has happened during over kaffee und kuchen.
In the first few weeks after Hahdough's opening, German residents made it a point to sit down here and enjoy themselves. Now, the small ritual, even if it now must be taken to go, provides a slice of normalcy.
It took six years for Do and MacNevin to build their business from a kiosk at the farmers market to the cafe that stands today. Together they combined their skills from past careers in graphic design and art direction to transform a former guitar shop into a sunny storefront that houses a few tables and chairs and the pièce de résistance: a 1,000-pound refrigerated cake case stocked with whimsical sweets worthy of Alice's Wonderland: black forest cake with frosted swirls begging for a mischievous fingertip; mousseline tortes with layers of pastel hues; and flaky turnovers to make any weekday morning feel like an occasion.
"Honestly, even with the difficulties and with Ha still missing days of sleep on end, we think we're lucky," MacNevin said. "Having loyal customers is a real blessing. Hopefully we'll pull through ok."
// Hahdough is open 9am till 3pm (or until they sell out) Wednesday through Sunday; 1221 Fell St. (Lower Haight), hahdough.com
Source: Thanks https://www.7×7.com/hahdough-german-bakery-san-francisco-2645583389.html