Published by Rebecca Maness.
All across the country, people have been stocking their kitchens full of food before heading into self-isolation to help stop the spread of the coronavirus. Yours may now be full of dry, canned, and frozen food, some of them panic purchases, and you might be wondering, What the heck am I going to do with all these beans? Don't worry. We've compiled this list of simple vegan recipes that use some of the staples you probably have on hand now. Many of them include very few ingredients, are easy to prepare, and can be customized to your liking. Also, if you're one of the many who bought tons of plant-based meat and oat milk while stocking up, we have some ideas for how to use those, too.
Check out these simple vegan recipes that will help kick-start your creative culinary juices:
Vegan Pasta
5 Ingredient Hummus Pasta
If you bought a giant container of hummus, this pasta dish is for you. The chickpea-based spread creates a smooth, high-protein pasta sauce.
5 Ingredient Vegan Vodka Pasta
Canned coconut milk mixed with reserved pasta water makes this vodka sauce luxuriously creamy without dairy. In the dairy industry, calves are torn away from their mothers shortly after birth. Mother cows have strong bonds with their children—so keep them together by choosing creamy coconut milk instead.
One Pan Aglio e Olio (Garlic & Oil) Spaghetti
This delicious, super-simple pasta dish packs a garlicky punch, and there's no need to worry about garlic breath when you're practicing social distancing! While most packaged pasta is vegan, some brands may be made with eggs. Gentle hens are known to sing to their young before they hatch, but in the egg industry, chickens never get to meet their babies—so make sure that pasta is vegan before you buy it.
Vegan Baking Staples
Easy Crusty Vegan Bread
Now is the best time to try your hand at homemade bread. Start your baking journey with this simple no-knead recipe.
Three-Ingredient Vegan Cookie Recipes
Thankfully, cookies don't have to be complicated. Here are some of our favorite three-ingredient recipes.
Vegan Biscuits and Gravy
Flaky vegan biscuits smothered in rich vegan sausage gravy has to be the ultimate comfort food. We love crumbled Beyond Sausage with these, and you can use unsweetened oat milk to make the creamy gravy.
Homemade Flour Tortillas
There's nothing like fresh flour tortillas. We suggest filling these with homemade refried beans, vegan chicken, and grilled vegetables.
Wacky Chocolate Cake
Wacky cake, which originated during the Great Depression, was popularized during World War II, when cow's milk, butter, and chicken eggs were rationed and in short supply.
Rice, Oats, and Quinoa
Healthy 5-Ingredient Granola Bars
Did everyone raid the store-bought vegan granola bars before you could get to them? That's OK, because these tasty bars are made from ingredients that you may already have on hand. They're also free of honey, which helps save bees, who work hard to make this essential food source for their own consumption.
Vegan Fried Rice
You can use frozen or canned veggies for this easy fried rice recipe. Serve it with a vegan protein, like tofu, tempeh, or a plant-based meat such as Beyond Sausage.
5-Ingredient Mexican Quinoa
This recipe uses only five ingredients, and it only takes 15 minutes to prepare. It's a great option for busy parents trying to juggle working from home and homeschooling.
Beans and Lentils
3 Ingredient Vegan Chili
Crumbled Beyond Meat is delicious in this easy chili recipe. Serve it with tortilla chips, and top it with any garnishes you have on hand: green onions, cilantro, avocado, vegan cheese shreds, or vegan sour cream.
Easy Refried Beans
Taco Tuesday will never be the same once you try these homemade refried beans.
3-Ingredient Lentil Soup
The hearty brown lentil, a plant-protein powerhouse, adds a peppery flavor to this simple soup.
Chickpea Nuggets
If you have kids, this recipe is a perfect one for a homeschooling cooking lesson. Have them shape the nuggets and dunk them in breadcrumbs.
Potatoes (Including Sweet Potatoes)
3 Ingredient Vegan Gnocchi
You may not be able to go out to a fancy Italian restaurant, but it's actually easier than you might think to make gourmet vegan gnocchi at home. Serve yours with a tomato or pesto sauce and pour a glass of your favorite vegan wine for a romantic evening.
Sweet Potato Breakfast Boats
Top vitamin-packed sweet potatoes with black beans, corn, salsa, and avocado for this healthy, savory breakfast.
Creamy Potato Salad with Chickpeas
Fresh dill gives this creamy vegan potato salad a bright, herby kick. If you bought vegan bacon at the store, toss that in, too. Vegan bacon is healthier than regular bacon, and it saves smart, curious pigs from slaughter.
Super Simple Green Bean & Potato Curry
You can use frozen or canned green beans in this curry, which is delicious with fresh basmati rice and homemade vegan naan.
Canned and Frozen Vegetables
Vegan Pea Soup
Garnish this silky pea soup with fresh mint and croutons made from stale bread.
Jackfruit Fried Chick'n
Jackfruit has a stringy texture that makes it perfect for recipes that traditionally use chicken flesh. Opt for this animal-friendly version—no cruelty there!
Vegan Bloody Mary & Virgin Mary
Host a virtual Sunday brunch with your friends over Zoom and stir up these Bloody Marys with canned tomato juice and spices.
Tofu and Vegan Meat
Vegan Stir-Fry with Trader Joe's Sriracha Baked Tofu
If you shopped at Trader Joe's, you may have grabbed these ingredients already.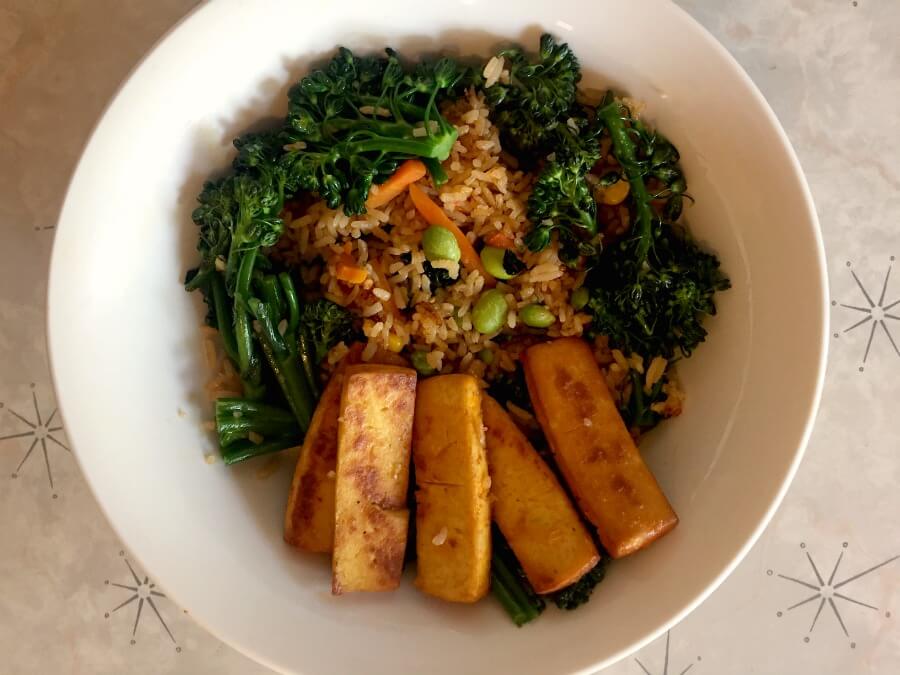 Easy 3 Ingredient Tofu Scramble
Ready-made bruschetta mix is the secret ingredient in this easy tofu scramble.
Tofu 'Egg' Salad Sandwich
For a simple lunch option, whip up this tofu "egg" salad.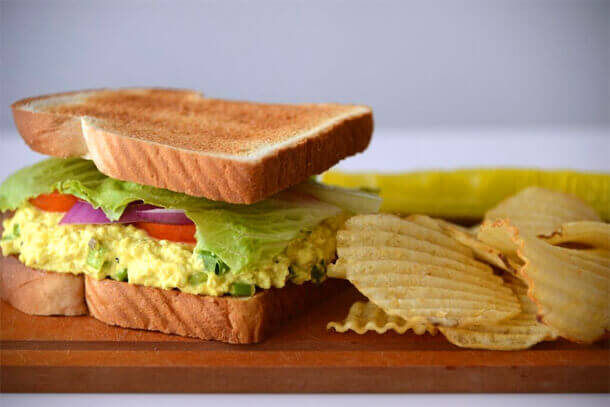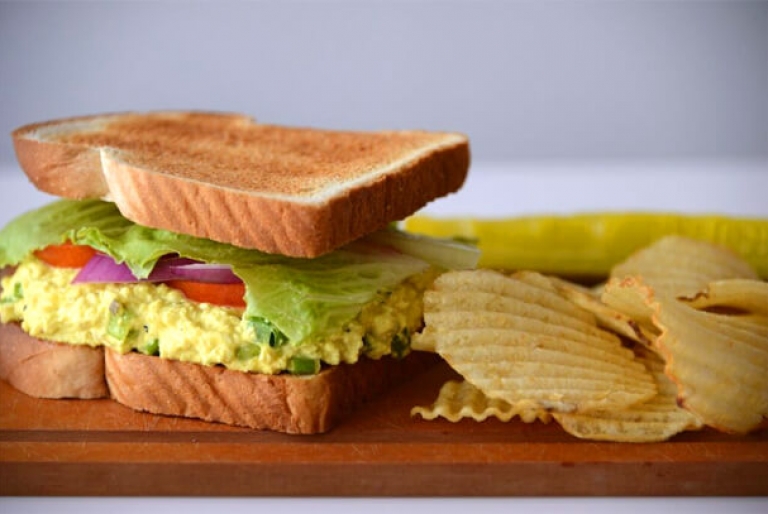 Easiest Vegan Teriyaki Tofu
This sweet-and-salty teriyaki tofu can be served on a bed of steamed rice with some sautéed greens.
Beyond Beef Tater Tot Casserole
This hearty casserole, which uses canned ingredients that you probably already have on hand, is topped with a layer of crispy, crunchy tater tots.
Stale Bread
Easy Vegan Bread Pudding
Mix in whatever toppings you want in order to personalize this vegan bread pudding.
Bananas
Three-Ingredient Vegan Ice Cream
Frozen bananas are the key to this creamy three-ingredient ice cream.
Oat Milk
Dark Chocolate Chia Pudding
Whip up a decadent dessert with chocolate oat milk, chia seeds, and vegan dark chocolate chips.
---
We've got you covered, with plenty of vegan recipes for whatever you're craving, like these easy three-ingredient recipes or these recipes that use aquafaba (the juice from canned garbanzo beans).
Going vegan is the best choice that you can make for animals, the environment, and your own health—and if the world went vegan, there would be no COVID-19 or other deadly diseases that come from using animals for food!
Deadly diseases like #COVID19 will keep breaking out until the world stops eating animals. https://t.co/AGXlbPnL2d pic.twitter.com/ltm5YvJbru

— PETA (@peta) March 21, 2020
I Want to Go Vegan!
Source: Thanks https://www.peta.org/living/food/simple-vegan-recipes/