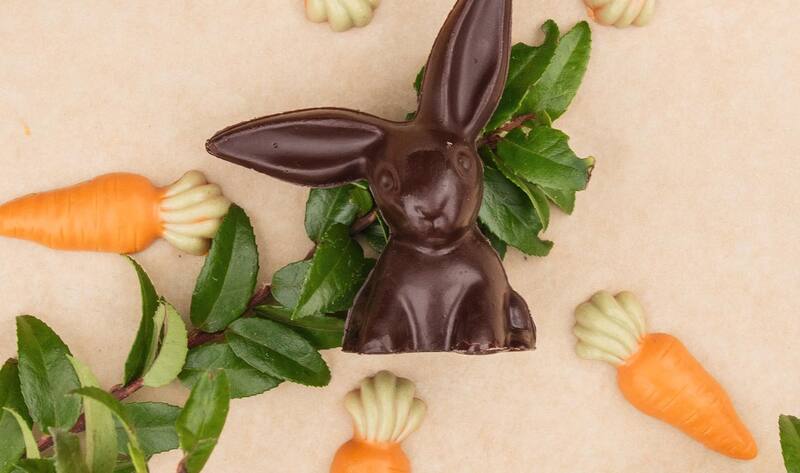 Just because the vegan Easter egg hunt is canceled doesn't mean we can't fill our Easter baskets. This year, we could all use an extra-large, solid chocolate bunny upon waking Sunday morning. Wear your most adorable pastel pajamas, pull up your family on Zoom, and hide these 10 vegan candies throughout your living room for the best possible Easter celebration while self-isolating at home.
1. Veganbury Cream Eggs from Vegan Treats
No need to miss out on any of the holiday memories. Satisfy your nostalgic cravings with vegan cream eggs from Pennsylvania-based bakery Vegan Treats. The award-winning bakery now ships certain items nationwide, and these (along with other Easter-themed treats like peanut butter-filled dark chocolate eggs) are on the shipping list! Order yours before they sell out.
2. Large Bunny Filled with Gummy Bears from Sjaak's
Can't decide between chocolate or gummies? This sweet "melk" chocolate rabbit provides both. This treat is perfect to send to a niece or nephew … or just to feed your inner-child.
3. Easter Maple Candy Bunnies from Green's Sugarhouse
If you've never experienced maple candy before, you're in for a treat. We'll take these adorable bunny-shaped candies of pure, crystalized Vermont maple syrup over mass-produced jelly beans any day.
4. Solid and filled chocolate bunnies from Lagusta's Luscious
We want a bunny in every flavor! This vegan chocolatier is cranking out sweet bunny-shaped treats in a medley of flavors—from solid dark, milk, white, and strawberry chocolate to nougat and peanut butter-filled. Note: the company is experiencing backorders and shipments aren't guaranteed by Easter, but we take it as something to look forward to after the holiday has passed.
5. The Bunny Bar from Fine & Raw
Not all Easter chocolate has to be shaped like a bunny—this bar says it all on the packaging. Made by a small-batch, vegan, Brooklyn-based chocolatier, the sea salt-studded bar offers a sophisticated salty balance to the otherwise sweet collection in our basket.
6. Hard-Boiled Easter Egg from Hotel Chocolat
These larger-than-life vegan eggs come in mint, ginger, and pure dark chocolate varieties. We'll take one of each, thank you very much!
7. Dark Chocolate Carrot from Lake Champlain Chocolates
Sometimes we like our carrots on the sweeter side, in chocolate form. While we can't guarantee these treats will benefit your eyesight, they definitely spruce up any lackluster Easter basket.
8. Assorted Easter truffles from Coracao
A box of spring-themed vegan truffles is the perfect way to connect to a loved one on Easter—especially when you can't physically celebrate together. The 17-piece assortment includes divine flavors such as Tangerine Fudge, Strawberry Coconut Cup, Hazelnut Cream Egg, Almond Butter Egg, and more.
9. Organic Pops from YumEarth
Packaged specifically for Easter, these completely organic fruity and sour lollipops add balance to our basket overloading with chocolate. Flavors include Pomegranate Pucker, Very Very Cherry, and Razzmatazz Berry.
10. Jelly Bean Bark from Ethereal Chocolate
Who knew holiday bark could extend beyond the classic Christmas peppermint variety? We're loving this chocolaty, fruity mashup. This small vegan-friendly café and candy company based out of Woodstock, IL also offers Bunny Bark (gummy bunnies in chocolate), PB&J Eggs, Chocolate Meltaway Eggs, Mini Easter Bunnies, and more. Even if we're self-isolating, it's going to be a very sweet Easter.
Sarah McLaughlin is the New Products Editor at VegNews who is stocking up on all the vegan chocolate Easter treats.

Tanya Flink is a Digital Editor at VegNews as well as a writer and runner living in Orange County, CA.
Photo credit: Lagusta's Luscious
Want more of today's best plant-based news, recipes, and lifestyle?
Get our award-winning magazine!
Subscribe
Source: Thanks https://vegnews.com/2020/4/10-vegan-easter-candies-we-want-to-find-in-our-easter-basket