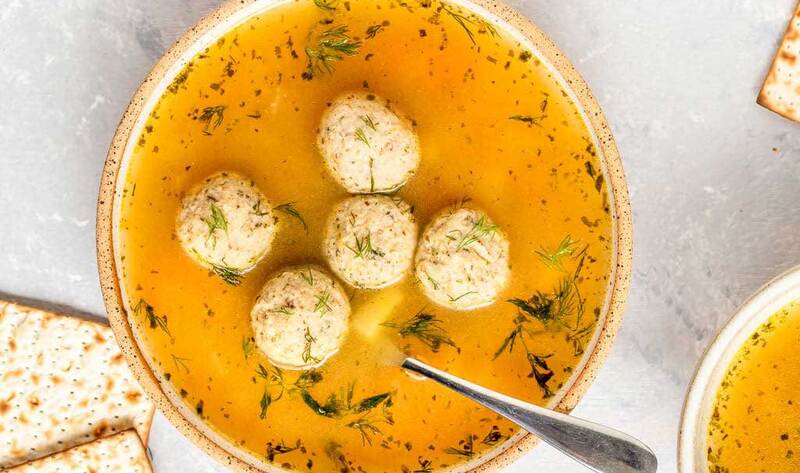 Passover—the one evening a year Jews get to bust out the Haggadah and Seder-specific plates for a three-hour meal that traditionally requires all participants drink four glasses of kosher wine. If you're celebrating at home, veganizing your seder meal is surprisingly easy thanks to rabbi-approved swaps—roasted beets can be used in place of lamb shanks, and a small boiled potato or avocado is a convincing stand-in for a hard-boiled egg. But to really wow your omnivorous family, try your hand at veganizing kosher, leaven-free classics like matzo ball soup—or make lasagna out of matzah. Happy Passover!
1. Roasted Horseradish Cauliflower
Is there anything Follow Your Heart can't do? We'll try to come up with something while we nosh on their easy-to-make, colossal Roasted Horseradish Cauliflower.
2. Matzo Ball Soup
This traditional dish has been passed down through the generations and is a staple at family Passover meals, but this easily veganized version by Short Girl. Tall Order is sure to be the new family favorite, starting a new tradition of cruelty-free eating.
3. Vegan Potato Kugel
This healthier twist on the classic egg noodle dish is not only lighter fare, but also equally delicious. Spiralized potatoes take the place of the noodles in this recipe—centering vegetables as the foundation of this dish.
4. Vegan Matzah with Cashew Cream Cheese
Guests who are especially lazy and don't want to risk ruining bubbe's best dish can slap some cashew cream cheese on some matzah and top with dill for a snack that will satisfy guests feeling peckish after that fourth glass.
5. Vegan Charoset
Sticky sweet dates and meaty walnuts rolled in coconut make up these gooey dessert rolls. Easy to assemble and impossible to stop eating, all of your guests will quickly fall in love with these simple desserts.
6. Vegan Savory Matzah Brei
Traditionally made with matzah and eggs, this plant-based version swaps in potatoes, vegan cheese, mushrooms, spinach, and tomato for an even more satisfying version of its traditional counterpart.
7. Vegan Matzah Lasagna
Italian Jews (look it up), rejoice! You can make your bubbe and your nonna proud with this vegan, kosher, and unleavened take on the Italian classic featuring textured vegetable protein bolognese, tofu ricotta, and of course, matzah.
VegNews' New Products Editor Sarah McLaughlin and former Editorial Assistant Nora Kovaleski are eager to try matzah with creamy herbed Miyoko's cheese.
Photo credit: Short Girl. Tall Order
Please support vegan media while getting the very best in news, recipes, travel, beauty, products, and more.
Subscribe now to our award-winning magazine!
Subscribe
Source: Thanks https://vegnews.com/2020/4/the-7-best-vegan-passover-recipes