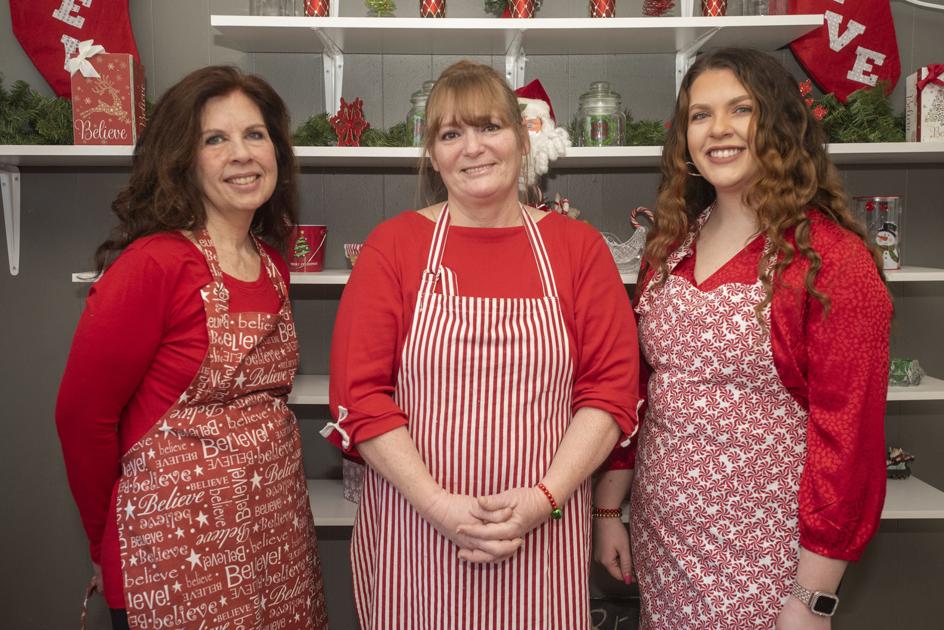 Laurie Dowell was forced into pursuing her dream, in a way.
She opened Believe Bakery and Sweets, 207 S. California St., Galveston, because she needed to find a way to work and be able to take care of her husband, Richard Hankee, and their four children.
Her job as a process engineer at the Alcoa plant took too much time for her to be with her husband after his brain aneurysm and three strokes, and she was working at a restaurant before she opened her bakery.
"I just wish I'd done it earlier in life," Dowell said. "It's just been a really good decision."
Besides always liking to bake, it's also been her way to de-stress.
So July 1, she started building the kitchen area with her eldest son, Richard.
The rest of the building she turned into a Christmas wonderland that eventually opened Nov. 16.
There are red and white stripes on the walls and fixtures, and a Christmas tree greets people near the door.
The seating area with all its holiday joy is closed off for the pandemic, but even that is done using a festive gold ribbon strung across the array of reds and greens and whites.
Her phone's ringtones are Christmas songs, and Believe Bakery's name is also part of the theme, an "I believe" thought.
"Anybody that knows me knows I'm Christmas," she said.
Dowell had been working as food supervisor at Omelerik's, just down the strip mall from her current store, when the storefront became open.
Her bosses encouraged her to start the business she wanted, and she thought, "I'm just going to open a bakery and share Christmas. Plus, it's the only way I could do Christmas all year long without being made fun of," she said.
Everything that Dowell and her crew make is fresh daily or on order using ingredients like real butter and flour.
They take orders for pies, for wedding dessert tables and for gluten-free, sugar-free and dairy-free baked goods.
"We'll try to make anything," she said.
When a man asked for a pineapple pie for his older father, just like the father's mother used to make, Dowell went one line looking for a recipe with ingredients used early 20th century ingredients, and it brought memories to the father and tears to his eyes, she said.
Believe Bakery also does parties, birthdays and luncheons when COVID-19 isn't requiring social distancing.
When opened in November, it was with little notice to the public.
"I wanted to grow with the business. I don't like my case to be empty. It has happened a few times, and I feel so bad when people come in and can't find what they want," she said.
She started with cookies and cupcakes, bread loaves and brownies, then added candies, Oreo ball cake lollipops and genuine English scones.
By Christmas, they had orders for 167 pies, and she believes they had more around Thanksgiving with all the orders tacked to one wall and covering it.
She still does lunches by request, but the soup and sandwich isn't a regular thing for now.
One of her bigger sellers is candied grapes, made of single grapes dipped in a confectionery coating and rolled in nuts.
It tastes like a candied apple and looks similar to one — just on a smaller scale.
Many people don't know what they are at first, and some think they look like olives because of the green poking through, she said.
Cinnamon rolls are also a big seller.
On March 18, they began offering breakfast casserole and biscuits and gravy.
On March 31, she began offering free breakfasts to truckers because she heard they weren't finding places they could stop for food on their routes.
She hopes more truckers come in because she wants to help.
The pandemic, people hoarding and no dine-in customers have also made things tough for Dowell and the bakery.
"Everything is harder to find now," she said.
But she still looks for and gets what ingredients they can to bake.
And to keep the customers safe, she and the staff — friend Kim Jones and Jones' daughter Katelyn Coppernoll —wipe everything down with disinfectant when people come and go, including the doors.
Even with the limitations, Dowell's still planning to do more and grow.
In the summer, she intends to have ice cream (including shakes, sundaes and banana splits), and she's looking for a baked donuts recipe she likes.
She also advises others who want to pursue their dreams but haven't to do it now because she regrets waiting for hers.
"[I] should have definitely done this earlier in life,'" Dowell said. "The reason for not doing it is 'it's not a good time.' The thing is, it's never a good time."
Believe Bakery and Sweets is open from 8 a.m. to 2 p.m. during the pandemic and can be reached at 574-699-0400.
Source: Thanks https://www.pharostribune.com/news/business/article_7a4891d6-79e7-11ea-9caf-8fa2e0077498.html