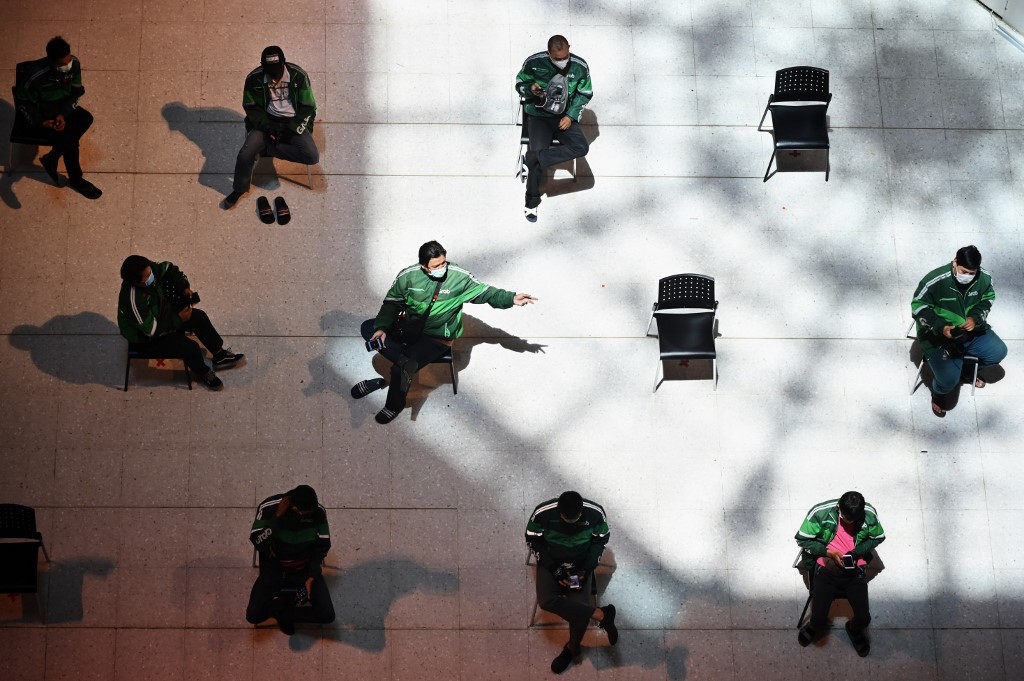 The Agriculture Ministry is partnering with food producer PT Indoguna Utama and ride-hailing company Grab Indonesia, among other businesses, to secure supplies and offer them an online grocery platform.
The partnership is part of the government's anticipatory efforts to meet surging demand, especially for beef and chicken meat during Ramadan and on Idul Fitri. Both events will likely be celebrated at the peak of the COVID-19 outbreak, according to Agriculture Minister Syahrul Yasin Limpo.
"Protein helps our [body repair tissue], improves our immune system and helps us grow," Syahrul said at the signing of the partnership agreement on Tuesday. "How can we overcome this outbreak if our source of animal protein is insufficient or inaccessible to the people."
Indoguna Utama, which has sold food products to hotels and retailers worldwide since 1982, is expected to provide enough beef, chicken meat, fish, milk and other processed products.
Grab Indonesia, which offers food delivery services through the GrabFood feature, will provide an online platform to sell the products and deliver them.
Concerns have been raised about the possibility of food shortages, brought on by disruptions to the country's distribution chains as a result of government measures to fight COVID-19.
The Agriculture Ministry has estimated the demand for chicken meat to reach 881,204 tons and beef 201,730 tons between March and May.
With the rate of COVID-19 transmissions showing no signs of slowing down, the government began improving regional requests for large-scale social restrictions (PSBB), which temporarily suspend school and offices, as well as religious and public activities.
Read also: Explainer: Indonesia to finance coronavirus battle mostly through debt
As of Tuesday, Indonesia has recorded 4,839 confirmed COVID-19 cases, with 459 deaths and 426 recoveries.
Because half of the cases are in Greater Jakarta, the capital imposed heightened PSBB measures on Friday and its satellite cities will soon follow suit.
"Under these conditions, two things must not cease: health care and agriculture," said Syahrul. "Therefore, by complying with health protocols, medical workers and farmers will keep working."
To serve stay-at-home consumers under social restrictions, the ministry is partnering with online grocery shopping platforms Sayur Box, Tanihub and Etanee, as well as food companies PT Charoen Pokphand Indonesia, PT Triputra Panganindo, PT Japfa Comfeed Indonesia and PT Cimory.
Last week, the ministry established a similar partnership with ride-hailing company Gojek and the Toko Tani Indonesia Center, a grocery store in South Jakarta that sells affordable food and groceries.
Gojek, which employs over a million drivers across the country, is offering free delivery services for minimum purchases of Rp 40,000 (US$2.50) at Toko Tani and within a 25-kilometer distance from the store.
"The activities of Jakartans may slow down with the introduction of large-scale social restrictions to curb the spread of COVID-19," Gojek chief executive officer Kevin Aluwi said in a statement released on Friday. "But we have prepared several measures to keep operating as best as we can while complying with health and safety procedures."
— Eisya A. Eloksari contributed to this story.
Source: Thanks https://www.thejakartapost.com/news/2020/04/15/govt-partners-with-food-ride-hailing-companies-to-guarantee-food-supplies-during-outbreak.html