That's a hole lot of dough.
An Ohio doughnut shop was amazed when a customer purchased a single custard doughnut for takeout, and paid a whopping $1,000 for it.
CLICK HERE FOR COMPLETE CORONAVIRUS COVERAGE
Tremont Goodie Shop in Upper Arlington shared the amazing news on its Facebook page, praising the regular, who has been coming in "for 40 or 50 years," for his generosity.
CLICK HERE TO SIGN UP FOR OUR LIFESTYLE NEWSLETTER
"We are in tears. This is a custard donut for $1,000 to help keep us in business. What a blessing," the shop wrote on Facebook, along with a photo of what appears to be the customer holding a white bag with a heart on it.
Emilie Smith, the manager of the family-owned bakery, told Fox News she was left speechless.
"He called and asked us if he would be able to give us $1,000 for his doughnut," Smith said. "I got choked up. He asked again 'would that be ok?' because there was silence on the line."
"I choke out, 'yes, of course, it would be ok!'" she said. "I never expected that."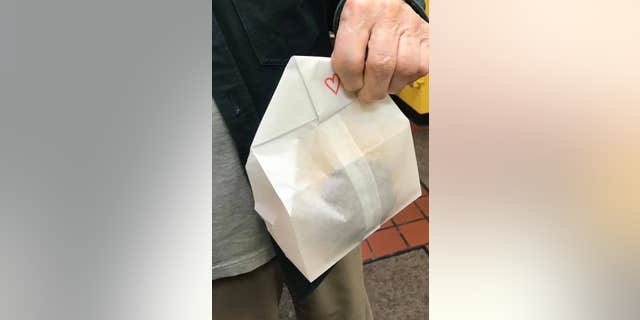 The customer, who Smith says has done "little random acts of kindness in the past" such as bringing employees pizza, was staying away from the shop because he was "trying to lose weight," Smith said. But when the business fell on hard times as the coronavirus pandemic hit, causing the shop to bring in less than 1/3 of its usual income, the customer knew he had to help.
"He said 'I really needed to support you,'" Smith said of the customer.
"He's the kind of guy that just lights up the room when he's here," she added.
Those on Facebook were touched by the customer's gesture.
FOLLOW US ON FACEBOOK FOR MORE FOX LIFESTYLE NEWS
"That is absolutely amazing! I am so grateful for folks who can do something like that. Can't think of a better business to support!" one person commented.
"Love this! We will be making our weekly order again this week. Just ate our last soft chocolate cookie," another wrote.
"Yes!!!! I love this and Tremont Goodie Shop!" another exclaimed.
CLICK HERE TO GET THE FOX NEWS APP
Smith said since the news was shared, there has been an uptick in online sales and orders from locals.
"This morning we could barely keep up with phone calls! And someone left a $100 tip for the employees," she said. "It's truly been such a blessing."
Source: Thanks https://www.foxnews.com/food-drink/bakery-customer-1g-single-doughnut