On Monday, the National Restaurant Association reported that 3% of Virginia restaurant operators anticipate permanently closing their restaurant within the next 30 days.
For some, though, the future is now.
Two more Richmond restaurants have permanently closed their doors since yesterday's report of three local restaurants that shuttered for good.
Tijuana Flats, a fast casual Tex-Mex chain at Willow Lawn, and Fox & Hound, a sports bar at 11581 Robious Road in Chesterfield – are closed and will not reopen.
"Unfortunately we will not be re-open after closing due to COVID-19," said a spokesperson for Fox & Hound via messenger.
Tijuana Flats did not respond to request for comment, but the location has been removed from the chain's website. It's also been removed from Willow Lawn's website.
Both restaurants attempted to pivot to a takeout-only model following Gov. Ralph Northam March 23 order that all Virginia restaurants must close their dining rooms. Fox & Hound stopped its takeout service March 31 and initially planned to reopen once the dining-in ban was lifted, according to social media posts. The staff was informed Monday night that the restaurant wouldn't reopen, according to posts.
Fox & Hound and Tijuana Flats join Brio Tuscan Grille, Billy Jack's Shack and the O'Charley's restaurant in the Shops at Stratford Hills off Forest Hill Avenue, which also closed for good in April.
Onigiri, a short-lived Japanese restaurant at 2820 W. Cary St. in Carytown, announced its closure the same day Northam shuttered dining rooms. Citizen restaurant at 1203 E. Main St. in downtown Richmond closed March 18 after a deal to sell the restaurant fell apart. Greenleaf's Pool Room in downtown Richmond also closed in March, but that closure was unrelated to coronavirus.
Still, if Richmond restaurants were permitted to reopen for dine-in service today, there would be eight fewer of them.
These will not be the last restaurants to permanently shutter due to the impact of the virus, experts say.
The restaurant industry has been among the hardest hit by COVID-19 and the social distancing that came with it.
Restaurants are expected to lose an estimated $50 billion in sales in April, according to data released Monday by the National Restaurant Association. That's up from $30 billion the national industry lost in March.
Virginia restaurants should lose $1.3 billion in sales in April, the National Restaurant Association estimates, with virtually every restaurant owner it surveyed (99%) saying their total sales were down for the period of April 1-10. The average sales decline for Virginia restaurants for the period was 77%.
The rest of the numbers are equally stark.
The National Restaurant Association conducted a survey of 6,500 restaurant operators nationwide from April 10-16. The Virginia numbers mirror the national statistics:
94% of Virginia restaurant owners have laid off or furloughed workers since mid-March, equaling 237,000 Virginia workers;
21% of owners anticipate laying off or furloughing more workers in the next 30 days;
72% say they stayed opened for takeout or delivery only;
29% say they temporarily closed their restaurants; and
3% of Virginia restaurant operators say they anticipate permanently closing within the next 30 days.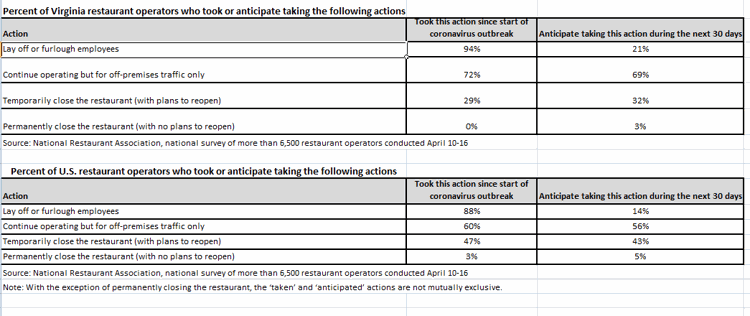 Have a tip about another restaurant closure? Email [email protected]
Source: Thanks https://www.richmond.com/food-drink/restaurant-news/two-more-richmond-restaurants-have-closed-for-good-bringing-total-richmond-restaurant-closures-since-march/article_f23d9742-ab12-52c0-982d-098969aac827.html