Chef José Andrés' recipe was a combination of meat, corn, rice and spices that really hit the spot on Thursday, April 16, as the Rising Hope United
Methodist Church set up camp with the World Central Kitchen to feed hundreds of people in the Mount Zephyr area.
"We gave out 300 meals in 30 minutes," said Pastor Keary Kincannon, who lead a team of church and county volunteers to make this event possible. "It was a wonderful dish," he said. "They got to take what they needed."
When word got out that Chef Andrés' and the World Central Kitchen was involved, folks started lining up and they were not disappointed.
The Mount Zephyr area has been hit hard by the virus because it's a low-income area where there are a lot of residents who work hourly jobs, many in the food service industry, and they are now out of work.
"We're an area of Fairfax County and Alexandria that's hit a little harder," said Kincannon.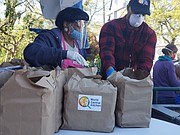 Ramona Carroll, Community Interfaith Coordinator for Fairfax County Department of Neighborhood and Community Services, made the connection that brought World Central Kitchen to Rising Hope.
"She helped make the connection for us," said Kincannon.
The World Central Kitchen is a team of food first-responders, mobilizing to get meals to those who need them most. They activate hundreds of restaurants and kitchens to feed marginalized and vulnerable communities and medical professionals on the front lines, in order to make an impact in the fight to keep everyone fed, and to support the distressed restaurant industry.
"We know that a nourishing meal in a time of crisis is so much more than a plate of food — it's hope, it's dignity, it's a sign that someone cares about you and that you are not alone," they said.
Food Gone Wild by World Central Kitchen
The World Central Kitchen was founded in 2010 by Chef José Andrés, with a purpose to use the power of food to heal and strengthen communities through times of crisis and beyond. Right now, World Central Kitchen is working across the country to safely distribute individually packaged, fresh meals in communities that need support – for children and families to pick up and take home, as well as delivery to seniors who cannot venture outside. WCK is now active in dozens of cities, including Mount Vernon, providing more than 160,000 fresh meals every day.
"Making sure we bring relief one community at a time," said Andrés, on his web-based video.
Rising Hope has long served some of the corridor's poorest residents by operating a soup kitchen six days a week and a food pantry on Wednesdays and Thursdays, as well as hosting a 25-bed hypothermia shelter from October to March. The church serves about 300 families a week from the food pantry. It's just one of several locations needing assistance now. "We're seeing many parts of Fairfax County have been hit hard," said Carroll.
On the main page of their website, Rising Hope United Methodist Church describes the dire conditions during the pandemic for the needy. "Financial and food donations have dropped and additional expenses to improve safety for our constituents and volunteers have been added. We are having to find new sources of food for our soup kitchen and pantry at a much greater cost. Before long, we may not be able to feed the most vulnerable among us."
Even with these conditions, the efforts of Chef Andrés and the World Central Kitchen were so successful, they've expanded by adding another day,
Meals Will Be Served
The meals will be served at 3:30 p.m. for at least the next three Wednesdays and Thursdays, at the church at 8220 Russell Road in the Mount Zephyr area of Mount Vernon.
To make contributions, call the church at 703-360-1976.
so the feast will be Wednesdays and Thursdays for the next few weeks. Beyond that, it's anyone's guess.
"Things will improve," said Kincannon, but added that "things will be different from here on out. It's pretty frightening."
For the upcoming summer months, Rising Hope traditionally relied on the Letter Carrier's Food Drive to fill their pantries, but that drive has been postponed this year already. They usually get 10-12 tons of food each year from that drive. "I don't know what we're going to do," he said, looking ahead.
In addition, the food banks and grocery stores they usually rely on have cut back too.
To make contributions, call the church at 703-360-1976.
Source: Thanks http://www.connectionnewspapers.com/news/2020/apr/23/chef-andres-world-central-kitchen-feeding-hundreds/