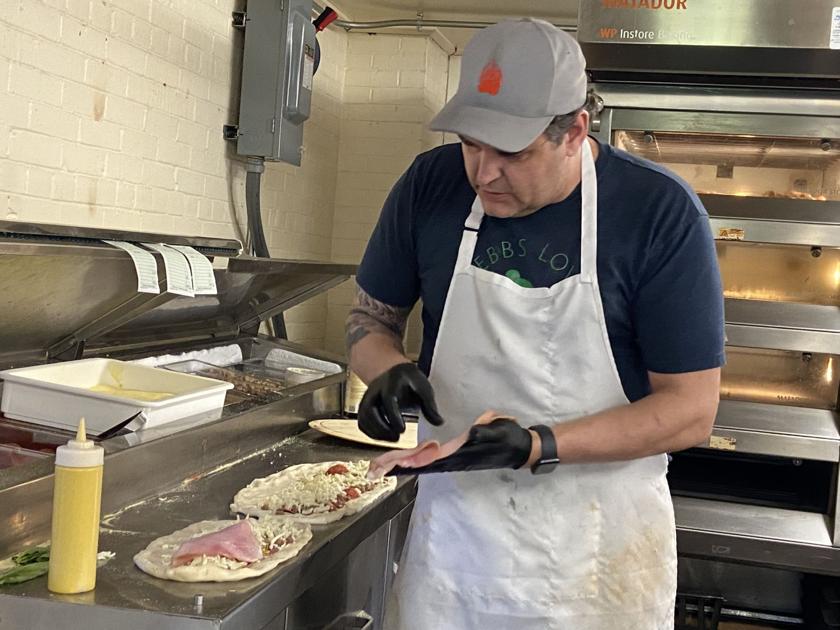 NEW ALBANY — Chef Richard Doering has been making pizza since he was 14 years old, and it's always been his dream to own his own restaurant.
It's a rough time for the restaurant industry, but the coronavirus pandemic hasn't stopped he and his wife, Marcy Doering, from opening their pizzeria.
Last Friday, Richard and Marcy opened Legacy Pizza and Bakery at 1001 Vincennes St. in New Albany, which was formerly home to Level Up Bakery. The restaurant sells New York-style pizzas, calzones, strombolis and breadsticks, and it is offering curbside pickup.
It has been exciting to open his own restaurant with his wife and family, Richard said. The restaurant's opening quickly got attention on Facebook, and they weren't expecting the huge response they received in their first days of business.
"It means a lot," Richard said. "It's something I've been working towards for long time, and it never seemed to pan out."
The couple signed the lease about a week before the shutdowns began, and despite the bans on in-person dining, they decided to move ahead with the opening.
"We figured we've got to try to do something," Marcy said. "Friends and family members were really encouraging us to go ahead and go for it, and they wanted the food. They started telling other people about it, and we just did it."
Legacy has had a successful first week with curbside pickup, and they hope it will help "get the ball rolling" at a calmer pace until they are able to offer dining services, Marcy said. The pizzeria is starting out with a limited menu, and they hope to slowly introduce delivery.
Richard, who is from Pennsylvania, has been working for decades in the service industry at both restaurants and hotels, and he and Marcy met 25 years ago as employees at a restaurant in Louisville. Marcy has previously worked in restaurants, retail and childcare.
He has worked to perfect his pizza recipes over the years, and he's always been somewhat of a "pizza snob," he said. The pizza at Legacy is hand-tossed and hearth-baked, and the sauce and dough are made fresh in-house.
"Everything is done by hand — there's little blemishes here and there, which gives character," Richard said. "The dough is handled differently than a lot of people's — I let it age, and it's got to have some time develop flavor. Most good bakers say, you've got to let things take their time."
Marcy said the New York-style crust is crispy instead of doughy, and it retains its crunch after it is reheated in the oven. Richard learned to make strombolis when he was living in Pennsylvania, and his recipe is pizza dough stuffed with meat, cheese and a little bit of mustard.
"I never thought I would like [the stromboli], but the first time I had it, it was love at first bite," she said.
After so many years of working in the service industry, it is gratifying to operate his own restaurant, Richard said.
"At end of the day, it's still a hard work day, and if I don't put the work in, I don't get the return, but it's satisfying that when I go in tomorrow, if I want to go a certain direction or I don't think the dough is right today, I can tweak it a little bit, and I don't have to answer to anybody," he said.
Legacy is open from noon to 9 p.m., and it is closed Mondays. Call 502-445-9999 to place an order.
Source: Thanks https://www.newsandtribune.com/news/legacy-pizza-and-bakery-opens-in-new-albany/article_cc0f8a9e-84d5-11ea-80b9-b76a1a19e3c5.html