Record-man with his racquet Roger Federer has been one of the loyal ambassadors for the Italian pasta company, Barilla. He has been endorsing the brand for a long time now.
Federer has been on tour for more than two decades and all these years, a couple of hours before the match he takes pasta. It has been his staple diet ever since he turned a professional. "Two hours before every match, I eat pasta with light sauce … I have been doing it for 20 years," Roger once stated.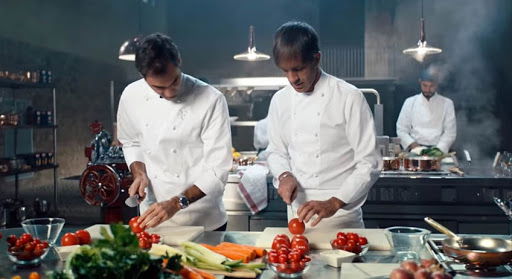 "Roger Federer perfectly represents Barilla's three-S revolution" – Barilla
In 2017, Barilla began with a new campaign called Barilla Masters of Pasta, which featured a master of tennis Federer. Also, chef, Davide Oldani was part of it, who is considered to be the master in cooking.
The global leaders in Pasta supplies, Barilla believes their brand ambassador Roger Federer is the perfect portrayal of their firm.
"Roger perfectly represents Barilla's three-S revolution: simplicity, sincerity and spontaneity, and embodies the true essence of sportsmanship: he is one who, regardless of numerous victories and successes, never ceases to get engaged or to improve himself. We have convinced Roger with our pasta and invited him to cook for us," as stated by the firm.
Also, once Barilla made one of the Federer fan's dream come true. The Italian fan Daniela held a banner during the 2019 Mutua Madrid Open, wherein she asked Roger for a dinner date. 'I'll cook', it read. The banner also tagged Barilla.
The pasta brand got in touch with Daniela and shot an ad commercial with the lady. "Hello, my name is Daniela and I have two great passions in life: tennis and Roger Federer. When he plays, everything stops. I wanted to create something nice, you never know. So I invited him to dinner (at the Madrid Open)," she said.
After coming across her innate passion for cooking and love for the Swiss maestro, Barilla opened the gateways to set Roger and Daniela up for a dinner date.
Read More – WATCH: Roger Federer Makes a Fan's Dream Come True
Source: Thanks https://www.essentiallysports.com/tennis-news-atp-watch-when-roger-federer-learnt-how-to-cook-pasta/