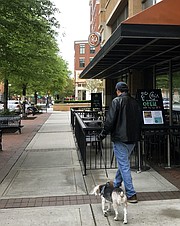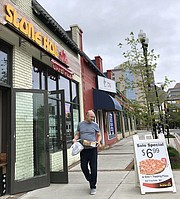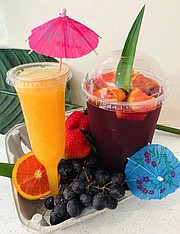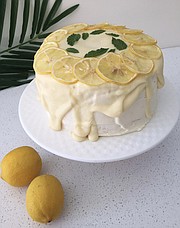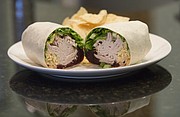 It was Friday the 13th the last time things felt anywhere near normal. We were at Ambar in Clarendon that March night, dining with close friends, the table overflowing with tastes from the Balkan Peninsula. And I fondly remember enjoying my favorite small plates of beef short rib goulash and stuffed peppers along with an array of breads and spreads.
My husband and I moved to Arlington late last fall, excited to join the vibrant urban community after 20 years in the more subdued Great Falls. After several months, we had staked out our favorite neighborhood restaurants and were adding to our list on a weekly basis. With a mere 672 square feet of living and work space, eating out was a welcome change of scenery as well as an opportunity to more comfortably socialize with friends.
That all changed with COVID-19 and Virginia Gov. Ralph Northam's March 23 announcement that restaurants were to be limited to carryout, curbside pick-up and delivery.
Arlington County was quick to publish a list of restaurants continuing to serve the community via pick-up and delivery service. The list, when compared to Yelp's list of Arlington eateries, shows that roughly 33 percent of Arlington restaurants have closed. That puts Arlington slightly below the 40 percent national average of temporary or permanent restaurant closures, recently reported by the National Restaurant Association, the largest foodservice trade association in the world.
While performing ahead of the national average may feel good, that 33 percent number represents a lot of folks out of work. Even among the restaurants that remain open, many are operating with smaller staffs and/or shorter hours. Nationally, two out of three restaurant workers have lost their jobs, according to the National Restaurant Association.
It was hard to believe the dramatic changes that we were all trying to adjust to in real time. The entire world seemed focused on the hunt for paper goods and non-perishables and creating a semblance of normalcy.
In our home, the initial joy that came from discovering many of our favorite restaurants had remained open for take-out turned into a tug of war between the desire to support local businesses and the concerns for the health and safety of both us and restaurant workers. Talking to friends, we were not alone in this moral dilemma.
Ultimately, my husband and I reached a compromise of grocery shopping roughly every 10 days and doing takeout four out of ten nights.
We are fortunate to be in a position to support local businesses and, frankly, it's been comforting to eat familiar foods that remind us of happier times. And it's been great to have the opportunity to expand our list with new places. We are eclectic eaters who enjoy food ranging from the fares at Five Guys and Cava to Circa and Liberty Tavern – and lots in between.
In talking to some local restaurant owners, managers and staff, there has been a consistent theme: Mutual gratitude.
For Zaid Azem, manager of Stone Hot Pizza, feeling the customer love is what keeps him and his staff coming in every day. And that appreciation isn't just spoken, Azem says tips have been double and often triple what they were before the coronavirus. And that's important because restaurants like Circa, are sharing all tips among hourly employees who aren't working right now. Every restaurant I spoke with is concerned about staff that has had hours cut or been furloughed or let go. In Circa's case, they desperately want to help their long-time and loyal staff keep afloat until this is over.
Tipping isn't the only thing that has changed by the pandemic. At Stone Hot Pizza, customers are ordering more salads than before. We, however, are not among those healthy eaters, and have continued to enjoy Stone Hot pizza with our usual side of delicious hummus with a baklava chaser.
My own eating of comfort – and sugary – foods is more in line with what Oby Lee of Oby Lee Winery has seen. Sales of sweet crepes and comfort food crepes are on the rise — with strawberries, bananas and nutella crepes and chicken fajita crepes at the top of the list.
Like other local restaurateurs, Lee and Ula Piotrowska, his partner and fiance, have made menu changes to meet the changing needs of customers. The once Friday-only pierogies (my personal favorite) are now a daily menu offering. And starting on Wednesday, Oby Lee will offer a changing prix fixe (non-crepe) Polish dinner. This week, it'll be Chicken Kiev.
Liberty Tavern and Ambar are also doing prix fixe meals. And, I'm personally delighted Ambar's goulash is part of its new limited menu. Liberty Tavern's hanger steak frites family meal, offered Tuesdays and Saturdays, is not to be missed.
While my husband can no longer drop in to enjoy a little sports with his food and drink, we're also happy Bracket Room has re-opened after a short hiatus. Like many restaurants, its menu is limited, but I'm hoping to see the "famous" tater tots return in coming weeks. I can report that Bracket Room's hot pastrami sandwich competes well with those I used to enjoy when I lived in New York City.
Four Sisters is among our favorites as well; we long frequented its original location in Eden Center and then followed it to Mosaic. Four Sisters' fast-casual Arlington location doesn't disappoint. It continues to offer the full menu with all of my favorites including grilled black pepper beef, Bánh Mì sandwiches and crispy spring rolls.
My first time dining at Circa was actually just a few weeks before the pandemic took hold. I had an amazingly delicious wild mushroom flatbread. Circa's pandemic menu includes both a la carte options and a prix fixe menu and we recently picked up dinner there. I highly recommend the free range brick chicken served with roasted garlic mashed potatoes, brown butter sauce, gremolata and grilled broccolini.
If you are hankering for Chinese, TNR is a great choice, and it has maintained its regular menu, so you will have lots of choices. I have never ordered anything I didn't love from TNR, but my go-to's are chicken and broccoli and wonton soup.
Sawatdee is a recent addition to our rotation, and from the moment I tasted the Thai restaurant's angel eggplant – deep fried eggplant topped with stir fried ground chicken, bell peppers and carrots in a spicy basil sauce – I couldn't wait to eat it again.
I'm not a huge drinker, so for me, alcohol always comes last. But alcohol can be a significant percentage of a restaurant's revenue. In fact, Eddie Lane, General Manager at Circa, said that, before the pandemic, alcohol made up 50 percent of sales, sometimes a little bit more. As of April 10, Arlington County restaurants can sell alcohol as part of delivery or takeout, but currently alcohol sales now make up only 20 percent of sales at Circa. Lane does expect that number to continue to rise, however.
We haven't taken advantage of the ability to do take-out drinks, but I do love the idea of being able to pick up a Peach Muscato wine slushie at Oby Lee or a bottle of Blackberry Margaritas from Circa to go with my dinner.
Local restaurants are putting on a brave face, but sales are way down, in some cases by as much as 90 percent, according to the restaurants I spoke with. And the National Association of Restaurants has reported that COVID-19-related industry losses are expected to exceed $240 billion by the end of 2020.
That suggests a lot of restaurants aren't going to make it. Our Arlington eateries are here for us. If possible, we need to be here for them.
Got a local favorite you want to share with me? Email me at [email protected]
Source: Thanks http://www.arlingtonconnection.com/news/2020/apr/29/eating-out-arlington-without-reservations/