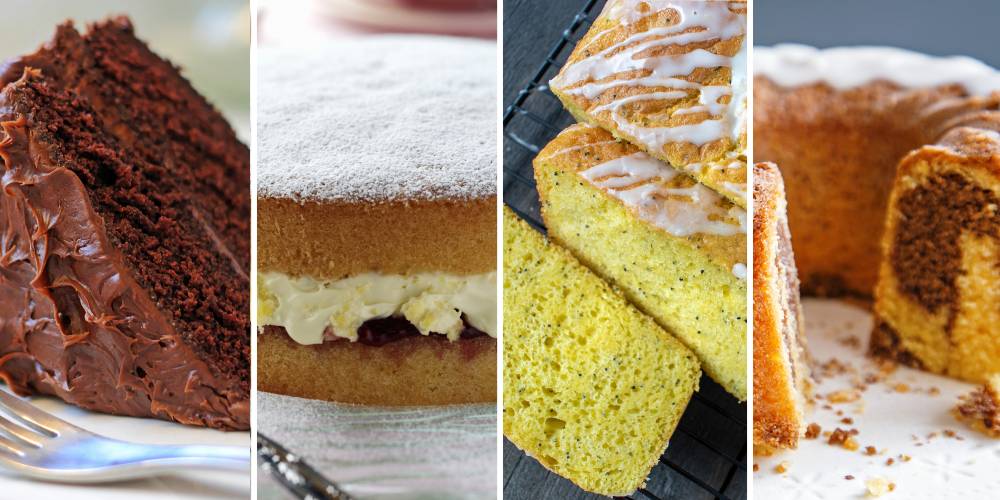 Honestly, we understand more than most. Self isolation is hideously boring, and snacking makes everything better. If you're not in the mood for biscuits or brownies and aren't ~quite~ accomplished enough for a genoise sponge (yeah, us neither), how about one of these easy cake recipes? So long as it tastes good, no one cares how simple the recipe is: sometimes the more straightforward, the better. And hey, in baker's speech? You can just call these easy cake recipes 'refined'.
1
Easy cake recipes – Nigella's Victoria Sponge
This simple Victoria's Sponge cake recipe is super easy to follow: use the same proportion of flour, butter and sugar, and five eggs, as well as a few extras like vanilla extract and milk. Plus lashings of cream and jam for the middle, of course.
2
Easy cake recipes – Easy Lemon Drizzle
This lemon drizzle cake promises to be light, moist and delicious, and only combines six ingredients – most of which you'll likely have in your baking supplies already. And lemons – lots of lemons!
3
Easy cake recipes – Carrot Sheet Cake
"Super moist, subtly spiced, and topped with a dreamy cream cheese frosting" is how this carrot sheet cake is described. We've never wanted to try something more tbh.
4
Easy cake recipes – 'Crazy' Cake
Yep, you did read that correctly: this easy cake recipe doesn't require eggs, milk or butter, instead using oil, vinegar and water as the liquid components. Sounds strange, but looks fluffy and light.
5
Easy cake recipes – Simple Red Velvet Cake
Nothing beats a red velvet cake in our opinion, but often the thought of them is challenging and long. This recipe might have a lot of ingredients, but the actual process sounds easy – and promises to be slightly tangy with that recognisable milk chocolate taste.
6
Easy cake recipes – Old Fashioned Pound Cake
Eggs, butter, sugar and flour (as well as icing sugar for dusting on top) is all you need for this classic cake recipe – and a bundt shaped tin isn't a necessity.
7
Easy cake recipes – Easy Vegan Coffee Cake
This easy vegan coffee cake using plant-based milk and coconut oil (vegetable is probably fine too) as liquid, to keep things dairy-free, before topping with a cinnamon and brown sugar swirl. Yum.
8
Easy cake recipes – Moist and Fudgy Chocolate Cake
This looks like the cake from Matilda, and we're 100% into it. Made using one bowl (so minimal mess), 10 ingredients that promise to be easy to get hold of and with a kick of coffee, we know what we'll be making next.
9
Easy cake recipes – Rosie's Moist Custard Cake
The not so secret recipe in this moist cake is custard powder, and what makes it so easy is it can be made in one bowl with seven ingredients. We love custard.
10
Easy cake recipes – One Bowl Vanilla Cake
Moist, delicious and full of vanilla flavour, this one bowl recipe will look straight out of a cake shop thanks to the simple but effective frosting and sprinkles.
11
Easy cake recipes – Easy Neapolitan Cake
OK OK, so the top might not look ~that~ simple, but the inside promises to be thanks to using the same basic batter recipe before splitting it into three.
12
Easy cake recipes – 6 Minute Chocolate Cake
This chocolate cake recipe takes just minutes to make, and uses minimal ingredients – vegetable oil, flour, baking soda, cocoa powder, sugar, salt, vanilla extract and white vinegar. So easy! Top with a creamy frosting or liquid chocolate sauce, and you're good to go.
13
Easy cake recipes – Easy Coffee Cake
This coffee cake combines minimal ingredients with a sugar and cinnamon crunchy top, which you can add walnuts to if you like a more traditional coffee and walnut cake.
14
Easy cake recipes – Chocolate turtle poke cake
This cake recipe gets much of its moistness from the liquid that you more on after its cooked, which seeps into the holes and creates an unbelievable texture. Yes please.
Cosmopolitan UK's May issue is out now and available for purchase online and via Readly. You can also SUBSCRIBE HERE or read on Apple News+.
Find our podcast 'All The Way With…' on Spotify, Apple Podcasts and the Acast app.
Dusty Baxter-Wright
Senior Entertainment & Lifestyle Writer
Dusty Baxter-Wright is Cosmopolitan's Senior Entertainment and Lifestyle Writer, covering celebrities, movies, TV and books as well as travel, interiors, food and drink on a daily basis.
Source: Thanks https://www.cosmopolitan.com/uk/worklife/g32317329/easy-cake-recipes/