Published by Rebecca Maness.
The ongoing COVID-19 pandemic and the resulting stay-at-home orders that many are under have many people getting creative with their cooking. It's a stressful time, and cooking delicious vegan food is a great way to practice some self-care and learn new skills in the kitchen, all while doing the best we can to help animals by eating vegan. We're having a blast following all these new vegan food trends, like whipped coffee, and testing them out. If you have more time to spare and want to join in on the fun, show us your creations by tagging PETA on social media!
Here are some of our favorite vegan quarantine food trends:
Whipped Coffee and Matcha
"Dalgona" or whipped coffee quickly became a TikTok sensation, and it makes sense—it is super-simple, only requires four ingredients, and looks totally luscious! This drink, which originated in South Korea, was dubbed "dalgona" coffee because of its similarity to a candy with that name. All you need to make the caffeinated fluff are instant coffee, sugar, and boiling water. Whip these together with a mixer or do it by hand if you're working hard for those #VeganGains. Then, just add the blend to a glass of your favorite vegan milk and stir to mix. Here's an easy recipe to help you get started.
You can also make a whipped matcha latte, which uses a similar method but with slightly different ingredients. For this, you'll need matcha green tea powder, sugar, and aquafaba (the "magic water" from a can of chickpeas). Whip them with some hot water and serve over a glass of your preferred plant-based milk.
Focaccia Art
Beautiful focaccia art seems to be everywhere these days, and we aren't complaining. These gorgeous creations are simple to make and result in delicious homemade bread. Most focaccia recipes are vegan already, but beware of ones that call for honey. Honey is stolen from bees, who made it for themselves to use as an energy source. You don't need honey, so leave it to the bees and use sugar to help your yeast along instead. Start with our Rosemary–Black Olive Focaccia recipe, then tweak the toppings to your liking. We used parsley, flowering cilantro, sliced green onion, Kalamata olives, and an edible flower for our creation, but you can get creative with sliced bell peppers, cherry tomatoes, dill, or any other fresh herbs or veggies you have on hand.
Here's our attempt: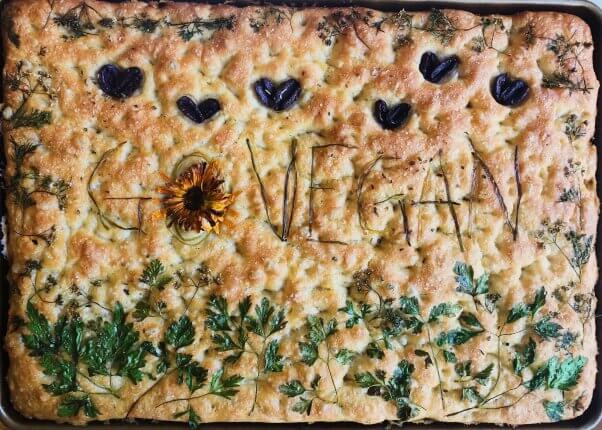 Check out this gorgeous garden scene:
Or try this decorative concept with your vegan pizza toppings:
Sourdough
Yes, more bread! There might not be a bread shortage in grocery stores, but you wouldn't know it from the huge boom in people who have become sourdough bread bakers since the pandemic began. You can buy sourdough starter from a local bakery, order it online, or make your own from scratch. Once you have it, you're ready to get baking. Our Country Bread recipe is the perfect loaf for your first try, since it's simple and rustic. Bread isn't the only thing that you can make with your starter, though—these Vegan Sourdough Blueberry Pancakes look absolutely delectable.
Colorful Foods and Fun Plating
Extra time around the home has some people looking to make their food a bit more, well, visually interesting. Colorful foods like this purple gyoza plate show just one way people are trying to make their meals a bit more exciting. Try this trend out for yourself by experimenting with natural food dyes. Get a deep purple from red cabbage skins, a bright pink from beets, green from juiced spinach, and a golden yellow from turmeric. Add your color of choice to the dough in this recipe for Momo-Vegetable Dumplings.
Carrot Bacon
Vegan foodie Tabitha Brown shocked the nation when she posted her recipe for crispy carrot bacon on Instagram. Obviously, vegan bacon is the best. It's savory, crispy, and healthy, and most importantly, it doesn't harm any animals. Pigs are loving animals who enjoy playing, getting tummy rubs, and cuddling, and they definitely don't want to become part of your breakfast. Tabitha's recipe calls for carrots, but her marinade can be used to make all kinds of vegan bacon—try it on tofu, tempeh, sliced sweet potato, coconut flakes, rice paper, shiitake mushrooms, and eggplant.
---
The global demand for animal flesh has been linked to the outbreak of COVID-19 and many other deadly pathogens, so going vegan is the best way to help prevent more pandemics from occurring. Take some time while you're social distancing to learn more about animal rights and going vegan. Read a new book to learn why our fellow animals deserve our respect, try more simple vegan recipes with few ingredients, and find a vegan mentor who can help you start your journey:
Help Me Find a Vegan Mentor!
Source: Thanks https://www.peta.org/living/food/whipped-coffee-vegan-quarantine-food-trends/