Sahabzade Irfan Ali Khan, known professionally as Irrfan Khan passed away on April 28th 2020 in a Mumbai hospital due to colon infection.
Irrfan was not a great performer but also a man with high integrity. An animal lover, this Indian Muslim actor turned vegetarian and questioned sacrifice of animals during Eid-uz-Zoha.
For me religion is abt personal introspection , it's a source for compassion, wisdom and moderation n not for stereotyping n fanaticism.

"Qurbani means sacrificing something close to your heart and sharing with others. Today, you buy a goat from the market for sacrifice. It is something to think about, it is a matter of common sense, we all should ask ourselves how sacrificing another life earns us any goodwill," the versatile actor commented.
"Mercy and compassion are the basis of Islam", said Irrfan Khan
Irrfan had openly said that instead of observing fast during the month of Ramzan, people should rather introspect.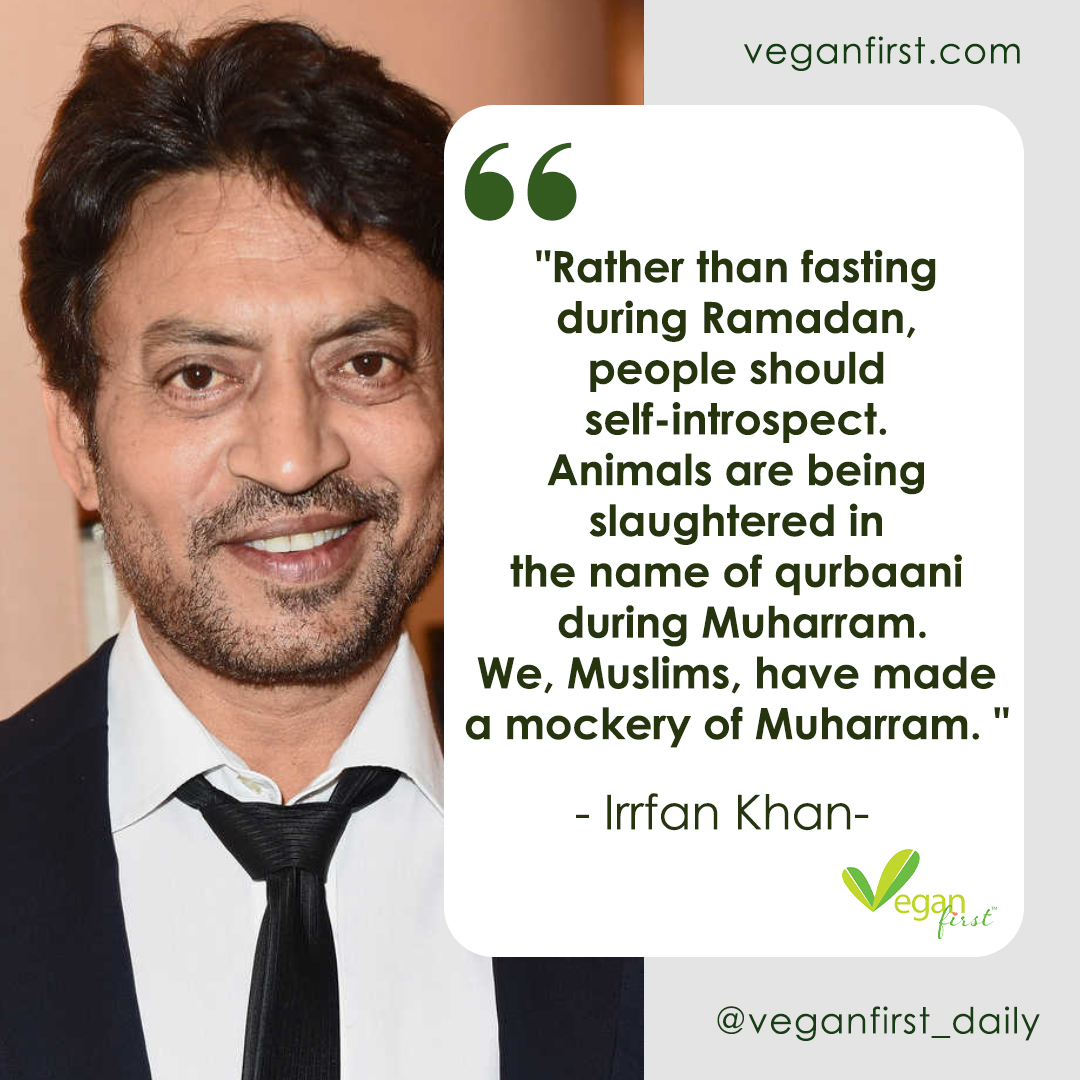 Indian prime minister Narendra Modi said that Khan's demise was "a loss to the world of cinema and theatre. He will be remembered for his versatile performances across different mediums. My thoughts are with his family, friends and admirers. May his soul rest in peace."
Fellow Bollywood actor Amitabh Bachchan said Khan's death left a "huge vacuum". "An incredible talent, a gracious colleague, a prolific contributor to the world of cinema … left us too soon," tweeted Bachchan.
Bollywood actor Ayesha Takia sends a special message to ahimsa festival and vegan first
Source: Thanks https://www.veganfirst.com/article/vegetarian-bollywood-actor-irrfan-khan-dies-at-the-age-of-53