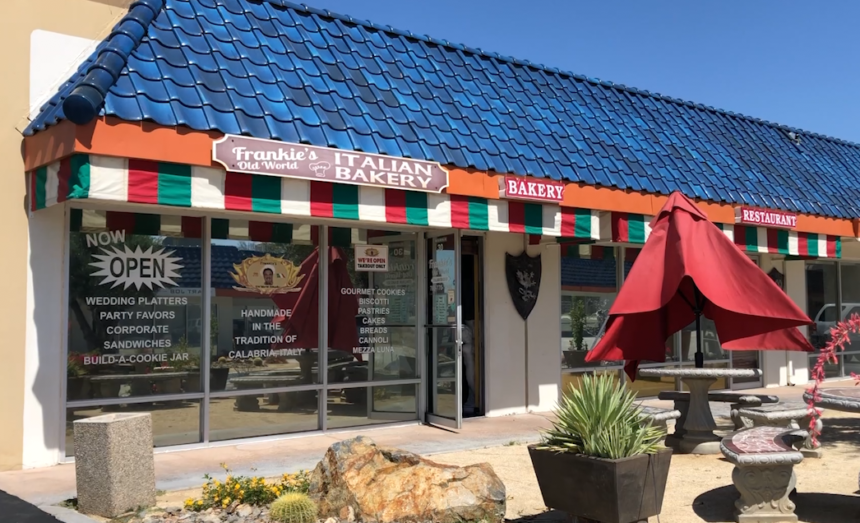 In today's neighborhood heroes we are honoring Frankie's Old World Italian Bakery and Cafe in Cathedral City.
News Channel 3's Caitlin Thropay tells us how they are baking some love for local musicians.
Once the coronavirus pandemic hit, many musicians who rely on gigs and social gatherings to make a living were all of a sudden out of work.
That's why Frankie's Italian Bakery is stepping up to lend a helping hand to local musicians.
"Musicians are so much a part of our valley here," Owner of Frankie's Italian Bakery, Frankie Mamone told News Channel 3.
"We put the word out there for people to come in and just donate a gift card from one of the local supermarkets and they drop their cards in here," Manager of Frankie's Luca Arias showed News Channel 3 cameras. "We give the donor a loaf of bread and then musicians come in and they come in regularly. We don't ask any questions and we just hand them one of the gift cards," Arias added.
"Some of them are Stater Brothers, Jensens, Target, Walmart. It doesn't matter. I ask them what works for them and they pick their choice," Mamone said.
Not only do they get a gift card, but also one fresh loaf of Italian bread."Musicians are so much a part of our valley here," Mamone said.
The owner himself is a musician and tells us for the last eight years Frankie's back room is normally filled with people enjoying live music.
"We've had Diane Schuur, she's been here and of course Kaye Ballard, Carol Channing has performed, Lucie Arnaz, Peter Marshall on and on," Mamone said.
Mamone told us, it's jazz singer Hope Diamond who came up with the idea of "Project Bread for Musicians."
"We're here in this together and whatever we can do to keep those wheels going is what we're a part of," Mamone said. "We're a part of the community and we love and miss everybody," he added.
Right now Frankie's Bakery is doing takeout.
You can find Frankie's Italian Bakery at: 68845 Perez Rd Suite H30, Cathedral City, CA 92234
For hours of operation and their menu check out their website: http://www.frankiesitalianbakery.com/
Frankie's Bakery is also doing a live virtual musical performance every evening at 5 p.m. on their Facebook page. The shows allow local musicians to keep performing. They last 15 to 20 minutes. Here is the link to their Facebook page: https://www.facebook.com/FrankiesOldWorldBiscotti/
Source: Thanks https://kesq.com/news/2020/05/02/frankies-italian-bakery-helps-local-musicians-by-giving-a-gift-card-and-fresh-loaf-of-bread/