click to enlarge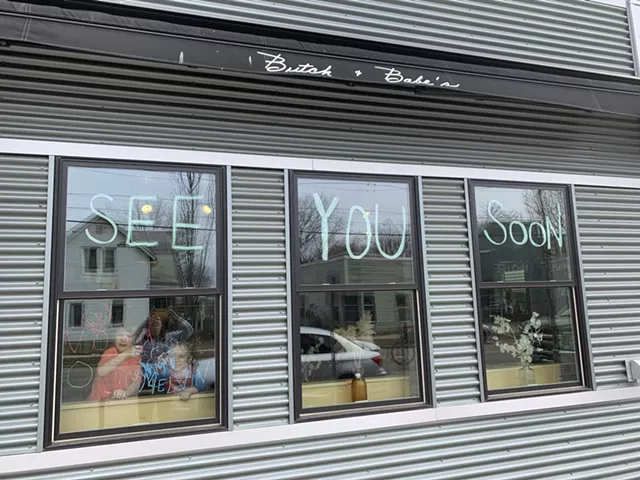 Courtesy

A hopeful message from Butch + Babe's in Burlington on March 19
A group of about 40 Vermont restaurants has launched the Vermont Hospitality Coalition and is actively seeking more members, said co-organizer Sue Bette, owner of Bluebird Barbecue in Burlington.
"This crisis is such a tidal wave for restaurants," Bette said. "It has the potential to sink all-size boats."
The grassroots organization is working with local chambers of commerce and area associations, as well as national industry groups, to advocate for the specific needs of restaurants and other food and beverage destinations that have been forced to shutter their doors or radically change their business model during the COVID-19 shutdown.
"We didn't have a unique association for our industry like the brewers' association," Bette explained. "We want to support each other, to advocate for each other."
In addition, another group of current and former food, beverage and hospitality professionals recently announced the launch of On the Fly, which is offering free consultations to Vermont businesses in those sectors.
"Nearly all of us got our starts in kitchens or front-of-the-house, working in restaurants and hotels," said On the Fly founding member Sas Stewart, co-founder of Stonecutter Spirits and founder of Adventure Dinners. "We have a deep understanding, appreciation and respect for what it takes. You don't open a restaurant to get rich; you open a restaurant because you love it."
On the Fly members have expertise including consumer research, grant-writing, product marketing, business consulting and insurance. After filling out an intake form, business owners are paired up with appropriate group members for an initial consultation and action plan. Stewart said the collective also welcomes additional volunteers with relevant experience.
On March 17, Gov. Phil Scott ordered all restaurants and other dining and drinking establishments to close for in-person service to slow the spread of the coronavirus. Takeout and delivery are still permitted, although Bette pointed out that kind of pivot does not make sense for every business, including her barbecue operation, which is temporarily closed.
The statewide order has been extended until at least May 15. But even after restaurants are permitted to welcome on-site customers again, no one expects that business will be back to normal for a while, or possibly ever.
Bette cited a recent James Beard Foundation survey in which only one in five restaurants around the country had any confidence it would be able to reopen. She also shared a National Bureau of Economic Research report projection that restaurants have just a 30 percent chance of staying open if the COVID-19 crisis lasts four months. That's a lower business survival rate than any other sector.
"This is really a cash-flow-dependent business," Bette explained, adding that most independent restaurants have maybe a two-week cushion of savings. Industry statistics show that for every $1 the typical restaurant takes in, 90 cents goes immediately back out to cover payroll, rent, ingredients and other costs of doing business, she said.
Bette and Mark Frier, co-owner of the Reservoir in Waterbury and Tres Amigos and the Bench in Stowe, are also involved with the newly formed national Independent Restaurant Coalition. But Bette said they felt a Vermont group could also help with mutual support and focused advocacy within the state.
On top of the standard industry challenges, most Vermont restaurants were just emerging from their slowest season in mid-March when they had to close. "Unless you're in a ski town," she said, "that would be our weakest time."
Bette said that restaurant owners appreciate the federal safety net offered to their laid-off employees through expanded unemployment insurance. However, aid for small businesses, specifically the Paycheck Protection Program, falls critically short where restaurants are concerned, she said.
Meeting the criteria for loan forgiveness is essentially unachievable for a business that cannot reopen or operate in any normal way in the near term, Bette explained. If forgiveness is not achieved, the current loan payback schedule will saddle restaurants with more debt while they are still in a very fragile situation.
The new group's priorities include sharing advice on common issues, including safety and sanitation practices, as well as coordinated communication with state government and Vermont's national representatives. The Vermont Hospitality Coalition has already met with each of the state's congressional offices, Bette said. One of their key messages is that Vermont needs its restaurants.
"The tourism industry is so critical to our economy in this state," Bette said. "Restaurants mean a big deal to our economy."
The Vermont Hospitality Coalition is working on its website. In the meantime, interested business owners can email [email protected]
Vermont food, beverage and hospitality businesses can reach out to On the Fly for more information on their complimentary consulting services.
Source: Thanks https://www.sevendaysvt.com/BiteClub/archives/2020/05/03/new-organizations-support-vermont-food-beverage-and-restaurant-sectors