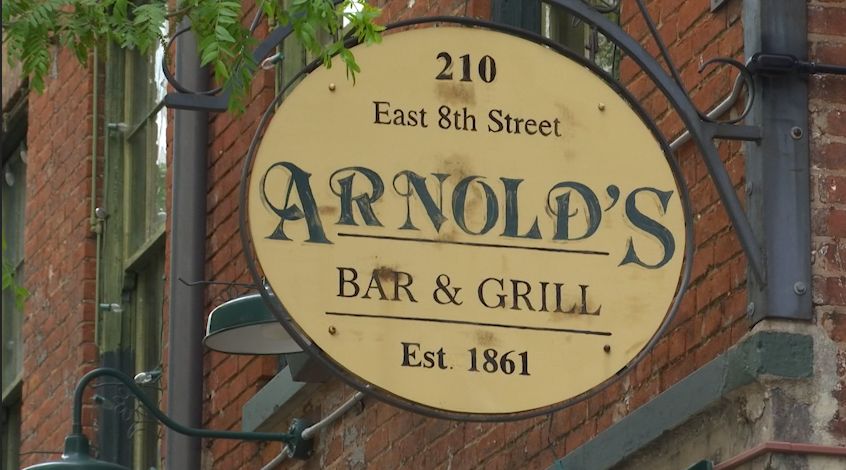 CINCINNATI, Ohio— A local chef used her platform to help children at her daughter's school get access to laptops so they could continue school remotely.
Kayla Robison started online cooking classes and meal kits to keep business coming in
After hearing that 150 students in her daughter's school didn't have access to laptops, she decided to use her platform to raise money
Along with a local non-profit called Community Happens Here, Kayla raised $11,000- enough to buy 150 laptops
Arnold's Bar and Grill decided they had to be creative in order to stay open during this pandemic. So they started online video cooking classes to get their customers excited about cooking and excited about their food.
Kayla Robison has been the executive chef at Arnold's Bar and Grill for the last two years. She says they had to come up with a way to continue business, so they decided to try out live online cooking classes.
"It kind of started as my way to keep myself sane during all of this," Robison said. "And then we started implementing our meal kits to also help bring in some business."
The videos were getting up to 10,000 views. She was even able to get her 10 year old daughter involved.
"My daughter's always been apart of my career," she said. "She's been growing up in kitchens her entire life. So she knows a thing or two about cooking. And it's been fun. Me doing these cooking videos together is family time for us."
But when Robison heard that 150 students at her daughter's school didn't have access to a computer, she decided she needed to help.
"I just told myself I need to do something about it," Robison said. "I have a great platform where I have about 10,000 viewers for these videos so I was hoping I could raise money that way."
Robison along with local non-profit Community Happens Here, was able to raise $11,000. Enough to purchase 150 laptops for those students to keep. She says she's glad to have the platform to do it and to teach her daughter to help others along the way.
"She should be really proud of being a part of something that is a lot bigger than anything her and I could ever do on our own," she said. "So she sees the value in that and I think that's super important."
Source: Thanks https://spectrumnews1.com/oh/columbus/news/2020/05/07/chef-uses-online-cooking-classes-to-raise-money-for-students-