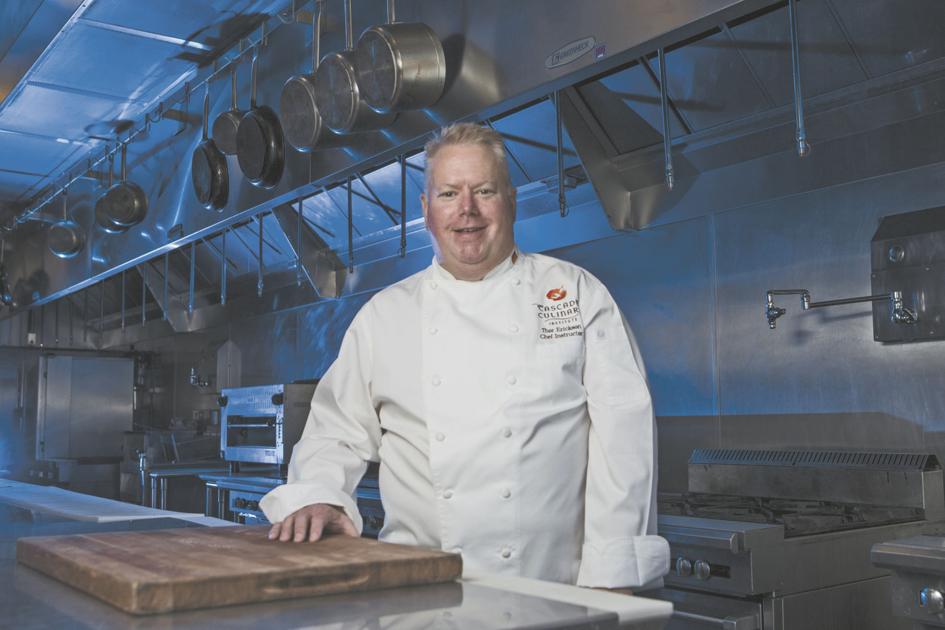 If it's a calm, informed, humorous voice you want to steer you through pandemic dining, Chef Thor Erickson is the person for the job. Erickson attended culinary school in Columbia, California, before setting to professional work in kitchens around Central Oregon, including Le Bistro, Scanlon's and Robbie J's and many others prior to joining the staff at Central Oregon Community College, where he's Chair of the Cascade Culinary Institute and has worked for nearly a decade.
Despite his history and credentials, like most of us these days, he's cooking at home a lot — with allowances for a weekly take-out meal from favorites such as Wild Rose and others he wants to support during the pandemic.
Of course, eating at home means planning and shopping. For the past six weeks, Erickson's family, which includes wife, Cathy Carroll, and their son, Jahn, have been having their groceries delivered, Erickson said: "We are adamant about not going to the store."
Wait times for delivery can vary from an hour to two days, he said, but when the food arrives, "It's like Christmas," he said. "The groceries show up at the door and somebody walks away, and it's like, 'Oh my gosh! Let's get in there.' It's our form of cheap entertainment."
Pre-pandemic, you may have been used to frequently, maybe even daily, stopping by the grocery store for a few ingredients for your next meal or two, Erickson said.
But eating daily at home and doing less impulsive shopping and more mapping out of what you want to eat until the next batch of groceries. Erickson calls it the economy of thrift.
"I look at it as making a list of things that your family likes. I've had a lot of success with making a list of what I'm going to cook when," he said.
Along with his dedication to mapping out meals, Erickson is also about wringing the most out of foods.
"For instance, if I had a whole chicken, one night, I could roast the whole chicken with some vegetables," he said. "A couple of nights later … whatever's left from that, I could pull off and use for some chicken enchiladas, or use it in a pasta or on a salad. If you wanted to take the bones and make a broth out of them and work those into a soup, then you've gotten three meals out of one thing."
It's even easier, and cheaper, to do this sort of stretching of food with vegetables, he said.
"I've recently experimented with making some kimchi and preserving some things," referring to the fermented vegetable dish from Korea. "I'm just looking at how I can preserve what I can buy at the store, and make it into something that is nutritious yet exciting."
One thing he misses about pre-pandemic life is going to the market and selecting fresh fish.
"We've been utilizing a little frozen shrimp in place of that, but I really miss a good piece of salmon right now," Erickson said. "But a can of good quality tuna … or sardines and anchovies, even though they come salted, if they're cut and tossed into a dish, it can really add a lot of flavor to it."
Part of being able to cook is making creative use of what's on hand, and kosher salt is among the items his pantry is never without.
"Salt is, I think, the most important ingredient that ties the whole room together," he said, adding that he always watches how much salt he and his family are consuming.
Other items to have on hand are oils such as olive oil and broth, homemade or from a box."
As veggies go, onions, carrots and celery "are a great foundation of flavor. You can cook those slowly on your stove to develop a lot of flavor," he said.
Garlic and ginger, too, are flavorful and will last a while. He also makes sure he has whole heads of cabbage on hand.
"It has so many versatile uses, from eating it raw in coleslaw and salads, to cooking it with other vegetables in a saute," he said. "It also lends itself to many types of ethnic food. Cabbage is used across the world in many things."
Starches such as rice and pasta are on the list, as are eggs and milk.
"If protein is your thing, like I said, I think the best value is in larger cuts. That means whole chickens or larger cuts of pork," he said. "I recently ordered a brisket. I'm going to do a brisket low and slow, and then after that's done, cut it into some pieces and freeze it for a future time."
If you're going to be cooking a lot at home, make your peace with your freezer.
"Working from the freezer is really the way to go," Erickson said on Friday. However, earlier that morning, he'd gotten to shop at Paradise Produce Stand on Galveston Avenue for the first time in the better part of two months, and he was still fairly giddy.
It doesn't hurt being able to cook with both fresh produce and the things you've defrosted.
"If you have (produce) mixed with the stuff that you have in the freezer, it's exciting," Erickson said. "Sometimes it feels like, when you're pulling stuff out of the freezer, you get a little kind of scurvy going on."
Source: Thanks https://www.bendbulletin.com/lifestyle/cooking-at-home-with-chef-thor-erickson/article_f572c278-8e5f-11ea-98b3-d7e01e03d386.html