Follow us on Telegram for the latest updates: https://t.me/mothershipsg
Mother's Day fell on May 10 this year.
However, not everyone in Singapore had a pleasant celebration.
Customers complain about Mother's Day cakes on Gin Thye's Facebook page
Several customers have taken to local confectionery shop Gin Thye's Facebook page to complain about the Mother's Day cakes they had ordered from the bakery.
According to these Facebook reviews, the cakes had either arrived in poor condition, were delivered late, or were not in the design which was advertised.
To make matters worse, many were also frustrated by the poor customer service and apparent lack of replies from Gin Thye when confronted with these complaints.
Cakes delivered in poor condition
According to one Sann Teng, he had ordered a cake from Gin Thye through Shopee one week before Mother's Day.
On the day of delivery, however, the cake arrived in a "smashed condition":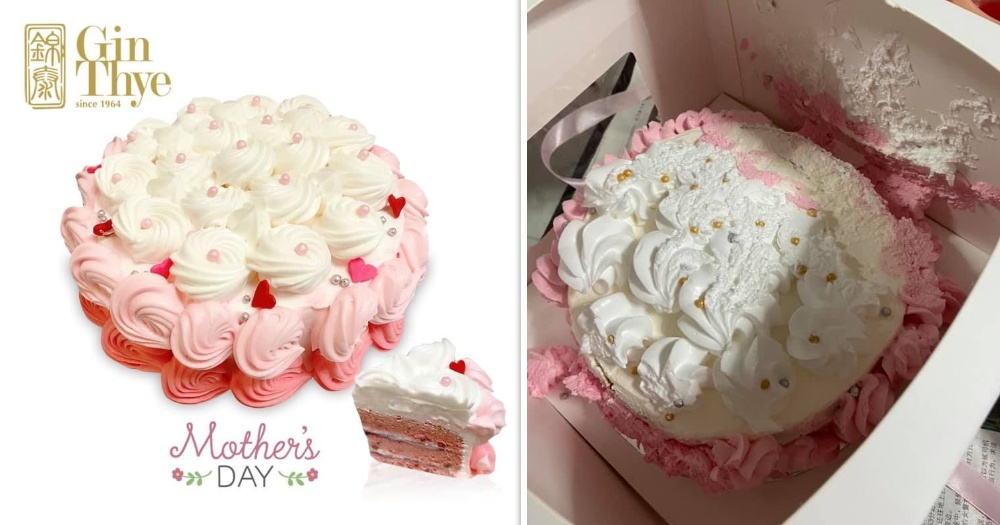 Teng said that he tried contacting Gin Thye through its hotline and via its Shopee account, but to no avail.
He added that he was disappointed by their "very poor customer service":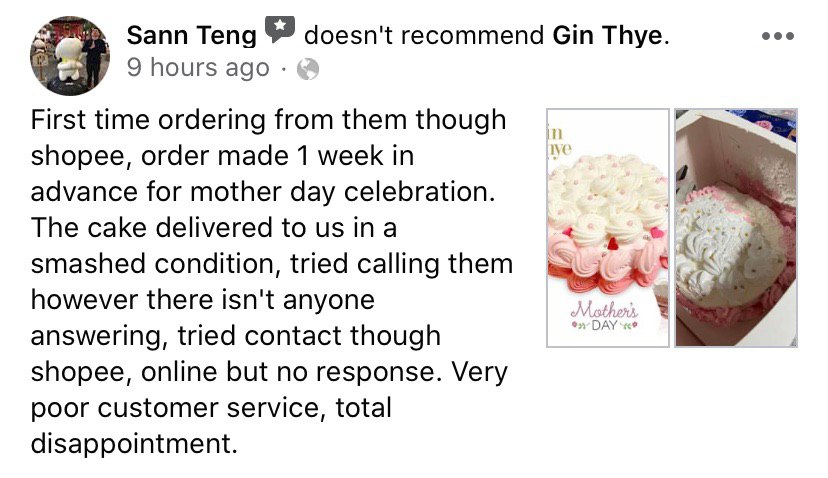 Another Eileen Teo complained that her cake was "smashed". The fruits on top had "spoilt" and the grapes on it were "rotten":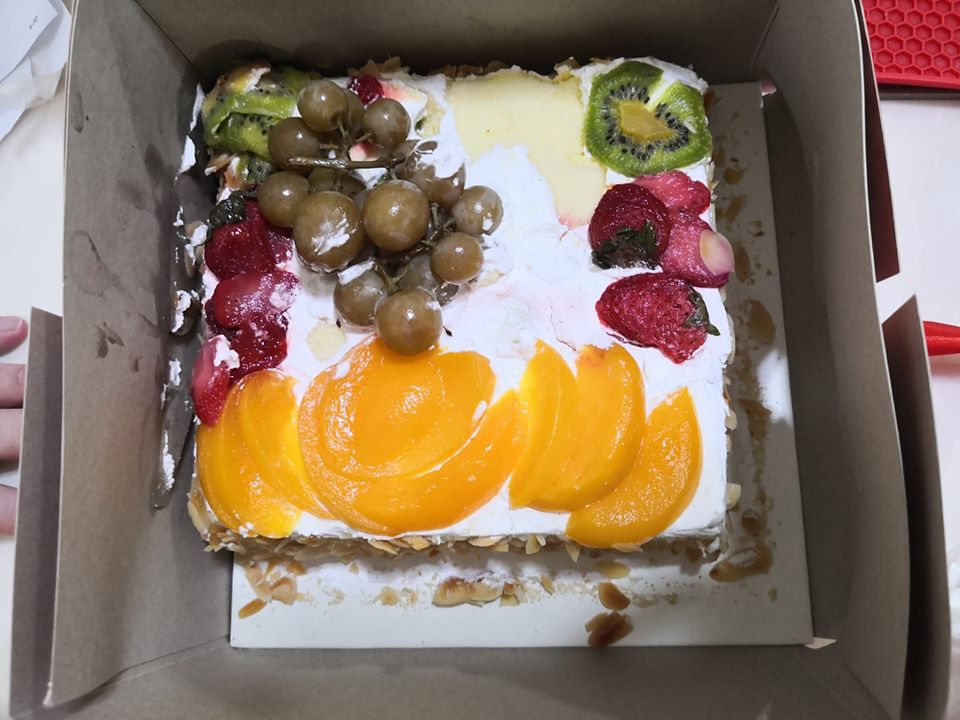 Like Teng, Teo allegedly did not receive a reply from Gin Thye after informing them about the condition of the cake: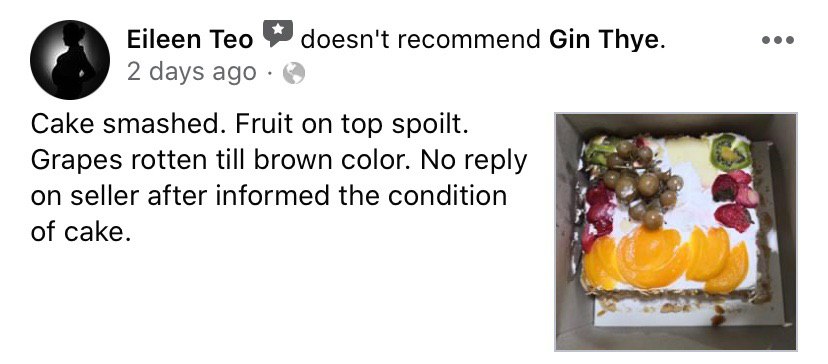 One Roland Kwa even claimed that the cake he ordered via Shopee only arrived at 10:30pm on Mother's Day, and "went straight into the trash bin" when it did: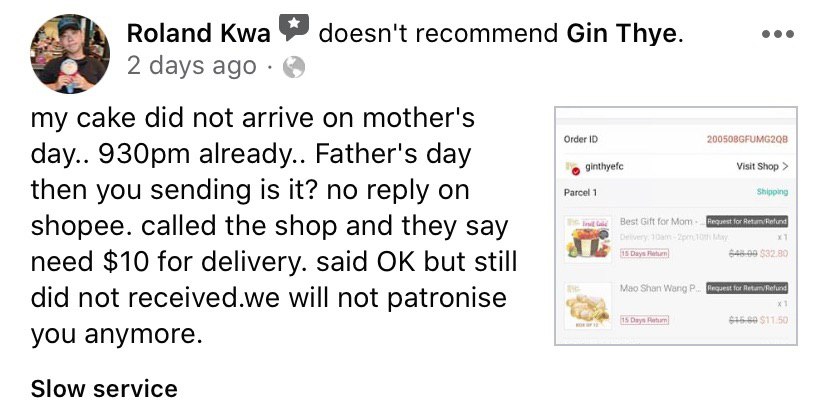 Here is what the cake allegedly looked like when it arrived: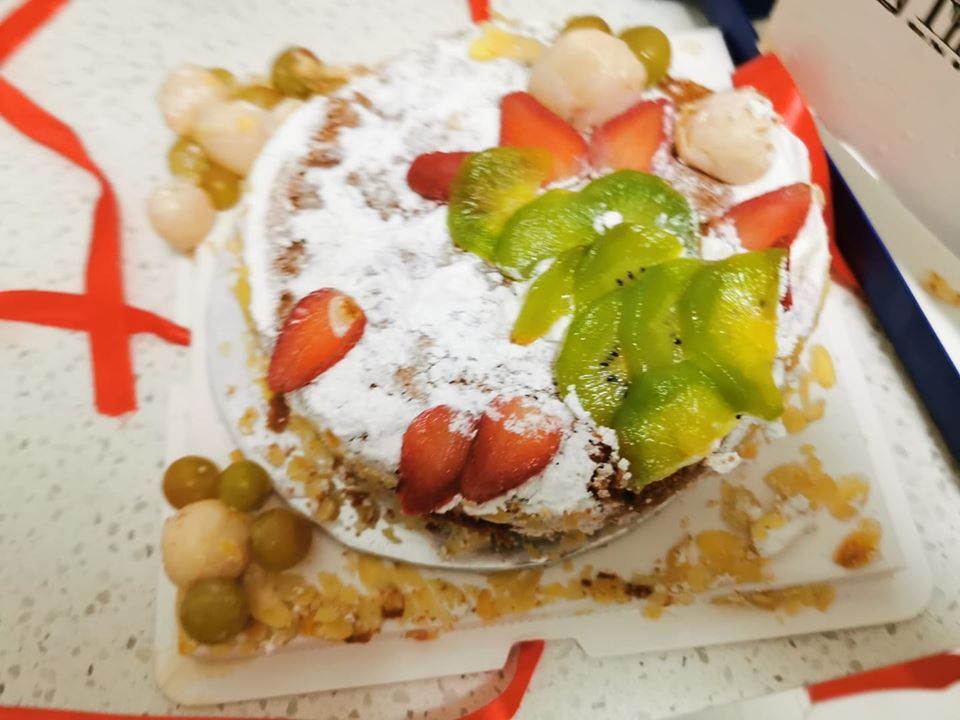 Cakes were different from what was advertised
On top of complaints about ruined cakes, several customers also complained about receiving cakes in a different design as advertised.
One Seah Yi Ling claimed that the vanilla cake she ordered for her mother ended up being a chocolate cake with "stale fruits", no "mother's day tag" and "no gift box" as promised: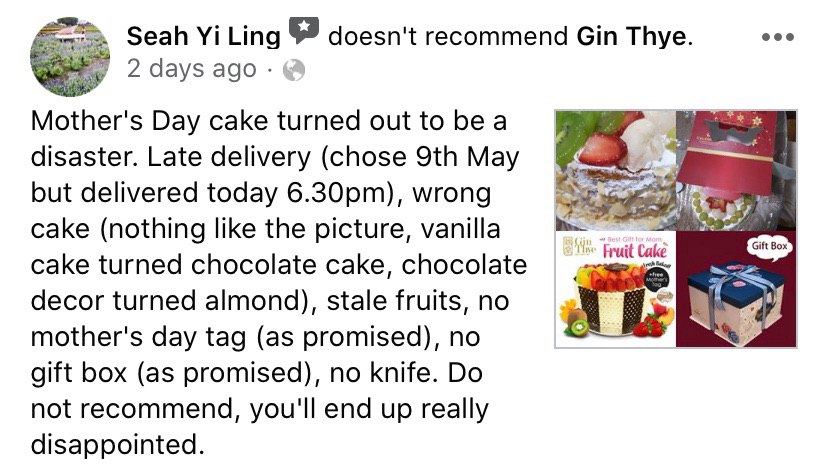 She also attached photos of the advertised cake and gift box versus what she had received for comparison: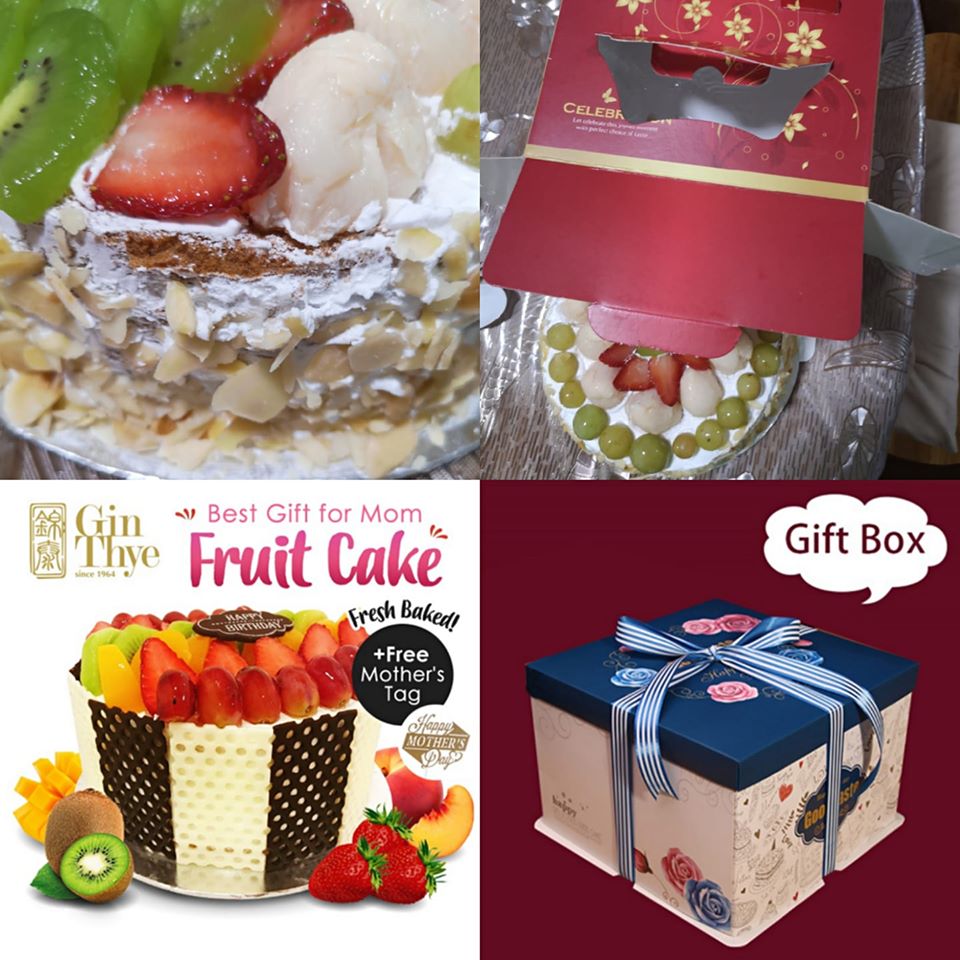 Another Jill Cheong claimed that when she reached the shop to collect her cake at 8:30am, the situation was "chaotic" with "boxes placed on the floor".
Most of the staff were also "impatient and grumpy", according to Cheong: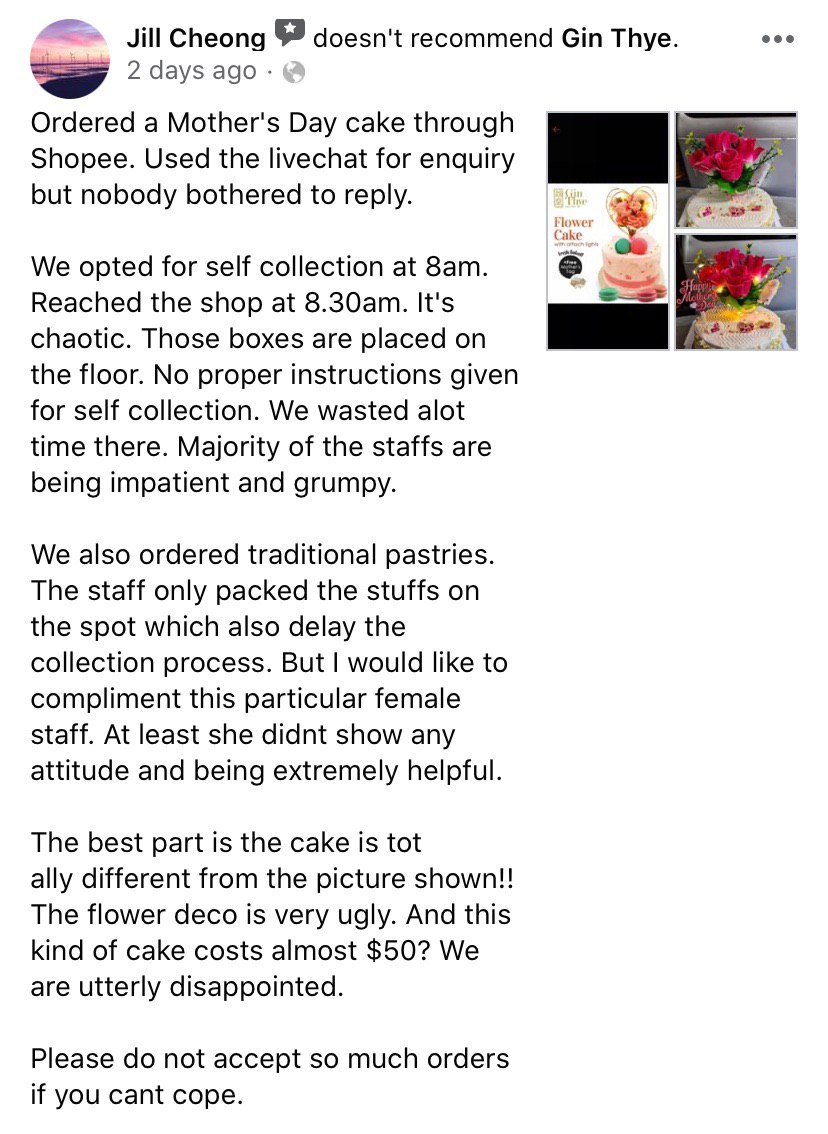 To top it all off, the cake she had received was different from the picture that was advertised.
Like Seah, Cheong attached a side-by-side photo of the expected cake versus the actual cake she got: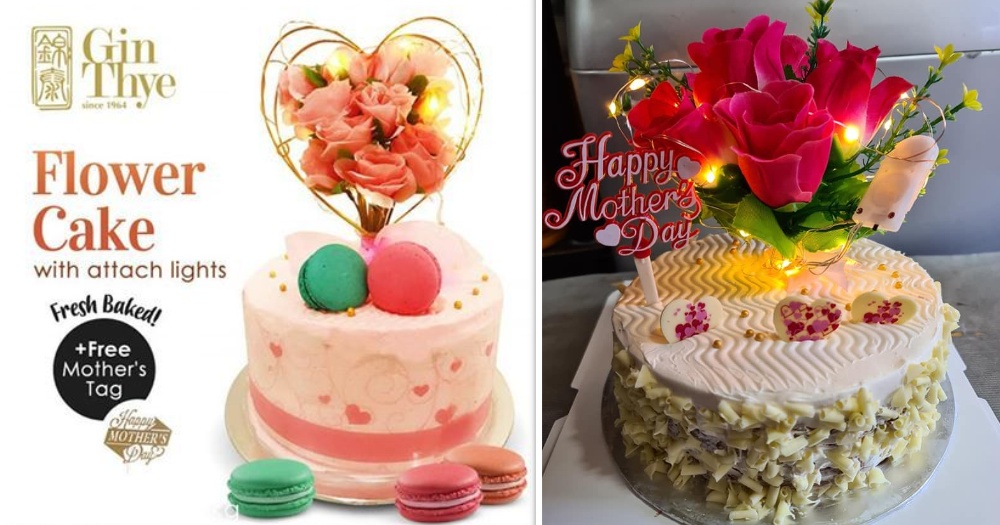 One Richard Tan claimed that Gin Thye's boss asked him to "accept the cake" (in a different design) as they could not find the raw materials to create the actual cake: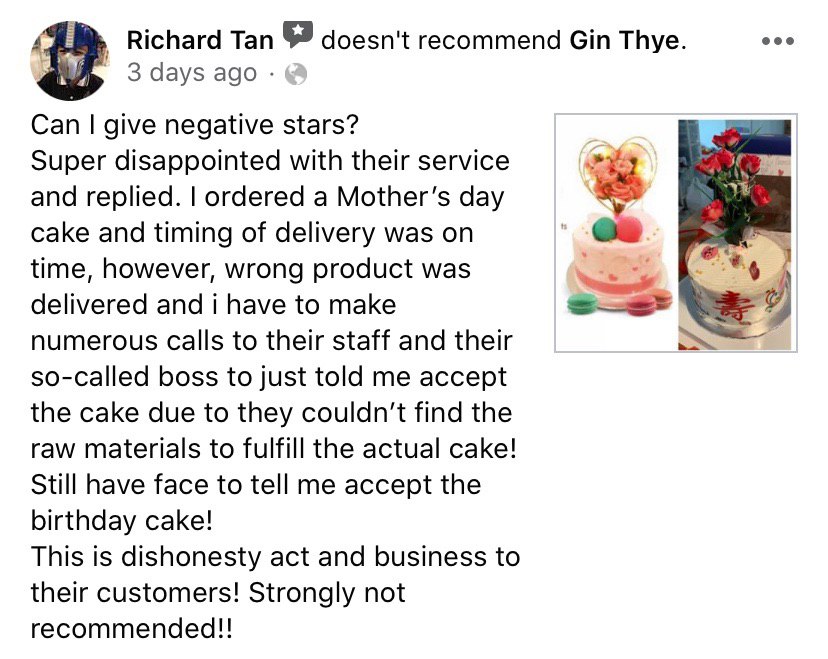 Lack of replies and poor customer service
Apart from these complaints, another common sentiment among the reviews was Gin Thye's lack of replies and poor customer service.
One Koon Siang complained about the "bad" and "slow" service of the shop's staff, stating that his wife was expected to call in to confirm her collection date, even though she had already stated it when ordering.
The staff apparently even asked him if he could collect the cake another day instead: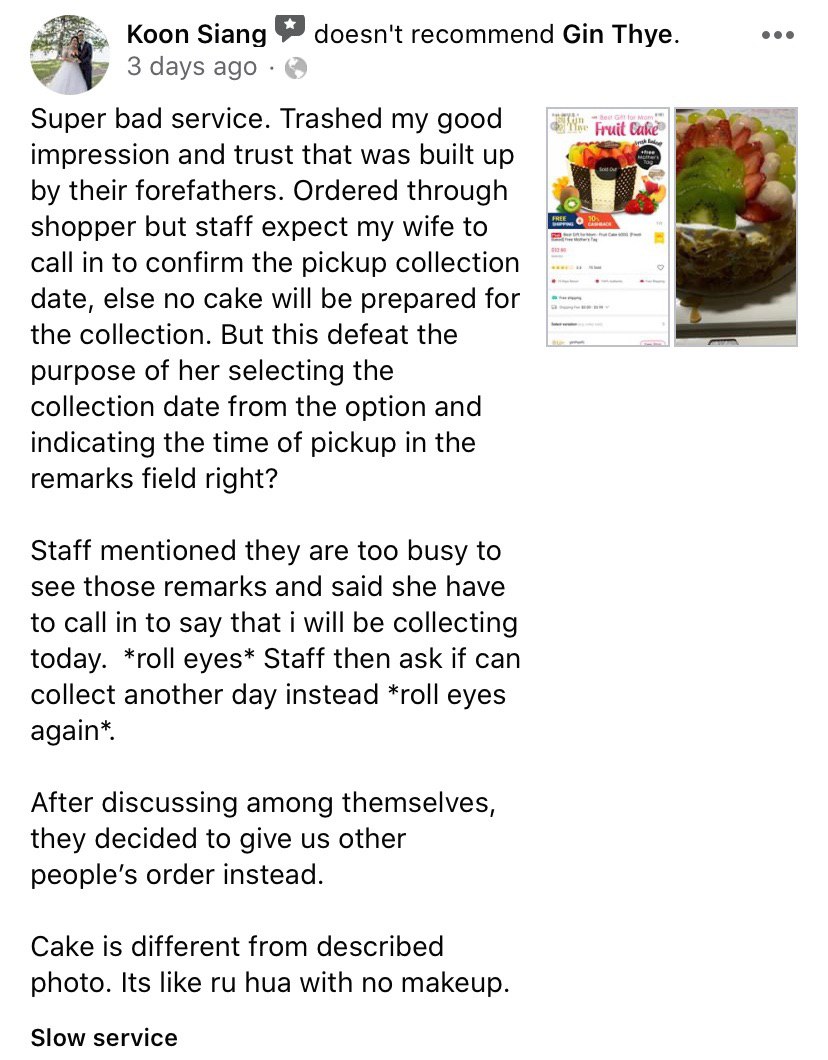 Reviewers Gsy Jes and Jacq Tan also complained that they did not receive a reply from Gin Thye on Shopee after ordering their cakes:


Mothership has contacted Gin Thye for more information and will update the article when they reply.
Top image via Sann Teng and Roland Kwa on Facebook
Source: Thanks https://mothership.sg/2020/05/customers-complain-cake-gin-thye/