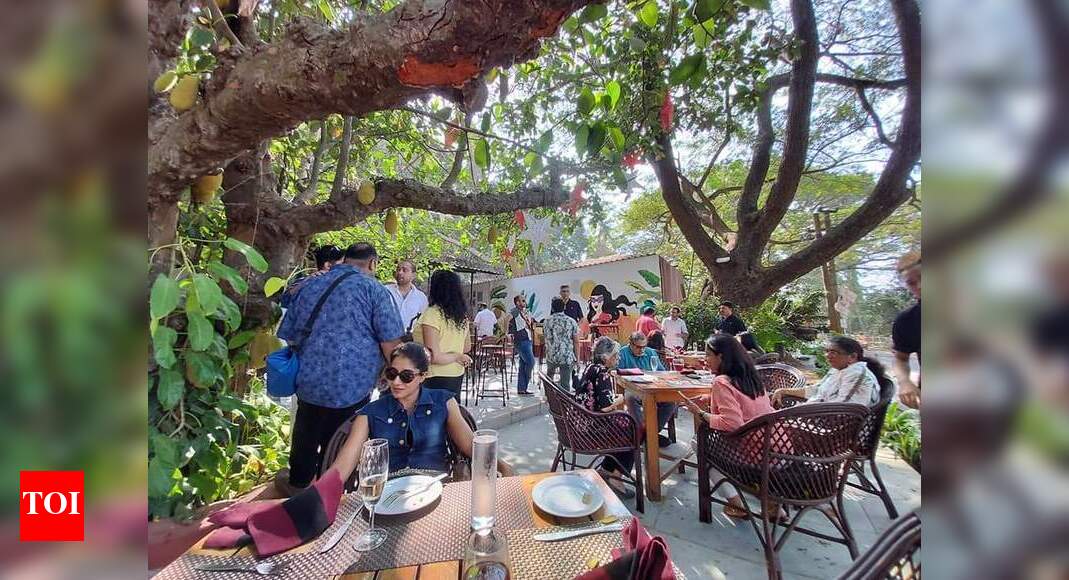 Even as the economy limps into the fourth phase of the lockdown, restaurateurs are grappling with what could be the new normal — social distancing, stringent sanitation and hygiene checks, restricted access to resources and ingredients, reduced manpower, and wary customers unwilling to spend a fortune on elaborate dishes with imported ingredients.
From exploring options like more focus on takeaways, drive in, social distancing and a sustainable menu, they are all set to reopen, though there's no clarity on when restaurants can resume operations, yet! With WFH being the new norm, and the government encouraging home delivery and takeaways across cities, the challenge for restaurateurs, who are burdened with expensive real estate, is to reimagine the business model and lure customers back to their tables again.
Distance matters
Crowded bars are a thing of the past. Restobar and pub owners will follow social distancing guidelines while tables will be six feet apart. This would, however, mean operating with only a third of the capacity, and fewer bartenders and service staff. Sandeep Sreedharan from Mahe says, "We are going to focus on the outdoor sitting and reduce the number of tables inside to less than half. We will encourage people to can come in a smaller group too."
Tweaking the menu
With the focus on local produce, and a greater awareness of the farm-to-fork cycle, customers are likely to ask for simple, homegrown dishes. Restaurateurs and chefs are expecting a deeper engagement with guests on the menu, recipes and ingredients. "We are going to focus on sustainable cooking by reducing the usage of resources, source local ingredients including veggies, fruits and seafood. I'm working on incorporating small, local fish into my menu, and cook with seasonal fruits and veggies," says Sandeep.
Focus on contactless deliveries, takeaways
There will be more focus on deliveries. "Earlier, a lot of restaurants in Goa didn't focus on delivery, and only focused on dining in. And even if they did, it was a mere 20%. But hereon, delivery and dine in will get a 50-50% importance. There are many items which can't be delivered, so we will have to have a different delivery menu. We are going to try and do more contactless deliveries," says Shefali Gandhi from Koi and O'Pescador.
Interaction with service staff minimal
With digital menu, QR codes, pre-orders on restaurant apps are just some of the tech-enabled ideas that restaurateurs are considering. While some of them had already been using tablets and customised apps to take down orders before the pandemic, you can expect more restaurants to go the digital way. Asheen Lobo from Wok & Roll and Fat Panda says in addition to reducing the number of tables, they are looking at a reduced staff since they will cater to less tables due to social distancing.
New-look service


Servers will sport a whole new look. Besides the mandatory masks, gloves and head covers, some of them may also wear face shields while serving. Uniforms will have a more conservative look with maximum coverage and zero fuss. Shefali says, "Service staff will be wearing masks and gloves. Crockery and cutlery will be sanitised way more than what it is already being done. Customers will have to get sanitised before coming in. We will try to take pre-orders on bookings as much as we can, so that interactions are reduced. We will request guests to keep their masks on when they aren't eating."
'Focusing on hygiene, safety, distance, local'
I never thought online food business would do well in Goa. Most experiential restaurants and cafes never wanted to go online because it wasn't just about food. But now, we got onto the home delivery platforms, and will continue to stay on even later

— Shimonti Gupta, co-owner, Cuebe Bar & Natti's Naturals
We are planning on using only fresh ingredients and have a shortened menu. We will focus on local harvest and seasonal special menus. We will have to take good sanitation and hygiene measures to win the trust of our patrons

— Avinash Martins, chef and owner, Cavatina

Source: Thanks https://timesofindia.indiatimes.com/life-style/food-news/heres-how-eating-out-at-goan-restaurants-wont-be-same-again/articleshow/75753115.cms