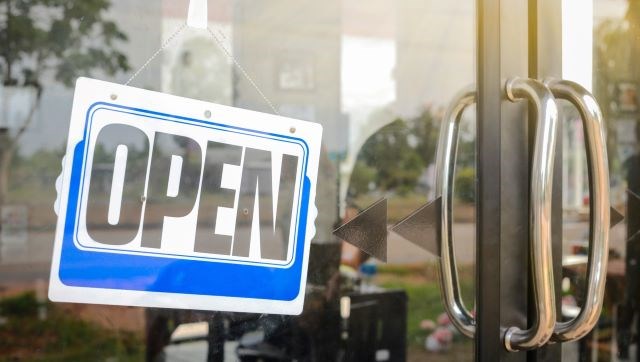 YOUNGSTOWN — After two months of trying new recipes or exhausting take-out options, Ohioans will be permitted to dine inside some of their favorite local restaurants starting today.
The Riser Tavern and Grill in Boardman off Western Reserve Road is one of the establishments planning to open its doors Thursday to patrons wishing to dine inside.
"We have our six feet between the tables, of course," said owner Lisa Lorelli. "Every table has sanitizing spray, and we're using paper menus for the time being."
All Riser employees will be masked, and the restaurant is sanitizing tables in between visitors. Lorelli is is also looking into getting partitions for between the tables and encouraging patrons to make reservations.
"We want to minimize people running in here," said Lorelli.
Inside Station Square Ristorante along Belmont Avenue in Youngstown, seating arrangements have changed, but operators said they want the inside to feel as "normal" as it can.
There's even a live musician slated for tonight, said manager Adam Zagotti.
A retractable divider now halves the indoor dining room into two separate rooms, he said. Many of Station Square's booths were already fairly discreet, with high backs. But now, movable clear dividers have been hooked to the bar itself, so patrons can sit together while keeping a barrier between neighbors — "a small fortune in plexiglass," he joked.
As seating becomes more restrictive, reservations are recommended, Zagotti said.
Tables that seat larger parties aren't being used, but the restaurant's patio has expanded, and now offers a tent. With fair weather digging in, it's been "very popular," he said.
"The first night [outdoor dining resumed] it was raining cats and dogs and people didn't care," Zagotti said.
But he said he and others recognize there will still be some who don't yet feel confident enough to hit up their old haunts.
"If you're not comfortable, don't go out," Zagotti said, adding patrons are still lining their cars up for contact-less carryout. "Keep waiting, keep getting takeout from Station Square and other independent restaurants.
"Keep eating good food, but don't put yourself in harm's way."
Zagotti, a certified sommelier, said he's planning to resume the restaurant's regular wine-tastings — albeit with a smaller crowd — and has even considered a "virtual" tasting, where patrons order bottles in advance, pick them up at the restaurant, then log onto a virtual meeting app like Zoom.
"Anything to keep people entertained and feeling like there's some sense of normalcy going on in the world," he said.
But not everyone is prepared to start offering indoor dining today. Magic Tree Pub & Eatery in Boardman announced via press release May 15 its plans to open for dining on the premises in June.
"We want to make sure we do this correctly and don't rush into anything," owner John Rudy wrote. "The safety of our staff and you — our guests — is more important to me than opening immediately."
Magic Tree will continue to provide curbside pick-up, take-out and business delivery.
In spot-checking other restaurants, Mahoning Matters learned many — such as Cocca's Pizza in Boardman, V2 in Downtown Youngstown and Cultivate Cafe on Youngstown's North Side — are also delaying the return to indoor seating.
Before heading out to dine in at your favorite restaurant, it's a good idea to call ahead.
Source: Thanks https://www.mahoningmatters.com/local-news/indoor-restaurant-dining-reopens-today-in-ohio-for-some-2365080