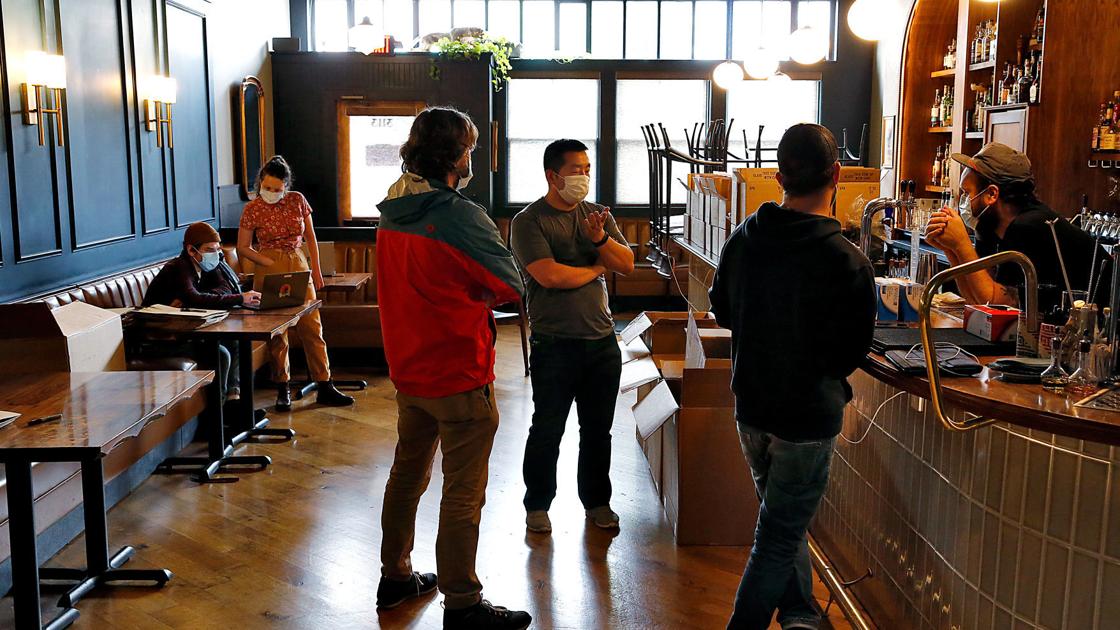 Chef Ida Mamusu doesn't let anyone step foot into her restaurant without a mask. If customers enter wearing gloves, she has disposable ones at the ready to switch them out. Choosing not to is a health risk she won't take, she said.
"I grew up in Africa. I saw how contagious viruses can be," Mamusu said. "This is not a joke."
There's no state requirement for restaurants that mandates masks for customers, or how to enforce social distancing in small spaces. Restaurants, such as Mamusu's Africanne on Main, have established their own measures to determine safety as a result of vague Phase One guidelines set by the state. But restaurant owners and staff are not medical professionals, and they're not police officers, said Patrick Phelan, co-owner of the restaurant Longoven.
Richmond, which remains at Phase Zero of reopening until at least May 29, has implemented measures to ease restaurants into Phase One, such as creating a portal for restaurants to apply to add patio access after the Virginia Alcoholic Beverage Control Authority loosened regulations for restaurants to expand their dining areas this month. Requests would be granted by an internal city task force headed by the Richmond Public Works Department.
But without consulting restaurants before taking action, these efforts may fall flat, Phelan said. Restaurants don't need patio access as much as they need to know what's coming, he said.
Twenty-six applications have been submitted so far in two days, said Jim Nolan, a spokesman for Mayor Levar Stoney.
Last week, Stoney asked the state to delay Phase One in the city. Stoney said the request, granted about 24 hours before Phase One was set to begin last Friday, was prompted by a lag in receiving COVID-19 data on how Richmond's cases were trending.
As of Thursday, Richmond had 888 total cases, 123 hospitalizations and 20 deaths.
Phase One requirements for eateries, a four-page outline established by the state, offers suggestions for reopening — such as using only disposable menus, using mobile ordering, rearranging outdoor dining and disinfecting — that don't explain how to execute. There are also costs associated with complying.
Without a thorough explanation coming from the state level, restaurants are looking to the city for answers on what to expect from Phase One. They say they're not getting enough, and frustrations are mounting.
In response to this, Richmond Restaurants United, a group made up of more than 40 restaurants, penned a letter to Stoney stating that sidewalk dining is a Band-Aid. The letter, sent Thursday afternoon, asked Stoney for more detailed clarification for each reopening phase and said that restaurant input is needed for local decisions.
Chesterfield County has launched "Let's Take it Outside Chesterfield" to outline how businesses will be reopening. Henrico County submitted guidelines to businesses last week allowing for a streamlined process in figuring out the reconfiguration of restaurant layouts.
In a statement Thursday, Nolan said the mayor's administration sent in a request to Richmond City Council to help coordinate a similar response with neighborhood input. Nolan also said the administration is in "constant contact" with the restaurant community and will continue that to discuss options for reopening phases.
Richmond also launched Forward RVA, a website that includes applications for a starter supply toolkit and a step-by-step checklist for reopening businesses. In April, it established a program to offer interest-free loans to Richmond businesses and a first responders program where the city orders meals from local restaurants daily.
As restaurants are hemorrhaging jobs and struggling to qualify for loans, they need leadership rather than being left to interpret guidelines on their own, said Kevin Liu, owner of The Jasper and an adviser on the governor's task force.
Outdoor spaces are also only feasible for a small portion of businesses with adequate space to fan out, he added.
When Mamusu first heard of the patio initiative, she thought, "Where would I put that?" Her restaurant sits at a four-way intersection downtown.
Charlene Baylor, owner of Nutty Buttery in Carver, said that without a large dining area, small businesses are left out.
Phelan said restaurants took it upon themselves to close for safety reasons even before state orders, despite the risk of financial ruin.
"We could very well lose our restaurant in two months," he said of Longoven.
Michelle Williams, the co-owner of Richmond Restaurant Group, which owns eight restaurants across the Richmond region including The Daily Kitchen & Bar and Barrio Taqueria + Tequila, said the lack of information is debilitating.
"We can't plan. Do we need plexiglass dividers in our restaurants? What are our requirements?" Williams asked. "Money is so tight that we don't want to make decisions and they're the wrong decisions."
For Bocata Latin Grill, a Venezuelan restaurant on Walmsley Boulevard, requesting outdoor seating would mean veering into a shared parking lot. Co-owner Eduin Serrudo said the restaurant's second location, Bocata Arepa Bar in Henrico, is what has kept sales from collapsing. Being in a reopened area, there's been more traffic, he said.
"It's literally like 'Oh, Phase One. OK,'" Serrudo said. "We're learning as we go."
This story has been updated to include additional information about the city of Richmond's response to the pandemic.
Source: Thanks https://www.richmond.com/food-drink/restaurant-news/we-could-very-well-lose-our-restaurant-in-two-months-richmond-restaurants-say-they-could/article_120fdba1-0a0b-5a9b-b3f6-69fb31f11dce.html