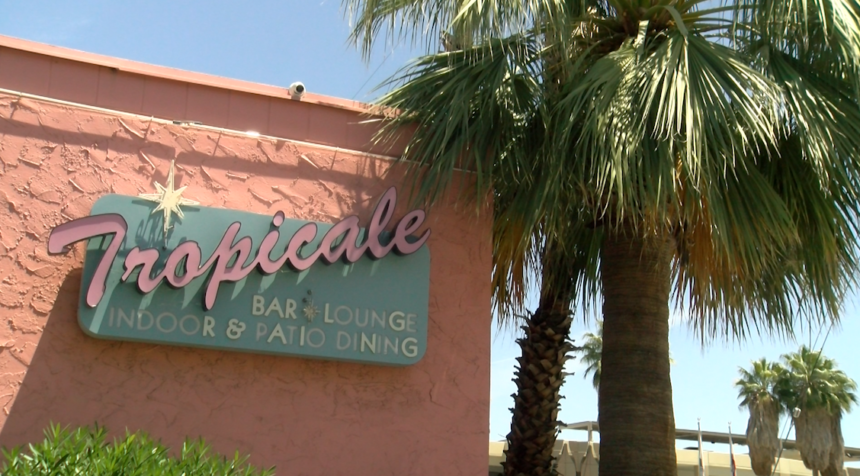 The Palm Springs Tropicale Restaurant & Lounge owner was handed a $1000 fine on Thursday by code enforcement. According to the city, an anonymous call came in stating that people were dining at tables and the bar.
"Toward the end of my shift I ordered a bunch of takeout food for myself and my family," Tropicale Restaurant & Lounge office manager, Dan Bunde said.
Bunde said his wife and kids had just arrived to pick him up from work Thursday evening, shortly after the restaurant opened. As they waited for their food Bunde said owner, Tony Di Lembo, offered them some treats.
"He brought out a chocolate cake, some ice cream and a strawberry pie for us," Bunde said.
Bunde, along with his wife and 2 kids, sat at a table at the end of the patio away from the entrance.
The owner said moments later, code enforcement showed up.
"They had masks on and weren't friendly in any way and said that I was being cited because we were breaking a health ordinance," said Di Lembo. "I said, 'for what?' He said, 'because you're serving people in a restaurant,' and I said, 'we're not.' I said, 'it's an employee of mine.' Well he didn't want to hear it.
Di Lembo refused to sign the citation. He said code enforcement then called the police. Di Lembo described the officers as understanding, and advised him to sign the citation and fight it later.
Di Lembo received a citation billed at $1000. He then posted it to social media, which received hundreds of comments supporting the business owner. Di Lembo said some people even came forward, offering to pay the citation.
A few of the comments posted read: "That's outrageous," and "I'm so sorry this has happened."
"If you look at the citation it tells you that your first offense is a verbal warning which we didn't even come close to. The second offense was a fine of $100 dollars and he had crossed out 100 and wrote in 1000," Di Lembo said.
He said he was angry and believes it could have been handled differently. He also was frustrated over the fact that he was cited, despite his business being closed for more than 2 months due to the pandemic. He maintains that he has followed the rules throughout.
"I'm not trying to get around the system. If he would have said to me, 'what's going on?' I say, 'that's my employee.' He's [says] 'you guys really shouldn't do that.' They're finishing up and that's it and walk out. It's done. Respect me like I'm an intelligent business owner," Di Lembo said.
Bunde also weighed in saying he understood why things closed in the first place, but the incident was unnecessary.
"I think that a lot of the staff that's been in charge of enforcing it, code enforcement with the city or otherwise, has gotten a little too overzealous with it and they're not really considering whether safe practices are literally happening. They're just enforcing what they think their job is to do now," Bunde said.
As of Friday evening the Palm Springs Police Chief, Bryan Reyes, released a statement:
Earlier this month, the City's Police Department visited all restaurants and shops in town, including the Tropicale, and informed them of the State and City emergency orders. Because this restaurant had been previously informed of the emergency orders, and it appeared to the responding officers that violations were occurring, the City's code enforcement officer issued a citation. It should be noted that over the two months of the pandemic emergency, only three citations have been issued to restaurants as we continue to work to educate businesses and residents and, as a result, compliance has been the norm.
The statement also said Tropicale will not have to pay:
After further investigation and consultation with the City Manager and City Attorney, the City of Palm Springs will be treating this as a warning and will not pursue the citation fine.
Before the statement was released, News Channel 3's Shelby Nelson spoke with Palm Springs City Manager, David Ready about the matter.
"This is about education and coming into compliance," Ready said.
He said every situation varies, and code enforcement officers use their discretion when it comes to handing out citations.
"These are complicated rules and extenuating circumstances and that's why in each of these cases I reach out to the merchants and talk and 9 times out of 10, this was a miscommunication," Ready said.
Ready said he understands that there are a lot of rules to follow and mistakes could be made.
"People are doing the best they can. Emotions are very high. It is difficult for everyone so that's why I reach out to every merchant individually and we talk through the issues and again this is not about a, 'gotcha, you owe us $1000,' this is about compliance."
Ready also commented on Di Lembo being a good business citizen to the Palm Springs community. He planned on reaching out to him to follow up.
Source: Thanks https://kesq.com/about-us/news-team/2020/05/22/palm-springs-restaurant-fined-1000-for-manager-eating-outside-owner-says-hes-not-paying/