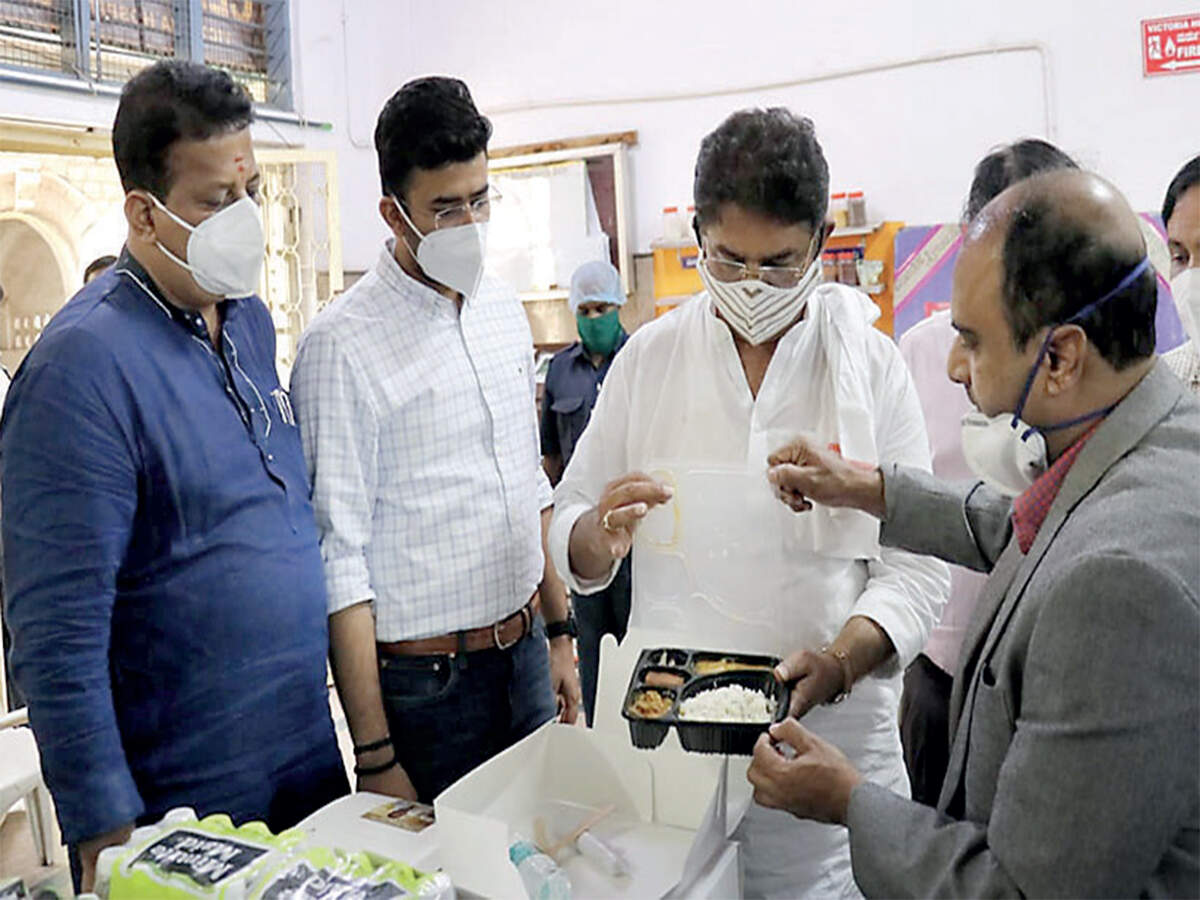 Hospitals will source food from single source, give a menu and appoint in-charge officer
After a series of complaints over the last week, on delayed food supply and its poor quality raised at various Covid-19 hospitals in Bengaluru and the State, the department of Medical Education has decided to dish out a better fare. The plan is to give a menu of the food to the patients and also designate an officer to supervise the hygiene and supply of food. The hospitals have also decided to source food from one central kitchen at the Victoria Hospital campus.
Last week, Medical Education Minister Dr K Sudhakar pulled up hospitals for not expediting certain activities. This is when he decided to assign one officer to this task. Senior officer Somanna Kadakola had been appointed to supervise hygiene and food supply in Victoria Hospital. Bowring and Rajiv Gandhi Institute of Chest Diseases (RGICD) hospital must also appoint a dedicated officer, the minister said.
Dr CR Jayanthi, director-cum-dean of Bangalore Medical College and Research Institute (BMCRI) said that the food menu is being shared with the patients and also all the officers. R Ashoka, State Revenue Minister, who is now handling Covid-19 issues in Bengaluru, visited BMCRI and its kitchen. The minister along with hospital officials had the same food that is served to the patients.
Dr C Nagaraja, director of RGICD, said, "Last week, some patients here had raised issues with the food and its quality. So, we have decided to have a common menu and we are sourcing it from the central kitchen at the Victoria Hospital campus. We are going there thrice to get the food. Our workers go early at 5.30 am and bring the food first. We pack it here and give it to the patients."

We are now sourcing the food from the central kitchen at the Victoria Hospital campus
–Dr C Nagaraja, RGICD director
He said the hospital has around 104 Covid patients. "We are serving them all types of food. We give chapatis to the ones who opt for it, else we give ragi balls. We serve patients food from our kitchens if they ask for something specific," he said.
Last week, when around 20 patients at the BMCRI protested as their lunch was delayed by 20 minutes due to a glitch in the elevator, the hospital staff took the steps to hand the food over. After this, the hospital also purchased extra push-carts for each ward, so that many food packets can be taken at once.

Source: Thanks https://bangaloremirror.indiatimes.com/bangalore/others/on-the-menu-better-food-for-covid-patients/articleshow/76697492.cms