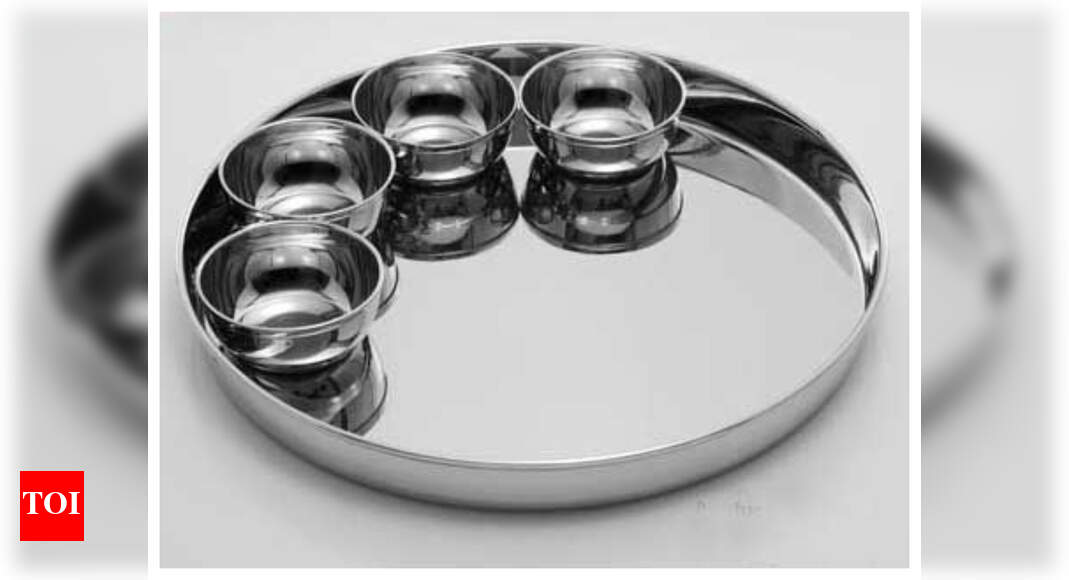 Here is a question we Indians might never have thought to ask- Does the food look and taste better in simple steel plates or fancy porcelain ones? A continuing debate on Twitter has ignited several questions like this. It all started when one user posted, "TIL that it bothers some people that I use steel plates for food?!?! Someone please help me understand this better." The conversation intensified when the original poster added, "I eat everything out of steel plates and I've literally never thought about it twice until now. What's the deal?" Many people started contributing to the discussion by saying how they love eating from steel plates and people preferring different crockery have problems with it.
The best benefit of eating in steel plates is that it is practically indestructible by people who are habitual of dropping cutlery. One user made this very good point by saying, "I can't be trusted around non-steel plates. I drop cutlery like crazy. Steel cutlery, plates and tumblers are made for me. The number of ceramic/clay mugs I have broken is astounding." Choosing types of crockery has also been a way to draw class lines. A user highlighted the futility of preferring "easily-breakable" crockery through his comment, "Class disdain. Owing to their ubiquity a la monobloc chair. Crockery is costly, easily breakable than steel and hence afforded mostly by upper strata of society. Historically porcelain etc was also used by royalty".
Many people said that we are free to choose the type of crockery we want and should not take other people's opinion into account. One user praised the quality of steel plates and supported the original poster by saying, "People have an opinion about everything. You do you 🙂 Besides I love how shiny they get when I wash them." Another user found the idea of eating out of any other plate ridiculous. She said, "Haha what! Steel plates are comfort. Here each of us uses a specific one, with those compartments, and mom's is over 60 years old!" One user who has used steel plates all his life was shocked that using them bothers people. He commented, "Really? Steel plates bother people? Why? I am 40 and that's what I have used ALL my life .. I have been outside India 50% of the time in the last 15 years and the same continues. The convenience of the straight edge not available with the dining set 'plates'"
Stainless steel plates have long been used in Indian households. They are rustproof, durable and the surface is renewed each time it is scrubbed. These plates contain iron, chromium and nickel. When we eat out of steel plates, these metals enter our bloodstream through the food. Iron and chromium are essential nutrients that we require daily and the nickel present in stainless steel is not sufficient to cause any health issues. Many of the Tweeple were of the opinion that food tastes better in steel plates. One user said, "Steel plates are nice though, Rice and Spicy Curries taste better… and that's a whole Home mood!" A few others were convinced that food pictures in steel plates can beat those in fancy crockery any day. One of them commented, Show them these and tell them food on Steel plates look awesome."

https://twitter.com/anshu/status/1282943699551350785?s=20
The original poster later commented that a handful of people pointed out when she ate a panna cotta out of a steel plate. Anyway, Twitteratis are supporting the steel plates. Which side are you on?
https://twitter.com/ObiWanManobi/status/1282927496535523330?s=20
Source: Thanks https://timesofindia.indiatimes.com/life-style/food-news/eating-in-steel-plates-twitteratis-debate-over-its-benefits/articleshow/77012085.cms