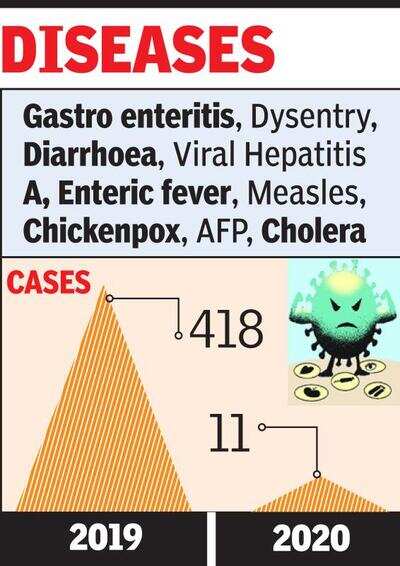 Nagpur: Precautions taken by people and forced confinement at homes has brought down the number of general infections and illnesses in the city. Doctors say shunning outside food and indoor lifestyle has led to a drop in stomach infections like cholera, typhoid, gastro enteritis, diarrhoea, viral hepatitis A, viral hepatitis B, food poisoning, cough, and cold.
The cases have remained near-zero not just during the last three months but even after the onset of the rainy season.
As per Nagpur Municipal Corporation's (NMC) health department epidemic report for 34 infectious diseases, just four cases, two each of AFP (acute flaccid paralysis) and measles, were reported from April to June this year.
Against this, the department had recorded 418 cases during April to June in 2019. Another major reason for the drop in infectious diseases is access to clean source of water. As per the report, water samples collected to investigate sources of infection were found to be less contaminated this year.
Just 2.9% out of 990 water samples were contaminated in April, followed by 2.3% in May and 2.6% for 1,000 samples in June. The ratio was 9.90%, 9.41% and 10.08% respectively during 2019. The contamination rate was higher even for fewer samples collected last year.
The data has been gathered from all government and private hospitals within municipal limits. Based on the data collected, the report is prepared from April to March each year. Officials said the pattern is likely to be the same for July, while it may show a similar graph like previous year if people throw caution to the winds as lockdown is lifted.
Dr Ramesh Mundle, who is professor of medicine at Lata Mangeshkar Medical Hospital, said people have become more hygiene-oriented which has led to them falling sick fewer times. "Besides this, roadside food is not available so people are eating at home, washing vegetables properly and maintaining good personal hygiene. This is a good achievement during lockdown," he said
Dr Mundle said last year OPDs would remain full with complaints of dehydration and stomach infections.
OCHRI director Dr Anup Marar too said that lesser eating out and lifestyle changes have brought down general infection rate.
Source: Thanks https://timesofindia.indiatimes.com/city/nagpur/general-infections-down-thanks-to-less-eating-out-and-indoor-lifestyle/articleshow/77008247.cms